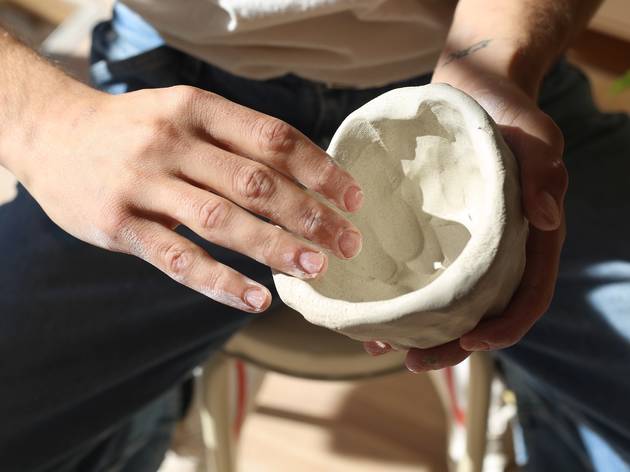 Melbourne's best online classes and workshops
Learn how to dance or simply sit and paint with wine in hand – we've got you covered
Always dreamed of nailing a Strictly Ballroom-style pasodoble? Have a lot of hoarded wine and want to start boozily slapping pigments on a canvas in a Zoom class full of other tiddly painters? Well, you've certainly come to the right place. Now is as good a time as any to upskill (or sit on your butt and watch an online tutorial without moving a muscle, no one's judging) and luckily for us, many Melbourne institutions have opened their virtual doors to help us out. Here's our live list of online classes, workshops, and tutorials you can participate in from the comfort of your own home.
If you want to push your heart rate higher, check out our guide to the best online workouts you can do at home.
The best online classes and workshops
Vue De Monde is running a weekly cooking class where you can order the ingredients to be delivered right to your door. This will definitely solve the lack of egg, flour and general staples issue at the moment. You'll be lead by Vue's head chef, Hugh Allen, who is a very non-intimidating 24-years-old (or maybe that will intimidate you more because he is so accomplished). Each masterclass is held on Vue De Monde's at-home website, and this week's masterclass is a classic chocolate souffle.
The Australian Ballet is ensuring your time spent indoors is truly en pointe. The dance company has launched online adult ballet classes that you can enjoy for free. The Australian Ballet usually runs its adult classes from the Primrose Potter Australian Ballet Centre in Southbank, but while it's shut the classes are going online. All aspiring dancers can take part, with classes offered at beginner, intermediate and advanced levels. Classes are taught by Justine Miles (a former dancer for the Australian Ballet) and take about 30 to 40 minutes to complete.
If Netflix isn't really appeasing you and you've run out of yeast for baking, might we suggest a new hobby? Melbourne ceramic studio Céramiques (located in Elsternwick and Camberwell) is helping Melburnians stay entertained with its own at-home clay and tool kit. You'll receive ten kilos of hand-building clay and all the tools you'll need to work it from home. The Céramiques team have also set up a "clay time" Instagram account with short tutorials on building from home. Packs cost $65 with free delivery across Victoria.
More classes from Sydney institutions
Stream a little stream
Being stuck inside doesn't mean you can't have fun. Creative and resilient artists, performers, experts and craftspeople are now bringing the fun to you online. There are livestremed events, workshops and festivals happening all over the world – and there's never been a better time to show your support to those who are facing uncertain times.