Heads up! We're working hard to be accurate – but these are unusual times, so please always check before heading out.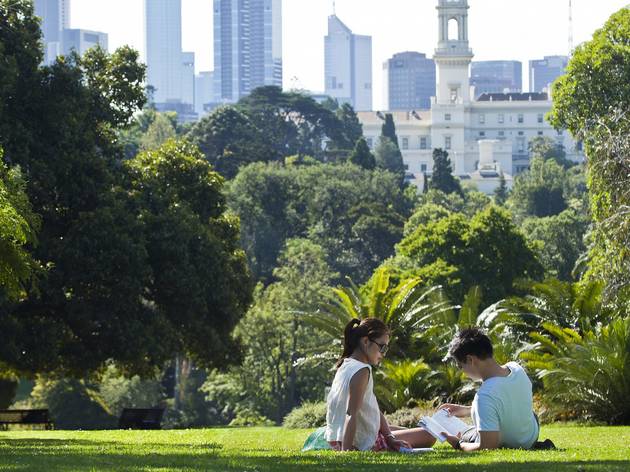 40 ways to live more sustainably in Melbourne
It's easy to get despondent about the climate crisis, but there are things you can do right now in Melbourne to make a difference – and make the most of our brilliant city
1. Travel by public transport. Not only will you save carbon emissions created by individual cars, but Melbourne's tram network is entirely offset by solar power.
2. If you do need to travel by car, consider joining a car share service, like GoGet. After all, most cars are parked 95 per cent of the time.
3. Walk or cycle when you can. Melbourne is increasing the amount of pedestrian and cycling space in the CBD.
4. Buy (and use) a reusable cup for your takeaway coffees. See responsiblecafes.org for a list of cafés that will give you a discount for using a reusable cup – many local cafés are now accepting reusable cups again. Need more than one coffee in a day? Consider a Huskee cup, made from coffee plant husks – bring your cup into a participating café and you can swap it for a fresh one. Returnr and the Cup Exchange offer similar services. Or you could drink your coffee on premises – what's five minutes?
5. Getting takeaway food? Get your food in a reusable container from Returnr at one of hundreds of cafés and restaurants throughout Melbourne, then return the bowl to any other premises that use the system. Or bring your own container to any restaurant signed up to Trashless Takeaway. Victoria is even banning many single use containers to aid the environment.
6. Learn about urban beekeeping at Somers Bees or Rooftop Honey, then start your own hive on your balcony, backyard or roof to encourage biodiversity. Plus you'll get free, delicious honey.
7. Buy your fruit and veggies from an accredited farmers' market.
8. No time to get to the market? Ceres Environment Park will deliver fresh, seasonal, organic fruits, vegetables, meat and dairy items, as well as bakery goods, home and beauty products and pantry staples. All items are sourced locally and support local farmers.
9. Buy your dry goods in bulk at the Source Bulk Foods, in BYO containers.
10. BYO containers and get your cleaning products from Roving Refills. These folks travel to markets and events around Melbourne filling up BYO containers with everything from laundry liquid to pet shampoo. Or head to your nearest One Less Bottle refill station to stock up on household products from a vending machine.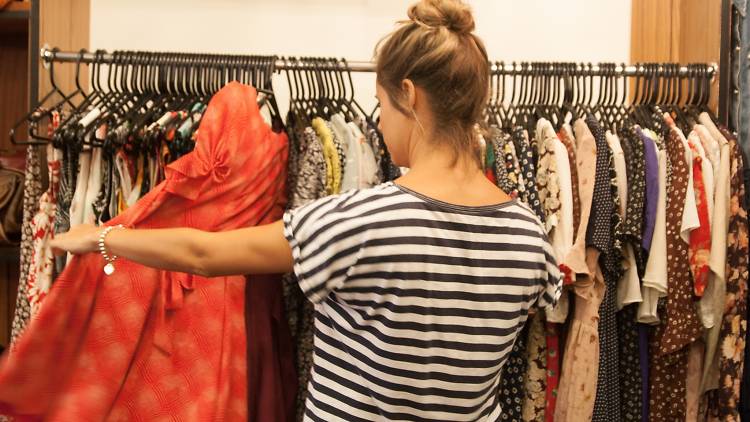 11. Shop for clothes IRL instead of ordering fast fashion online. Visit op shops where you can, or learn about ethically made Melbourne-designed clothes on a Fashion by Foot tour.

12. Visit one of Melbourne's brilliant libraries instead of ordering new books from Amazon. You can even use your library card to rent films!
13. Compost. No compost bin or space? Many councils (like Glen Eira and Hobsons Bay) take kitchen scraps in green waste bins and turn them into compost. If yours doesn't, sign up to Sharewaste and give your kitchen scraps to someone with a compost bin, worms or chickens.
14. Instead of staying at home with your individual airconditioning and TV on, go out and see a live show.
15. Recycle. This is an obvious one, but there are lots of things (batteries, pet food pouches, polystyrene) you might not know you can recycle. See sustainability.vic.gov.au for more details.
16. Oenophiles should head to ReWine at Queen Victoria Market or ReWine Lygon Street and fill reusable bottles straight from the barrel.
17. Buy delicious, local, full-cream milk in refillable glass containers from Schultz.
18. Broken electronics? Take them to a repair shop to see if they can be fixed before tossing them. Resurrection Radio is a good place to take AV equipment and turntables.
19. Broken for good? Dispose of your old and broken e-waste (anything with a battery, cord or plug) at a designated drop-off centre. Many Officeworks stores will accept old electronics for proper disposal.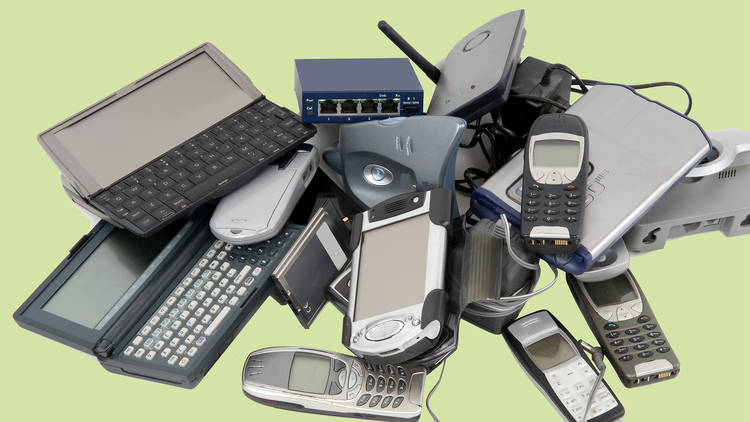 20. If you don't need a straw, don't take one, and specify you don't need one when ordering (they'll be banned by 2023 anyway). If you love straws, buy a reusable metal one from the Cruelty Free Shop and bring it with you.
21. Bring a reusable bag wherever you go. Biome offers a variety of sizes and styles (including produce bags).
22. Does your office use a pod coffee machine? Ask management if you can swap the supplier to a reusable brand like Crema Joe. The team provides metal, reusable pods and swap them out on a regular basis to reuse the pods, recycle the tops and use the grounds in fertiliser or beauty products. We use them at Time Out Melbourne, and we love them!
23. If you run a bar or restaurant and have a glut of produce or functional tools you no longer have a use for, post your excess on Waste Not, Want Not Facebook group and pay it forward or sell it cheap.
24. Don't buy new toys, borrow them from a local toy library.
25. Embarking on a bit of DIY? The Brunswick Tool Library has plenty of tools for you to borrow – and there are also classes available to teach you how to use them safely.
26. Love to read cookbooks and want to make pasta from scratch? Don't buy an expensive kitchen appliance you won't use, borrow one from the Carlton Kitchen Library.
27. Take the pledge at Party with the Planet to limit your environmental impact when you're at music festivals.
28. Hosting an event? Instead of using disposable plates and bowls, get reusable ones from Green My Plate. The team will hook you up with what you need, then wash, dry and reuse them.
29. Fancy a night out? Party your socks off at a venue like Union Electric or any one of many Melbourne bars that are prioritising sustainability.
30. Plenty of Melbourne restaurants are doing their bit for the planet too. Try Anchovy or Burn City Smokers for a delicious meal that doesn't cost the Earth.
31. Love cheap food and hate waste? Of course you do. Download the Y Waste app or Bring Me Home app. Restaurants and cafés with excess food will post it on the app, and you can then buy it for a huge discount. Win win.
32. Learn about Melbourne's environmental past, sustainable buildings in the CBD and retail shops that are doing their bit for the planet on the Green Tour by Wayward Wanderers. The walking tour takes you through the city and up to CERES environmental park, and you'll learn heaps about environmental initiatives – and what you can do – along the way.
33. Get your morning coffee from a café that participates in the Reground program. Reground picks up spent coffee grounds and uses them as fertiliser.
34. Get involved in a community edible garden. You'll meet your neighbours and get some exercise – plus, of course, you'll get loads of fresh produce.
35. Buy liqueurs from Marionette, run by Melbourne hospo heavyweights who buy 'ugly' and unsaleable fruit and turn it into delicious drinks.
36. Visit Library at the Dock and borrow equipment for sewing, crafting, audio production and more.
37. Use Yarra Council's Zero Waste map to find community gardens, where to recycle various items, businesses making a commitment to the planet and more.
38. Plant trees with the Tree Project, which organises working bees around Melbourne.
39. Get an awesome-looking bag from Beekeeper Parade, which has shops in Melbourne Central and Fitzroy. The bags are made upcycled fashion waste otherwise destined for landfill – and the company will donate to the education of children in rural Cambodia with every purchase.
40. Disrupt business as usual and demand action on climate change by writing to your local MP, joining or donating to a environmental organisation (like Seed or the Australian Conservation Foundation).
Still in an altruistic mood?
Been thinking of giving your time to those in need, but not sure where to start? These worthy causes are always looking for helping hands.