The best vintage shops in Melbourne
Take a slice of history and make it yours at these emporiums of yesteryear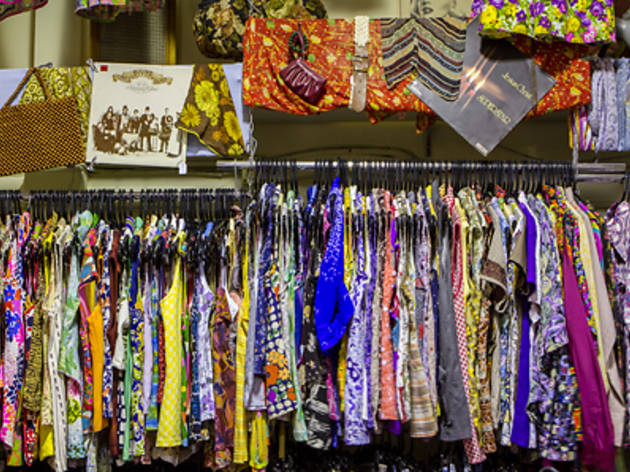 Skip the fast fashion and hunt for vintage clothing at Melbourne's best vintage shops. We've chosen the following stores because they've done all the hard work for you so you can find fashion treasures from bygone eras and repurpose them as your own.
For more shopping experiences, check out the best bookshops and alternative fashion stores in town.
Melbourne's best vintage stores
1
This central city store is a Melbourne institution. Located in the Nicholas Building, RetroStar specialises in '40s to '80s vintage wares, but '70s fanatics can't go past the range of flares, kitschy tees and leather jackets. If you're looking for a '70s style that's cool rather than pisstake, this one's for you.
2
Sell, swap or buy second hand and vintage clothing at Penny Lane, the Sydney Rd clothing exchange store that specialises in good looking goods from yesteryear. Be aware: if you're bringing stuff in, it has to be in great nick and the shop's got the discretion to knock it back. Average prices range between $35 and $65.
4
Shag isn't dissimilar to a Grace Jones film clip on steroids, where bold colours, animal prints, shoulder pads and asymmetrical dresses reign supreme. By selling a mixture of vintage and new, the masterminds behind Shag, Grant Francis and Jeremy Valentine, are always on the lookout to stock kaleidoscope of colour, print and fabric in their stores.
6
Hats! Handbags! Homewares! Vintage Garage is a Collingwood boutique that knows how to do '50s and '60s vintage right. With some of Melbourne's best dealers selecting the stock, they've got you covered from dresses to dress shirts and everywhere in between. Apparel and accessories aside, you can find vinyl records, memorabilia, collectables and vintage fabric throughout your rockabilly time-trip.
7
Thrifty fashionistas rejoice! Bruce offers a carefully curated collection of recycled high-end designer clothing – Prada, Diane Von Furstenberg and some top Aussie designers were on the racks the day we visited – displayed for easy browsing and homing in on the perfect piece. The environment is nice and unintimidating and the prices just right.
8
This blink-and-you'll-miss-it store in North Melbourne is for the daring fashionistas. Martin Fella himself says that he sources the best menswear from international designers from the '50s to '80s – many of whom were responsible for Hollywood glam and glitter – and also French labels such as Lea Stein, St. Tropez and Pierre Cardin.
More great pre-loved finds
Whether you're a bibliophile with a passion for rare books or an avid reader out for a bargain, Melbourne has a wealth of stores to choose from. Here are seven of the best.