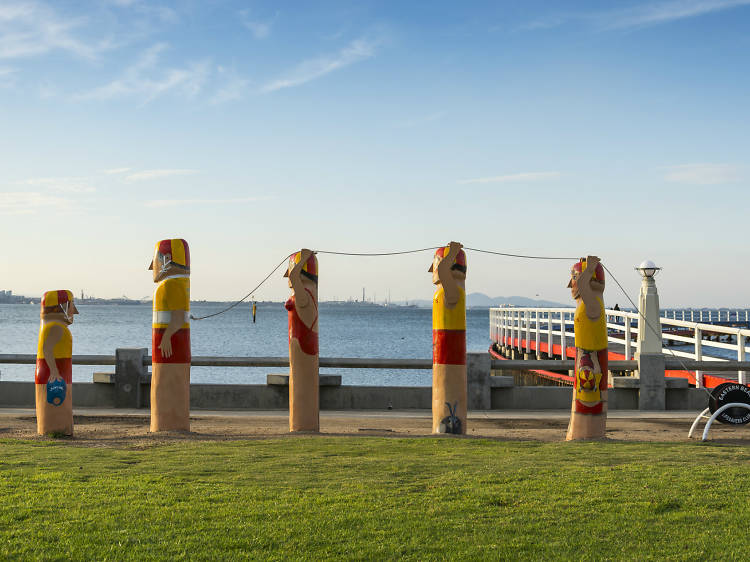 Photograph: Supplied
Regardless of the air temperature, a sunny day in Geelong is best spent on the waterfront. It's here that you'll find the city's famous painted bollards. There are 100 in total, and each recycled timber bollard (they were reclaimed from old piers) depicts characters from the city's history.
We suggest starting at the eastern end of the bollard walk, Limeburners Point, where there is plenty of parking. Working your way west you'll see some Geelong's best seaside attractions such as Eastern Beach Reserve. Everyone flocks here on hot days for a dip in the shark-proof ocean pool, and the adventurous souls enter via diving board or tower. There's also a splash pool for children, a playground, public toilets, picnic facilities and a circular boardwalk around the ocean pool for those determined to stay dry.
Continue strolling west and you'll pass the Geelong's carousel. This merry-go-round was built in 1892 but has been restored and fitted so that wheelchair users can also go for a spin. Further east is Cunningham Pier, a favourite spot for fisherman. For those with young kids, schedule in a stop at MoPA – the Museum of Play and Art. This childrens museum features lots of interactive exhibits that have designed in line with childhood education guidelines.
If the heavens open during your Geelong getaway and you need an indoor activity, head for Geelong Gallery. The late 19th-century gallery has a significant permanent collection as well as regularly hosting fascinating contemporary exhibitions. Bookworms will be happy to hear that right next door is Geelong Library, aka 'the dome' (one look and you'll see why). And just a short drive from the CBD is Geelong's iteration of the Amazing Mill Markets (basically a giant warehouse filled with curated vintage finds).