A 2020 guide to Halloween for kids in New York City
Halloween for kids is especially epic in NYC: Enjoy fall festivals, corn mazes and a few good scary movies for kids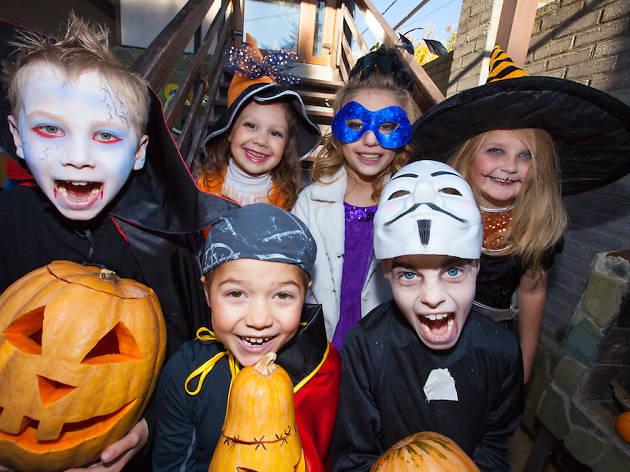 The spooky season is underway. Indulge in our guide to Halloween for kids the way your little ghouls tackle their candy stash.
From screenings of scary movies to adventures through corn mazes, NY families have a plethora of Halloween events for kids to keep them frighteningly busy this October.
Looking for even more adventures this fall? Check out nearby pumpkin picking, visit local cider mills and never miss a harvest festival.
When is the Halloween Parade?
The annual Village Halloween Parade usually takes place on Halloween—Oct 31—at 7pm. This year, however, it is canceled. But there's a silver lining: The event's team confirmed that there will be a suprise on Halloween night and that it will be a "trick," though details have yet to be revealed.
Where is the Halloween Parade?
The parade typically runs up Sixth Ave from Spring St to 16th St. It begins at 7pm and ends around 11pm. (Though if you're bringing your younger kids, you may head home before then.) Usually, parents bring some packable snacks and stake out a great spot a bit early to get a good look at the festivities.
Where to go trick-or-treating
City families can go trick-or-treating all around the five boroughs. Neighborhoods like the West Village and the Upper West Side are especially good spots for gathering treats.
This year, note that the CDC classifies trick-or-treating as a high-risk activity. It's still allowed to take place in New York, however, residents should expect forthcoming guidelines from the state.
Your guide to Halloween for kids
Kids' Halloween costumes and more
Halloween archive coverage