Cheap playdate ideas for kids
Plan the coolest playdate in town with these awesome adventures. We have tons of inexpensive ideas that will get you and your kiddos out and about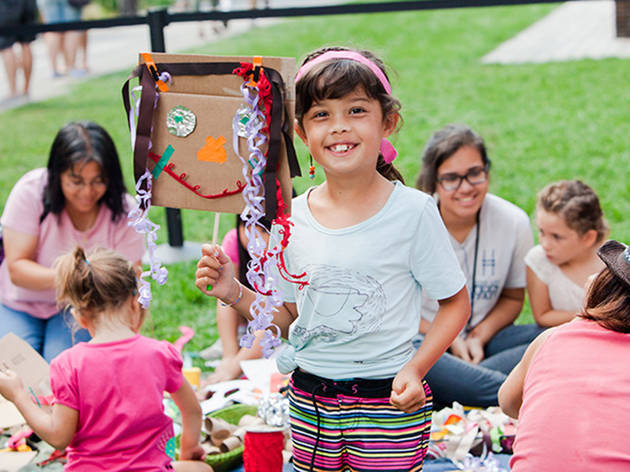 Cheap playdate ideas for kids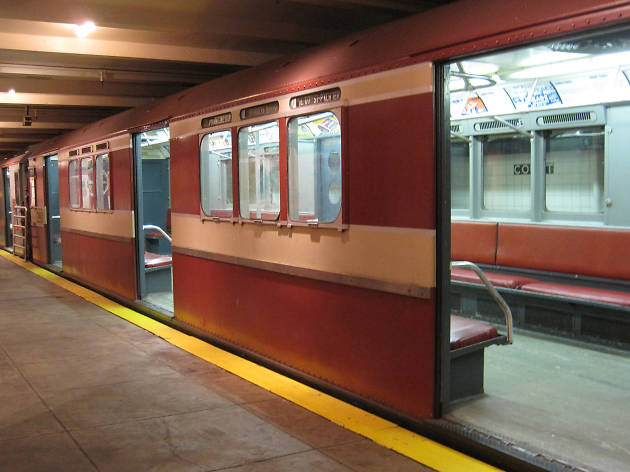 Museums, Special interest
What to do: Here, kids can learn about NYC's 100-year-old subway system and get a look at New York's vintage trolleys and buses. Explore On the Streets: New York's Trolleys and Buses, an exhibit filled with a traffic lights and signs, a mock intersection, a fishbowl-like bus cab, a trolley and a 12-seat bus the kids can board. Also check out Steel, Stone & Backbone: Building New York's Subways 1900-1925, where the pint-size set can see vintage pictures of the subway and learn about the people who built it. Last, there are old subway cars you and the kiddos can climb through!
Where to eat: The Atlantic Chip Shop at 129 Atlantic Ave between Clinton and Henry Sts
What to do: Take the kids to Chinatown for an exciting playdate full of exciting adventures—stop in at the Pearl River Mart to check out cool Chinese knickknacks. After lunch at a local restaurant, stop by Chinatown Ice Cream Factory to try unusual flavors—the little ones will love taste-testing green tea or red bean ice cream before resorting to their favorites (also available). Kids may also want to burn off some energy at the Hester Street Playground, featuring small slides, sprinklers (seasonal), bridges and more.
Where to eat: Prosperity Dumpling, 46 Eldridge St between Canal and Hester Sts
Attractions, Parks and gardens
What to do: This 1.45-mile-long elevated park features public art, amazing views of the Hudson River and free programming for kids. In July and August, little ones will love Lawn Time (ages 0-3), where they can hear readings by storytellers each week, Wild Wednesday (ages 4+), featuring crafts and activities, and Arty Hours, where kids explore their creativity through hands-on art projects—it's perfect for an afternoon playdate. During wintertime, the park also offers their annual Snow Sculpt-Off.
Where to eat: Chelsea Market, 4095 High Line at 10th Ave between 16th and 17th Sts
See amazingly gorgeous flowers at QBG
What to do: Take the kiddos for a playdate at one of the most beautiful, colorful (did we mention it smells great?) places in the city, the Queens Botanical Garden. With tons of gardens to choose from, you can explore green spaces dedicated to honey bees, butterflies, roses, wetlands and more.
Where to eat: Phil & Sons Pizza, 5729 Main St between 58th and Booth Memorial Aves, Flushing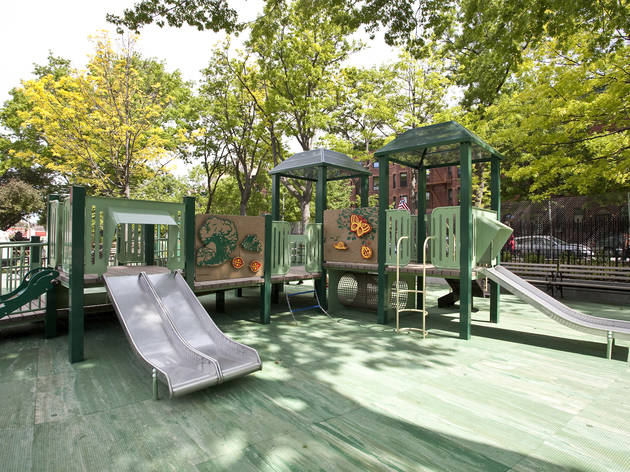 Things to do, Playgrounds
What to do: Reach playdate perfection with a visit to the J.J. Byrne Playground in Park Slope—there are two sprinkler areas with water spray cannons during warmer months, plus a swing set with big kid and bucket swings, fun house mirrors and interactive map of the Battle of Brooklyn. There's also the Old Stone House right next door, a reconstructed 1699 Dutch Farmhouse that existed in the midst of the Battle of Brooklyn. It offers kid-friendly models, maps and knowledgeable storytelling staff (free, small suggested donation).
Where to eat: Bagel World, 339 5th Ave at 4th St, Brooklyn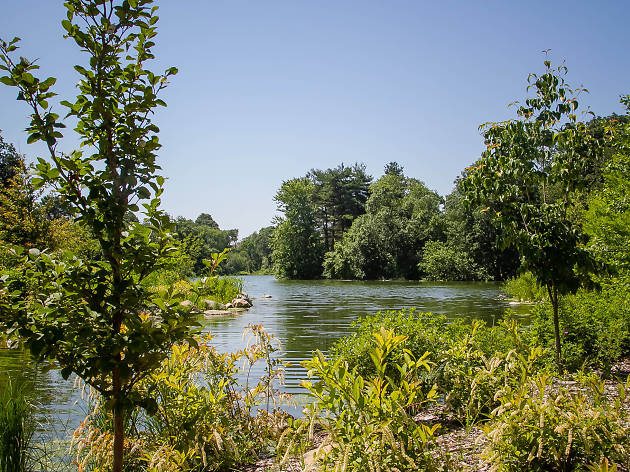 Attractions, Parks and gardens
What to do: Prospect Park has it all—from ball fields to BBQ pits, you and the kiddos can easily spend a full day picnicking and exploring. Check out the Prospect Park Zoo ($8, children 3–12 $5, under 3 free) to see exotic animals, Lefferts Historic House ($3 suggested donation) to explore an 18th-century farm home with period rooms and artifacts, Carousel with 53 handmade horses ($2 per-ride), Audubon Center (free, located in the Prospect Park Boathouse) and Imagination Playground for a full day of fun.
Where to eat: Gino's Trattoria & Brick Oven Pizza, 548 Flatbush Ave between Lincoln Rd and Maple St, Brooklyn