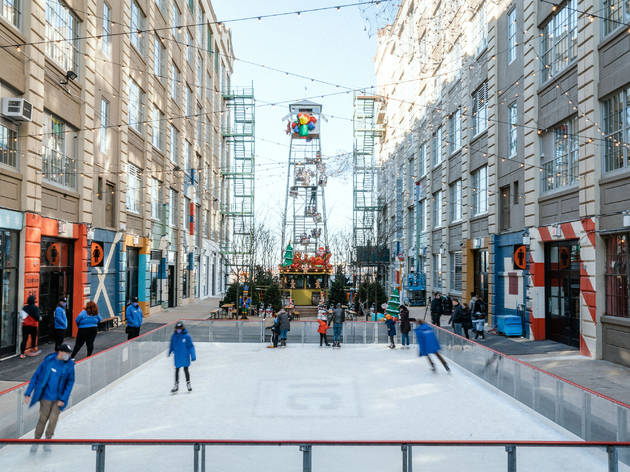 Where to go ice skating this winter in NYC
Lace up, New York! The ice skating season has arrived, and you won't want to miss a chance to show your moves.
Update: New rules and regulations are in place for 2020. Always call ahead before making a visit.
'Tis the season to skate! Grab those warm winter coats and get ready to visit the best ice skating rinks in New York City.
Although things look a little different this year—new health requirements, reduced capacity, etc.—the season can go on safely. Your favorite family attractions like Bryant Park and Rockefeller Center are back and ready to welcome winter athletes who want to perfect their moves.
RECOMMENDED: Full guide to Christmas for kids in New York
After a few loops around the rink, be sure to snag a cup of hot chocolate. (It's the best way to refuel, if you ask us.) Then peruse our December events calendar for other fun, socially distanced Christmas events taking place throughout the city.
See you on the ice.
Ice Skating in NYC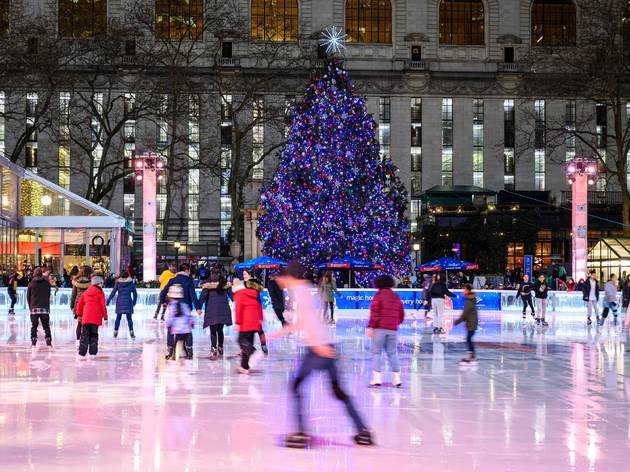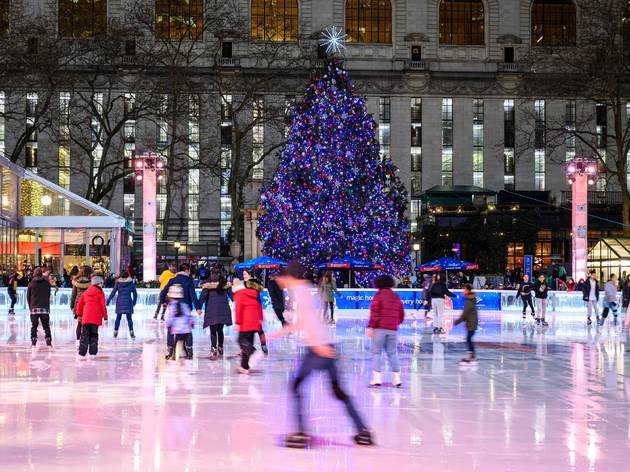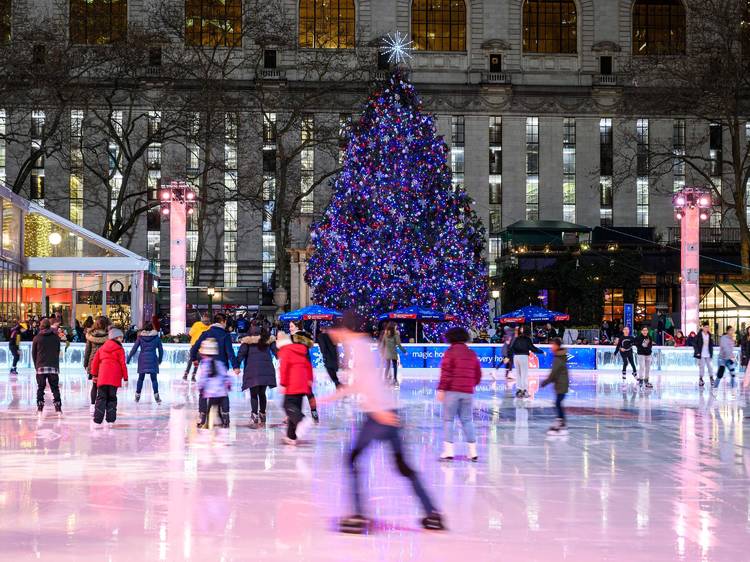 Photograph: Shutterstock/DW labs
1. Bank of America Winter Village at Bryant Park
If we were to venture to the North Pole, we'd imagine it would look something like Winter Village. Handmade goods and sweet treats (that hot chocolate!) abound at every turn while a tremendous skating rink and glorious Christmas tree are at the heart of the midtown attraction. The rink is open daily for the 2020 season, but there are some changes this year: All tickets ($21–$36) must be purchased online, walk-ups are not permitted and sessions are now timed. (A list of new rules and regulations are listed online.) Curling packages are also available for those who love winter sports. Keep your fingers crossed for the return of ice bumper cars in 2021.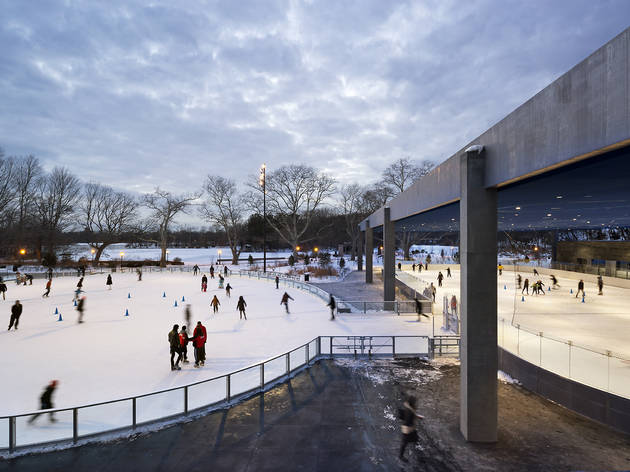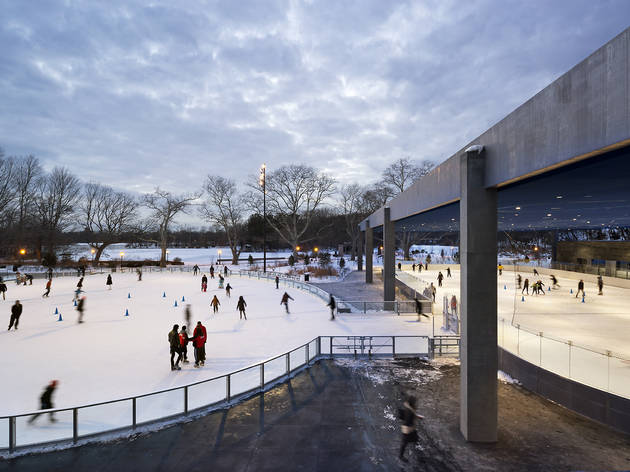 Photograph: Courtesy Michael Moran
2. LeFrak Center at Lakeside
Don your coziest winter garbs and venture to Prospect Park: Ice skating has returned! Things will look a little different this season, but the fun will go on. Masks and social distancing are required while skating. Ninety-minute timed tickets are available to purchase up to one week in advance and there will be limited tickets set aside to purchase on-site. Guests are asked to arrive 30 minutes early for their session. Beginning in December, private, semi-private and group lessons—including options for figure skating and hockey—will kick off at the skate school. Parents will even be able to look into outdoor skating parties for their kiddos, all while following the proper health protocols, of course. When all is said and done, make sure you hop over to the Bluestone Cafe for hot chocolate—the perfect way to wrap up outdoor activities in the winter. The rink is open Friday and Saturday from 9am–9pm and Sunday from 9am–7pm. Admission is $7.50 on weekdays and $11 on weekends. Skate rentals are $8.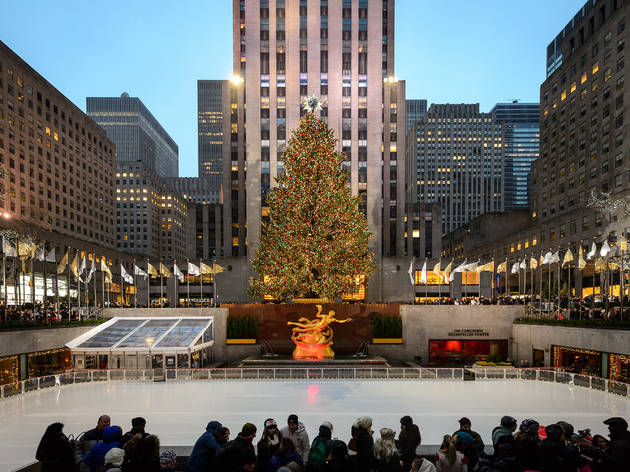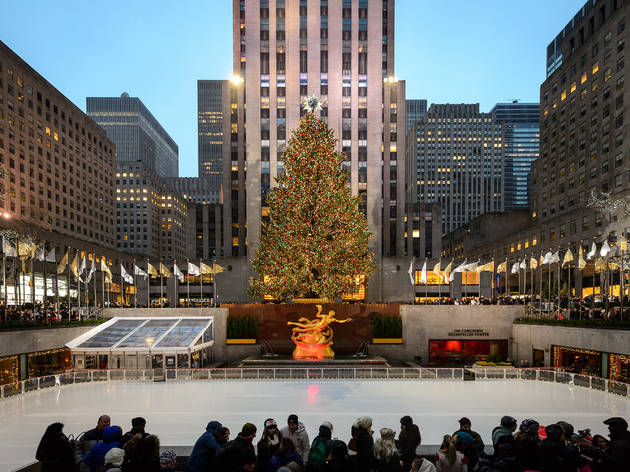 Photograph: Filip Wolak,Ice Rink at Rockefeller Center
Winter in New York would be incomplete without the iconic rink at Rockefeller Center. Who doesn't want to glide under the quintessential Christmas destination in the city?! The limited 2020-2021 season, which will close on Jan 17, offers timed sessions that must be booked online. If you're planning to hit the ice with your little athletes, note that guardians are required on the rink for those 6 and under. One non-paying adult supervisor is permitted inside the venue, but not necessarily on the ice, for those 13 and under. Call 212-771-7200 with ticket questions. $15–33; skate rental $12.50. Group rates available.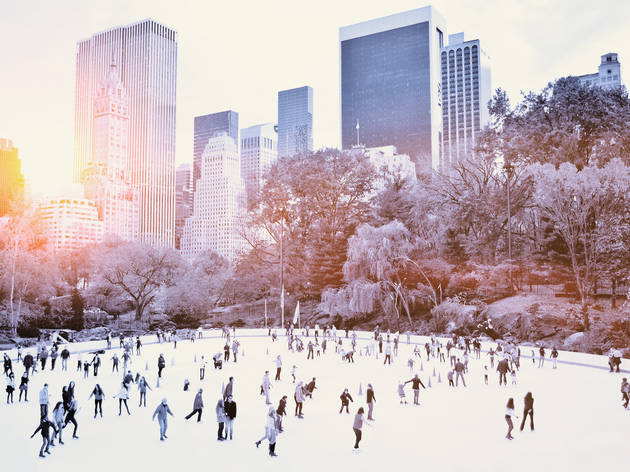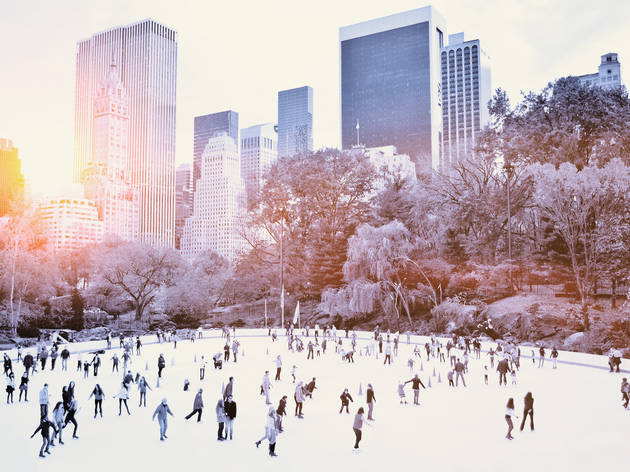 Photograph: Courtesy Shutterstock
Practice those moves in Central Park's iconic ice skating rink while taking in views of the city's skyline. Open daily for the 2020 season, Wollman Rink offers public skating sessions (weekdays $12, $6 children 11 and under; weekends $19, $6 children; $10 skate rentals), figure skating and ice dance sessions as well as skating school classes. Note that temperature checks and masks are required upon entering the rink, and all safety information is available online. This venue is cash only.
Brooklyn's creative hub is encouraging New Yorkers to get their skate on this season—both ice skating and roller skating!
Industry City is opening its ice rink by Volvo Car USA at the end of Thanksgiving week on November 27 and the beloved Dreamland Roller Rink by Lola Star in December.
This year, Industry City's ice rink in Courtyard 5/6 will be open during the winter season every Thursday-Sunday until March 1. (It will also be larger than last year's rink!) And when you're not skating on the heated outdoor rink, decorated with tons of holiday décor, you can grab a cup of hot chocolate from Frying Pan Brooklyn next door.
You can skate during the following hours:
Thursdays: 4-8pm
Fridays: noon-8pm
Saturdays: 10-8pm
Sundays: 10-6pmTickets are $12 per person, with skate rentals costing $10 per person. Tickets can be purchased on site at Industry City or online.
If you're feeling nostalgic for the olden days of roller skating to groovy tunes, Dreamland Roller Disco is nearby for you on the Factory Floor in Building 1 December through March.
The decision to return to Industry City was a no-brainer for Lola Star, who has had a creative space on the Industry City campus since 2012.
"So many decided to start because it's the perfect way to stay fit, decrease stress, and have fun while social distancing," Star said. "Right now, the world needs the experience of collective joy, so I am thrilled that Industry City has given me the opportunity to create these safe experiences of collective, roller disco joy."
Her costumed roller disco parties will be back on these days:
Adult Skate Class: every Friday & Saturday 6-7pm
Dreamland Roller Disco: Every Friday & Saturday 7-10pm
Toddler Skate Party: Every Saturday 10-11am
Kids Skate Class: Every Saturday 11-noon
Family Skate Extravaganza: Every Saturday noon-3pm
Dreamland Discoteque – Roller Disco Brunch Party: Every Sunday 1-4pm
Tickets are $12–$28 per person with skate rentals included with admission. Tickets can be purchased on site at Industry City or online.
Of course, there will be social distancing and face masks required on both rinks.
The William Vale has once again transformed its 23rd-floor outdoor rooftop into a skating rink—an experience that comes with a side of panoramic views of New York City. Sessions at Vale Rink are now open just in time for the holidays. Guests are required to make reservations in advance to allow for reduced capacity during skate sessions (which run 50 minutes per group). You can snag tickets here. All customers are required to wear masks at all times during their visit on and off the rink. Wednesday to Friday from 2pm to 10pm and Saturday and Sunday from noon to 10pm.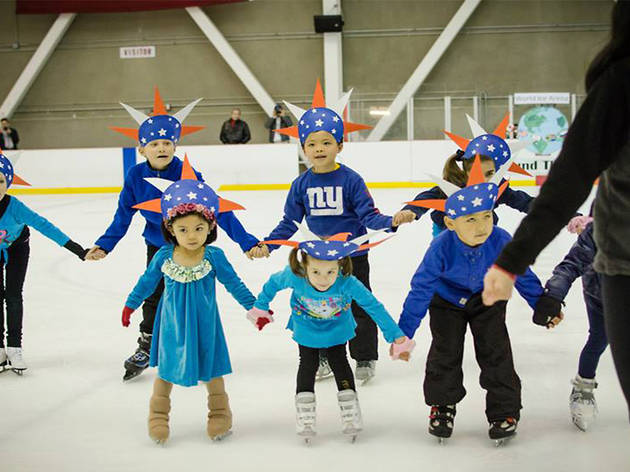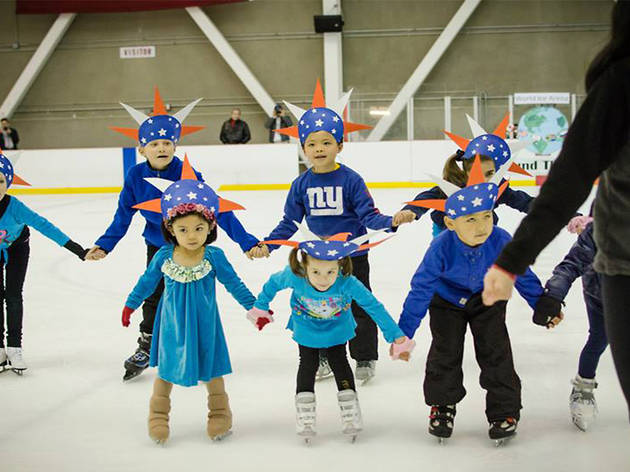 Photograph: World Ice Arena
Flushing Meadows Corona Park is home to some of the best ice skating in Queens: Visitors can enjoy freestyle skating ($25–$28), stick and puck sessions and group classes (reservations only), among other options. New safety protocols are in place this year, including reduced capacity and health waivers. (You can view them all online.) Note that parent spectators with children 13 and up are not permitted beyond the lobby.
The trek to Staten Island is so worth the scenery: Clove Lakes Park boasts some of New York's few remaining wetlands. Admission $10, skate rental $5; open Friday from 4–10pm, Saturday noon–4:30pm and 7–10pm and Sunday noon–6pm.
World Ice Arena's sister facility is ready to take on the winter with public skating, freestyle sessions, group lessons and more fun things to do! Similar health precautions will be in place as well, including operating at minimum capacity and having guests sign waivers. (All info is available online.) Now's the time to master the triple axel...or just stand up without holding onto the railing for support—either or!
Update: Sky Rink is operating with a moderate schedule and new safety precautions. Learn more online.
There's no need to wait until winter to glide across the two full-size rinks at this megacomplex—they're open year-round for general skating as well as hockey and figure skating. Unlike most indoor ice arenas, this one doesn't feel like a cave; ample windows afford sweeping views of the Hudson River to the west.
Best selling Time Out Offers