The best Lower East Side bars
New York's best Lower East Side bars include sophisticated cocktails dens, casual gastropubs and karaoke dives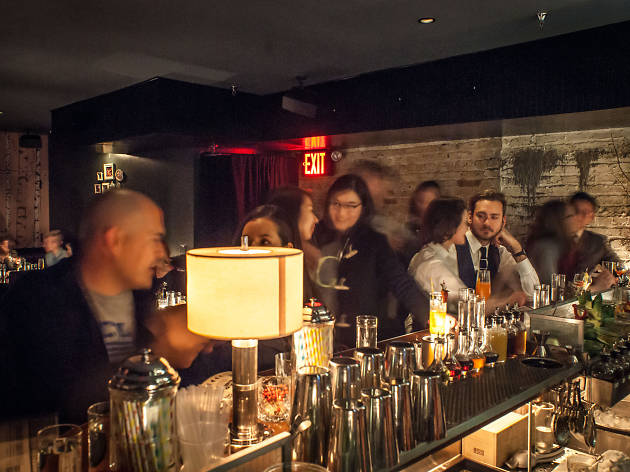 The Lower East Side is a bar hopper's paradise, thanks to the sheer volume and diversity of bars in the downtown neighborhood. European suds connoisseurs can find solace at craft beer bars, martini lovers can sidle up to some of the city's best cocktail bars, and even cider drinkers have a niche spot devoted to their poison of choice. From wine bars to whiskey haunts, these are the best Lower East Side bars in NYC.
RECOMMENDED: Full guide to the Lower East Side
Best Lower East Side bars
1
Not all spin-offs are created equal: The best retain what you loved most about the original, with enough new material to keep things fresh—Frasier from Cheers, The Jeffersons from All in the Family—while others simply crash and burn. Luckily for Gotham's cocktail-swigging masses, this Milk and Honey offshoot—sweeping into the old space like a series takes over a stock time slot— falls into the former school, boasting characters as familiar as Frasier Crane to the Cheers crew, but with a livelier, lighter air than Sasha Petraske's dim big-league cocktail den.
Read more
2
When a sake-and-spirits temple with a Pegu Club–pedigreed barkeep lands on the Lower East Side, there's no avoiding the chorus of cocktail-geek fanfare to follow. Yet take a seat at Kenta Goto's glimmering black-and-gold boîte, lodged away from the Houston Street bedlam, and you'll find the noisy hype storm is curtailed by cool poise, from the hostess's graceful reception to silent servers weaving through tables. In the absence of distractions, focus directs to the well-lit bar, where Goto effortlessly stirs his Far East–whispered creations, drawing on his Japanese heritage as much as his lauded tenure at Audrey Saunders's cocktail trailblazer.
Read more
3
The entrance is hard to find (hint: if you pass Schapiro's, you've gone too far) and you'll have to wrestle an unwieldy velvet curtain the second you step inside. But the effort is well worth it, if only for the cavalcade of cocktail killers at its helm: Death & Co. honchos David Kaplan and Alexander Day own the joint, with drinks maven Natasha David (Maison Premiere, Mayahuel) behind the stick. Together, the trio has stirred up the kind of devil-may-care after-hours haunt you'll want to linger at long after closing time.
Read more
4
There's hardly a name in New York's bar scene more polarizing than Giuseppe González. The Bronx-born, Cornell-educated barman has worked behind the stick everywhere from Julie Reiner's Flatiron Lounge to Audrey Saunders's Pegu Club to his own short-lived PKNY. With his sharp wit and sharper tongue, González has a straight-shooting M.O. that is, according to those who've worked with him, an acquired taste. It's no surprise, then, that this highly personal Lower East Side project, taking decor cues from humble English pubs (namely, Churchill Arms in London), aims to make cocktail culture more accessible than ever for the average drinker while simultaneously challenging industry norms through both drink and design.
Read more
5
In the realm of spirits, cider is the overlooked wallflower; not as crowd-pleasing as beer or as effortlessly cool as the cocktail. But now the underrated sip gets its due at this glowing pocket-sized den on Orchard Street, offering a dozen drafts and nearly 100 bottles of the apple elixir. The brainchild of Jennifer Lim and Ben Sandler, the husband-and-wife team behind suds hub Queens Kickshaw, this fruit-forward bar will turn those cider snubbers into seekers.
Book now
Read more
6
You'll need a magnifying glass to navigate the chalk-drawn wine list at this dimly lit vino depot, oddly named for Jack the Ripper's hunting grounds. Happily, knowledgeable servers are there to help, and the collection of global organic wines—16 glasses, most for less than $10, and 50 bottles—rewards your troubles. Standouts include Morocco's fruit-forward Syrocco syrah or a floral Austrian Grüner Veltliner. Snacks are basic but tasty—stick to cold plates like oysters and tartares.
Book now
Read more
7
When the weather turns brisk, the spirits go dark: floral gin gets swapped for smoke-nosed Scotch, and sunny rum makes way for spicy, robust rye. The brown slugs of fall are heartier than summer's easy-drinking sips and leagues more complex: mash percentage, grain variety, even soil disparities can profoundly alter the taste of whiskey. That's a hell of a lot to grasp for a connoisseur, let alone a brown-bottle newbie. Thankfully, the intimate Copper & Oak on the Lower East Side have whiskey enthusiasts covered like the sealed top of an aged barrel.
Read more
8
Anheuser-Busch sales executive Ted Kenny gave up his corporate gig to follow a beer-nerd dream—running his own craft-brew shop on the Lower East Side. Fill your growler from one of 20 draft lines (pouring quaffs from Greenport Harbor Brewing, Goose Island and others), or choose from more than 700 bottles (such as Founders and Westmalle). Aspiring beer connoisseurs can pop in on classes and brewmaster tastings. The space also features a casual standing bar, where drinkers can sip on the shop's selections and nibble on cheeses and charcuterie.
Read more
10
Arlene's Grocery was one of the earliest rock-music venues south of East Houston, and it remains a hallowed hall of head-banging. Er, make that hallowed hole. Downstairs from the main bar is the room where bands rock out all week long; you'll need a liberal definitions of "loud" and "personal space" down there. Some impressive folks have taken the mike—Jeff Buckley, the Strokes, Vanessa Carlton and Beth Orton. Monthly events range from All-Ages Afternoon to Triple 666 Sunday, which is billed as "a night of debauchery."
Read more
Show more
Looking for more of the best bars?
From dives to cocktail dens and craft-brew havens to wine haunts, here are the best bars in NYC to visit right now
Read more
Sponsored listing
Jack the Horse Tavern
Sitting on a leafy corner off Brooklyn Bridge Park, Jack the Horse Tavern is the embodiment of Brooklyn Heights chic: cool and picturesque with vintage flair. The brainchild of husband-wife duo chef Tim Oltmans (Tabla) and Micki Schubert, the restaurant touts airy storefront windows that peek onto a charming colonial streetscape of brick homes and shuttered windows while inside, a soft jazz soundtrack bids diners to ease into their surroundings and stay awhile. Upgraded pub grub rules the day at this refreshed take on a local tavern, with flourishes highlighting the natural elegance of seasonal produce. The farm fresh beet salad ($10) is a harmonious symphony of red, golden and candy cane beets accented with goat cheese and a bitter hum from spindly twirls of cress. On the more indulgent side, a unique take on macaroni and cheese ($9) serves corkscrew cavatappi in a smoldering smoked gouda sauce. On the entrees front, a well-charred flatiron steak ($29) is another fine example of the restaurant's upgrade of classic fare. The accompanying dollop of tarragon-flecked béarnaise is a classic bistro pairing for steak, while the prototypical steakhouse side of creamed spinach is surprisingly light here, barely kissed by a drape of melted butter. Crunchy flakes of sea salt give the dish a tactile quality that makes the meal a fully sensory experience. A side order of garlic-chive potato puree ($6) is perfectly silken with a green garlic flavor that evokes the verdant scents of a ne
Venue says: "Don't miss the knock-out happy hour from 5:30 until 7:00 every day. Chef's select oysters for $1, Old Fashioneds, Mac & Cheese, beer & wine."