Yes, they're kitschy and cheesy as hell, but that doesn't stop people from seeking out New York's themed restaurants. They range from tourist-trap restaurants whose staff breaks out into song, to a hotel spot with a penchants for theatrics.
The Polynesian: Transport yourself to French Polynesia or Hawaii or any one of those perfect places at this Major Food Group bar that serves elaborate tiki drinks in a resort-like space.
House of Wax: This creepy bar and restaurant inside Alamo Drafthouse is lined with anatomical and sideshow displays straight out of a haunted house.
Jupiter Disco: The Bushwick bar proudly touts a midcentury dystopian sci-fi theme with orange florescent lights, dark turquoise booths and nostalgia-inducing technology like spectrum analyzers, oscilloscopes and a functioning reel-to-reel tape recorder.
Trailer Park Lounge: It might not be the most upscale theme, but it is down-home fun at this kitschy Americana bar stocked to the brim with flashy tchotchkes.
The Heath: Skip Sleep No More and just have dinner at the Heath, a cabaret-style supper club that makes you feel like you're in 1920s Britain.

Boudoir: Although not as grand as Marie Antoinette might have liked, this sumptuous cocktail den boasts red-velvet banquettes and gold trimming and serves French appetizers and desserts. (Yes, there's cake).

Ninja New York: Who doesn't want their steamed shrimp with a side of high-kicks? This ninja-themed bar, in Tribeca of all places, has Japanese-village decor, fusion dishes and plenty of dark scares on your descent.

Ellen's Stardust Diner: Of course there's a Broadway-themed restaurant right in Times Square. Listen to (what we assume are) aspiring Great White Way stars as they belt out show tunes while you munch on burgers and fries.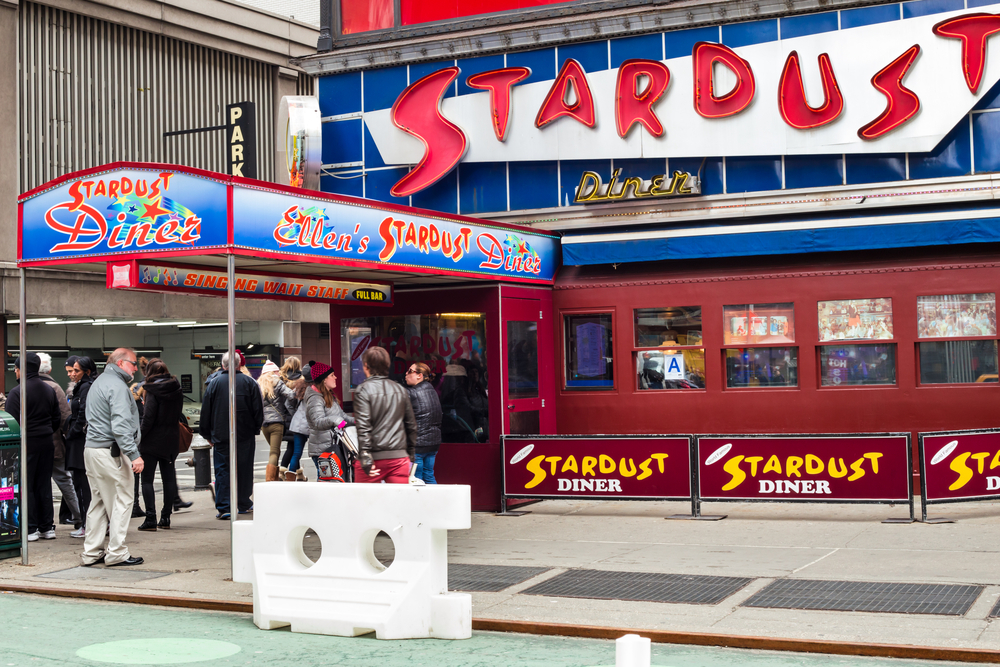 Pasta Wiz: The fact that this Williamsburg fast-casual pasta spot is truly Harry Potter-themed is questionable at best. But being the devoted Muggles we are, we'll take the old witches hat and medieval decor anyway.

Beetle House: This Tim Burton-themed bar and restaurant in the East Village features Winona Ryder caricatures, surgical instruments and gothically dressed waiters.

Brooklyn Farmacy & Soda Fountain: Nostalgia reigns supreme at this converted 1920s pharmacy that now operates as a throwback soda shop offering sundaes, milkshakes and sandwiches.

Tortilla Flats: Sure, there are tons of Mexican restaurants in NYC, but none have that oomph quite like Tortilla Flats, with colorful streamers hanging from the ceiling and homages to Elvis scattered throughout. Hey, we never said the theme had to make sense.
Updated January 30, 2019