The most romantic restaurants in NYC
From cozy charmers to white-clothed stunners, make sparks fly at the most romantic restaurants in NYC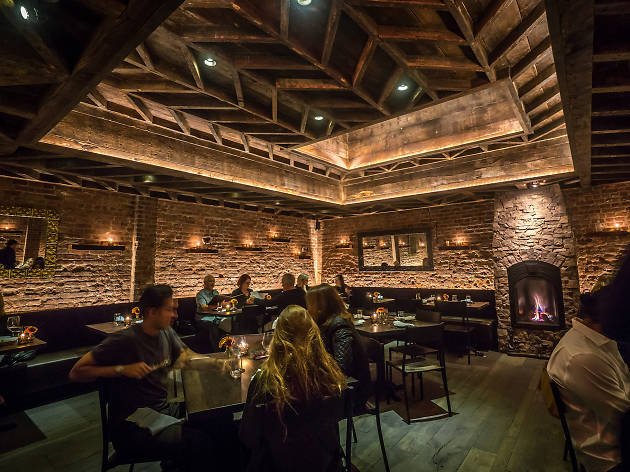 Most romantic restaurants in NYC
The understated jewel box, as sparely appointed as a Japanese rock garden isn't any flashier than it used to be, but the food is more exciting than ever. Lo's menu, a mercifully brief and balanced departure from the zeitgeist, isn't lopsided with pork, or burdened with extraneous side dishes or snacks. The compositions, often inspired by the chef's own eating adventures (in 2009 she was crisscrossing the globe), are so intensely personal, they seem to exist in a vacuum. While her colleagues, all appear to be stuck in the same comfort-food rut, Lo takes a singular stand for old-fashioned refinement. Lo's food, complex and audacious, is unlike any other you'll find in New York.
Book now
Read more
Situated on an expansive working farm, the restaurant features produce and meats that come directly from the surrounding fields: Pigs that graze just outside the window arrive on the table in preparations fine-tuned to the seasons. They may appear as sesame-coated strips of pancetta wrapped around deep-fried asparagus stalks, or perhaps as meaty cuts with a bright and sweet carrot sauce.
Read more
New York's first true Madrileño tapas bar offers its Spanish nibbles in cramped quarters, with only a few barstools and ledges for plates; the idea is to graze, drink and chat before heading elsewhere for dinner. An adventurous party of two, up for such challenging dishes as a miniature wasabi-kissed sea urchin "panino," could quite easily eat every single thing off of the short menu without feeling too gluttonous.
Book now
Read more
There's a raffish, multiculti charm to the whirring overhead fans, live music and chili-pepper garlands at this low-lit spot. The tapas are consistently tasty, with a zingy snapper ceviche leading the way. After the apps, tuck into chayote salad with lime dressing, pan-seared adobo chicken or Brazilian pork stew. The cocktails—like a cachaza-laced Pineapple Express—are fruity and well-mixed, and perhaps the best reason to come.
Book now
Read more
The fashionably cookie-cutter decor—exposed brick, globe lights, hulking marble bar, you know the drill—suggests you've stumbled into another bustling rustic restaurant-cum-bar that's not worth the wait. Far less common are talents like Ignacio Mattos, the imaginative Uruguayan-born chef cooking in this Mediterranean-tinged spot. Mattos has reined in his modernist tendencies at Estela, with an ever-changing, mostly small-plates menu that pivots from avant-garde toward intimate, bridging the gap between space-age Isa and the homey Italian he used to cook at Il Buco. But even if he's tempered his vanguard streak, his primitive urges are alive and well.
Read more
Strictly speaking, the mash-up of restaurant and retail food shop makes sense. You pop in to browse, and you stick around for a meal. But in New York, the combination has been an awkward fit. Il Buco's new casual offshoot—one part winecentric restaurant (Vineria), one part gourmet food pantry (Alimentari)—pulls off the combo more elegantly.
Book now
Read more
Executive chef Paras Shah's résumé includes a scholarship-won stage at that world-famous Spanish temple El Bulli, along with sessions at Per Se and Momofuku Noodle Bar. It's actually the latter restaurant that seems to have most informed Shah's solo kitchen debut, a pan-Mediterranean dining room with a David Chang–esque larder stocked with flavors from more far-flung coasts. An open kitchen overlooks the 70-seat dining room—a moody, brick-walled stretch divided into a front bar area fitted with leather booths and metal trellis archways, and a back dining room warmed with a stone fireplace.
Book now
Read more
The city's most ambitious Japanese speakeasy is marked only by an open sign, but in-the-know eaters still find their way inside. The food, presented on beautiful handmade plates, is gorgeous: Maitake mushrooms are fried in the lightest tempura batter and delivered on a polished stone bed. Sushi (we tried the salmon) is pressed with a hot iron onto sticky vinegared rice. The fish is topped like a still life with its own microgreen forest. The few desserts—including an extra silky crème caramel—are just as ethereal as the savory food.
Read more
After reinventing itself, this French bistro in Williamsburg now serves even more affordable classics, like brown butter skate and steak frites, than it did when it first opened. In the back, a nineteenth-century–style wine lounge with antique furniture and a functioning fireplace opens onto a small garden space.
Book now
Read more
Show more