NYC events in May 2018
Plan your month with our events calendar highlighting the best NYC events in May 2018 including major holidays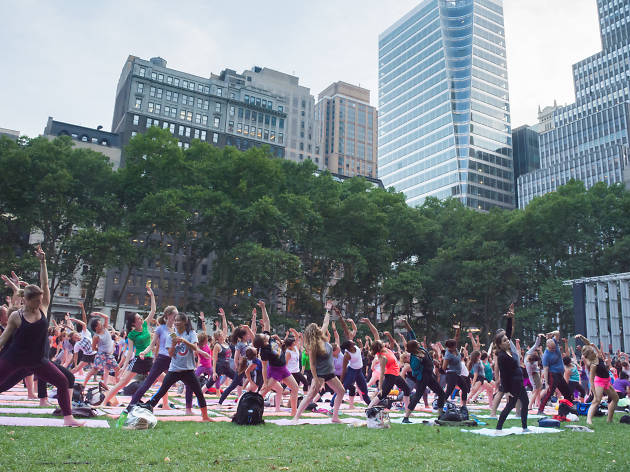 Now that spring is in full swing there's certainly no shortage of outstanding NYC events in May 2018. We encourage you to find things to do outside and take in all the greenery by visiting some of the best NYC parks while the flowers are in full-bloom. As for the month's major holidays, don't miss out on all the awesome things to do for Mother's Day and Memorial Day. There's also incredible spring festivals showcasing some of the best art and music.
RECOMMENDED: Full NYC events calendar for 2018
Featured events in May 2018
Free NYC events in May 2017
Music events in April 2017
After this L.A. noise-punk outfit released its minimal An Object in 2013, the band decided to sit back, slow down and take a look around. Five years later, No Age has returned with a thoroughly enjoyable—and quite accessible—new album on Drag City, Snares Like a Haircut. It's a hearty dose of propulsive, anthemic rock and a worthy addition to the duo's already glowing catalogue. The tunes will make for an invigorating show.
Since George Lewis Jr. first introduced himself to the public as north Brooklyn's one-man laptop act, he's added a live band to the fray and made for a bona fide Prince-inspired endeavor with slick dance ballads—that is to say, it's awesome. His new full-length, Caer, is his most fully realized vision yet, so be ready to move to sparkly jams.
Even as a teenager self-releasing songs under the moniker Zoo Kid, Archy "King Krule" Marshall stood out as an old soul. His voice, layered with art-school echo, recalls the smoky baritone of bygone crooners like Johnny Hartman as well as the abrasive romance of Joe Strummer. Here he plays from his most recent album, The Ooz, a surrealist foray into the artist's psyche that effortlessly melds neo-soul, jazz and trashy punk.
This gig will have you snoozing—and that's no accident. The celebrated contemporary classical composer Max Richter supplies audience members with cushy mattresses for his eight-hour overnight orchestral concert.
Spring Studios; Friday, May 4 & Saturday, May 5 at 9pm
A woman of many aliases, Destiny Frasqueri first made headlines as "Wavy Spice" in 2013 before diving into Afrofuturist explorations as well as disco, blues and soul vibes under her birth name. Recently, as Princess Nokia, she's become a local icon, spitting an airy flow over hip-hop beats. Despite all the shifts, one trait remains: a commitment to continually breaking expectations. Her newest release, an emo mixtape titled A Girl Cried Red, is the latest thrilling transformation.
A band-name backstory: for the sake of privacy as a teenager in Virginia, Will Toledo began recording his 11-album discography (all self-released on Bandcamp) by hunkering down in the back of the family car. After picking up on Toledo's unique ear for poignant melody, prestigious indie arbiter Matador Records released his Teens of Style and Teens of Denial, both breathtakingly ambitious efforts with rough-hewn anthems that recall peak-era Built to Spill or Modest Mouse. This year sees the release of a re-recorded version of his 2011 LP, Twin Fantasy. Count on hearing from that cult fave at this outing.
This thrash quintet turned heads with last year's Nightmare Logic, an LP that perfectly captured the precision fury of mid-'80s Metallica—sans the ballads. The Dallas crew hits Elsewhere for a pair of shows with support from Sheer Mag, an anarchic, defiant outfit with incisive politics and arena-sized aspirations. The May 9 bill also includes Outburst and Krimewatch; May 10 features Fury and Red Death.
Show more
See more NYC concerts in May
Looking for more things to do?
Discover the best things to do in NYC with the ultimate insider's guide to restaurants, bars, clubs, museums and more
Sponsored listing
Bami
Southeast Asian street foods take center stage at this Williamsburg restaurant. The menu includes both traditional dishes like shrimp summer rolls ($6) and more inventive options like a Thai chicken satay sandwich served on a baguette ($11.95). If you're just here for a snack, you might try the four-piece order of pork, shrimp or vegetable dumplings ($5), roast duck summer rolls ($6) or sweet corn with basil and garlic butter ($6). Larger dishes include a slow-cooked duck leg in a five-spice broth with egg noodles ($15), a Vietnamese caramel tiger shrimp sandwich with lemongrass mayo ($12.95) and beef shank with brown gravy over rice ($15).
Venue says: "Vietnamese sandwiches, Asian noodle bowls, and over the rice plates. Grab & Go in the heart of Williamsburg!"