The best fondue in NYC
Warm up with the best fondue in New York, from classic cheese to vegan varieties and chocolate potages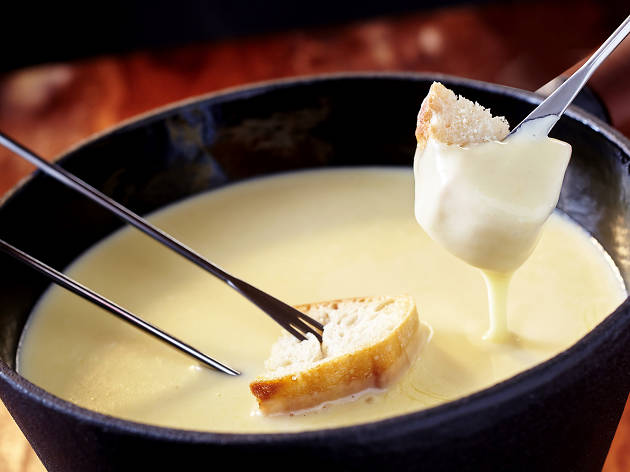 New York may now be a post–Bourgeois Pig world, but you can soothe your sorrows with bubbling vats of the best fondue in NYC. You can get crocks of traditional fondue au fromage at some of the citys best French restaurants or your favorite neighborhood cheese shop, but New York is also home to chocolatey dessert fondues and even dairy-free versions from the citys top vegan and vegetarian restaurants. Grab a long-pronged fork and get ready for dipping at these restaurants and shops offering the best fondue in NYC.
RECOMMENDED: Full guide to best restaurants in NYC
Best fondue in NYC
1
Serge Becker could draw a crowd if he served nothing more interesting than baked beans on toast. At Caf Select, the nightlife-impresario-turned-restaurateur (La Esquina, the Box, 205) does virtually that—offering up the sort of working-class Swiss comfort food you might find in a factory cafeteria in the Alps. (Becker, who grew up in Switzerland, was presumably pining for the simple pleasures of home.) The back room rolls out for-two fondue in the winter months: The rich Gruyère-raclette concoctions can come flavored with white truffle ($23 for appetizer or $46 for main) or with fresh tomatoes, sun-dried tomatoes and olives ($22 for appetizer or $44 main).
Book now
Read more
2
The fromage-focused West Village restaurant offers a shareable fondue that's served alpine-style: gooey Gruyère blended with Chablis wine and warming nutmeg. The creamy potage, complete with dipping accoutrements like toasted brioche and diced apples, is available for two people ($18) or four people ($28).
Book now
Read more
3
Taureau's single-subject purview encompasses a dizzying selection of cheeses, various cuts of pork and beef, dark and milk chocolates, and sides for dipping. The creamy fondue (placed atop an induction burner cleverly built into the table) is a fine coating for garlic croutons; other sides including roasted beets, young potatoes, baby carrots and roasted eggplant.
Book now
Read more
4
This charming cheese-shop-cum-wine-bar evokes fondue's peasant origins, with deep cast-iron pots and generous baskets of crusty bread. Choose from four varieties of cheese fondue ($14 per person)l—Gruyère and Raclette, cheddar and cider, truffled cheese and Kashkaval—served with French bread. Additional dipping ammo comes in the form of sliced meats (kielbasa, chistorra, chorizo or raw veggies.
Read more
5
This modern Swiss eatery is an unexpected oasis on Tenth Avenue, particularly when you order the fondue, with its plate of spicy and salty accompaniments. Traditional Swiss fondue (Emmental, Gruyère and Vacherin) with slices of bündnerfleisch (cured beef loin), cornichons, cubed baguette and boiled potatoes ($24 for one serving, Sunday nights only).
Read more
6
Available as an appetizer ($18), the cheese fondue served at this American brasserie features Emmental and Gruyère splashed with white wine and fruit brandy. Dip into the oozing depths with sliced apple, crispy cubed bread and twice-baked potatoes.
Book now
Read more
8
At Ladybird, the room alone—a jewel box of white marble, emerald velvet and gleaming gold—can distract you from the fact that there's no meat on your plate. But executive chef Daphne Cheng, who veganified the Mother of Pearl menu and is doing the same for DeRossi's bar Cienfuegos, does considerable work in making vegan eating as easygoing as shareable tapas. A satisfyingly thick chardonnay-splashed "fondue" is served with crunchy rounds of focaccia and a slate of fresh vegetables ($34); you'll be too busy dunking purple carrots and sweet gherkin into the gooey depths to care whether it was made with cashew or Comté.
Read more
9
This tightly packed, warmly bustling French bistro wins points for its menu of well-executed standards—the fondue is simply part of that solid lineup, not an added gimmick. Emmental, Comté and Gruyère cheeses are melted with a bit of white wine and served with diced baguette (included) and green apples ($2 extra). The $25.95 feast starts with a chopped romaine salad.
Read more
Looking for more French delicacies?
Whether you're looking for the city's finest croissant, baguette or macaron, these are New York's best French bakeries
Read more