Brunch happy hours
Pair unlimited and discounted drinks with your eggs.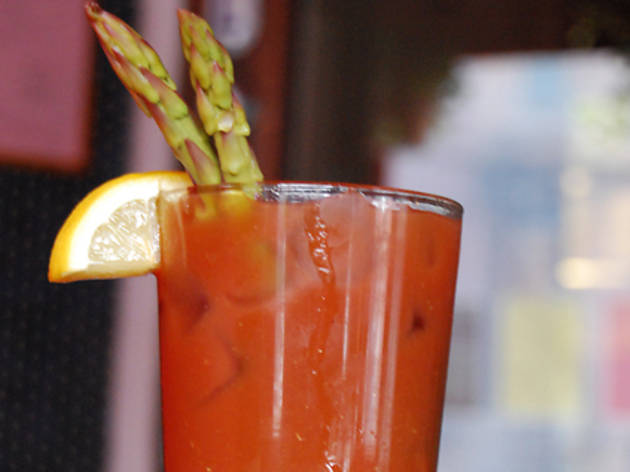 1/3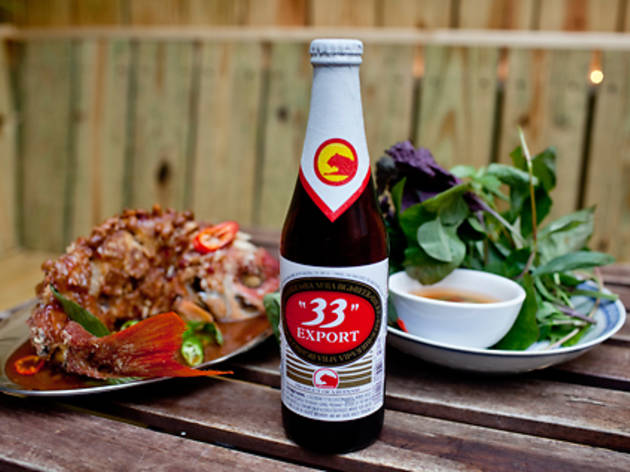 2/3
3/3
RECOMMENDED: All our listings for the best brunch in NYC
Bar 43
The low-budget breakfast plates at this brick-walled bar and restaurant—challah French toast with fruit is $11; a three-egg, three-filling omelette with home fries is $10—also come with a free screwdriver, Bloody Mary or mimosa. Better still, those drinks are just $5, $6 and $8, respectively, if you order more. 43-06 43rd St at 43rd Ave, Sunnyside, Queens (718-361-3090, bar43.com)
Beacon
They put the wood-fired grills to great use at this midtown shrine to cooking over an open flame. Pair your meal with $10 bottomless Bloodies on Sundays, made a tad smoky with wood-roasted beefsteak tomatoes, or try a Dublin Mary, featuring Jameson and Guinness. 25 W 56th St between Fifth and Sixth Aves (212-332-0500, beaconnyc.com)
Bia Garden
During Saturday brunch service, an additional $15 buys you two hours of unlimited Southeast Asian brews from this backyard beer garden's massive list. Enjoy a Singaporean Tiger or a Filipino San Miguel along with your plate of eggs and daikon-and-corned-beef hash, or a dish of pancakes and lemongrass sausage, both $10. 154 Orchard St between Rivington and Stanton Sts (212-780-0010)
Bone Lick Park
Order any brunch entre—try the pulled-pork scrambled eggs or short ribs and eggs, both served with potatoes au gratin—and this Village barbecue joint will let you drink free for an hour after you get your first round, roughly timed by your waiter. Brunch entres start at $13.95; drink options include mimosas, Bloody Marys and frozen margaritas. 75 Greenwich Ave between Seventh Ave South and Bank St (212-647-9600, bonelickpark.com)
Calle Ocho
Brunch plates run from $12 to $18 at this Upper West Side Latin spot, which serves omelettes with tomato and Manchego cheese or Venezuelan corn crpes with smoked salmon. That fee also buys you unlimited access to the eight-flavor sangria buffet, featuring everything from tamarind-vanilla to mango-pineapple-lemongrass. 446 Columbus Ave between 81st and 82nd Sts (212-873-5025, calleochonyc.com)
Marc Forgione
A modern American bistro with a modern American deal: $10 unlimited apple-cider mimosas, paired with breakfasts like bacon, scrambled eggs, sun-dried tomatoes and cheese on a Parmesan popover ($10) or eggs Benedict with butternut-squash home fries and preserved-lemon hollandaise ($14). 134 Reade St between Greenwich and Hudson Sts (212-941-9401, marcforgione.com)
Paradou
This Provenal bistro's $29 unlimited Champagne-cocktail brunch—you can order quiche, duck Reubens or poached eggs with salmon, among other entrees—is so popular they have to post the rules: They will cut you off after two hours (or at 3:45pm), and you'll get charged more per person for large parties. 8 Little W 12th St between Ninth Ave and Washington St (212-463-8345, paradounyc.com)
Rice
All three locations of this rice-focused restaurant offer a $20 bottomless brunch deal that includes a breakfast entre (such as grilled-shrimp congee or poached eggs over ratatouille), a side (like crispy grit cakes with chilies and cheese, or sauted greens), coffee or tea, and unlimited refills on mimosas. It runs from noon to 4pm on weekends. 292 Elizabeth St between Bleecker and E Houston Sts (212-226-5775, riceny.com) * 81 Washington St between Front and York Sts, Dumbo, Brooklyn (718-222-9880) * 166 DeKalb Ave at Cumberland St, Fort Greene, Brooklyn (718-858-2700)
Rosewater
One of the city's first locally sourcing spots, this beloved restaurant offers some of the best brunch mixology around. Don't miss the sake Bloody Mary spiked with wasabi, kir royale and, come April, seasonally inspired sangrias with flavors like strawberry-rhubarb. You'll pay $7 for each, but it's worth the price to sip something beyond the usual. 787 Union St at Sixth Ave, Park Slope, Brooklyn (718-783-3800, rosewaterrestaurant.com)
Yerba Buena
Along with Mexican-born chef Julian Medina's Pan-Latin brunch specials—like eggs Benedict with Berkshire ham, suckling pig and jalapeo salsa—the East Village location of Yerba offers unlimited cocktails for $12. Try Bellinis, mimosas or jalapeo Bloody Marys. 23 Ave A at 2nd St (212-529-2919, ybnyc.com)
Sotto Voce
On weekends, indulge in unlimited mimosas and Bloody Marys for the price of your $13.95 breakfast at this often-packed Italian spot. For eats, there are the standard frittatas and eggs Benedict and Florentine, but daylong drinkers might opt for pastas, with salmon and cream sauce or with spinach and ricotta cheese. 225 Seventh Ave at 4th St, Park Slope, Brooklyn (718-369-9322, sottovocetogo.com)
The Sunburnt Cow
You'll surely have no worries at this Aussie spot, as the $18 "endless brunch" features both food and truly bottomless (unless you get rowdy) Bloody Marys, mimosas, Greyhounds, screwdrivers and Foster's beer. Mix and match those with beyond-hearty Down Under brunch fare, like the burger topped with bacon, egg, cheese, pineapple, roasted beets and fried onions. 137 Ave C between 8th and 9th Sts (212-529-0005, thesunburntcow.com)
View Brunch happy hours in NYC in a larger map
You might also like
Best brunch in NYC
See more in Food & Drink
Sponsored listing
Essex
Though this Lower East Side spot also serves dinner, it's best known for its boozy brunch. For just $31.95, you get a choice of entree and as many mimosas, screwdrivers or Bloody Marys as you can drink in an hour and a half. Brunch entrees include The Aristocrat—potato pancakes topped with smoked salmon, sour cream, caviar and poached eggs—and Mexican matzo brei with scrambled eggs, black beans and avocado pico de gallo, in addition to more traditional options like omelets, eggs benedict and avocado toast. At dinner, choose from entrees such as gnocchi with tomato cream sauce and shrimp ($21), duck leg confit with baby bok choy and parsnip mash ($24) and blackened catfish with shrimp, potato and scallion hash ($22).
Venue says: "Happy Hour | $1 Oysters | ½-Price Drinks Mon, Tues, Wed, Fri 5-8 | Thurs 5-Midnight | Sun 6-10"