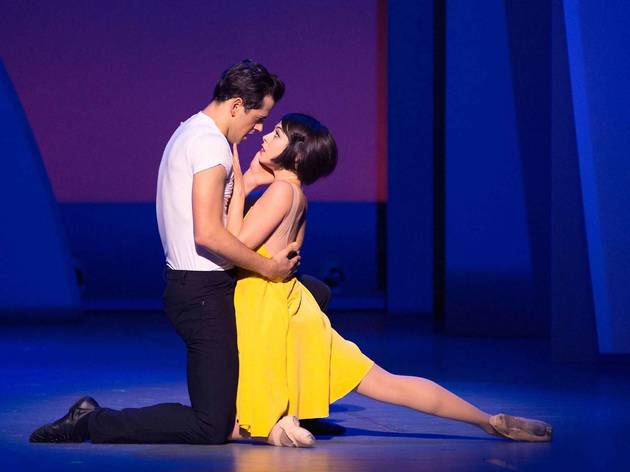 The best live theater to stream online this week
Theaters are closed for now, but you can find great stage stars and events streaming online today
Sunday 1pm and 7pm EST / 6pm and midnight GMT (live only)
The NYC company Group Dot BR, which specializes in Brazilians, streams an ambitious virtual version of its immersive 2018 production Inside the Wild Heart, adapted by Andressa Furletti and Debora Balardini from texts by the mind-expanding 20th-century modernist Brazilian-Jewish writer Clarice Lispector. Directed by Linda Wise, the show was staged on multiple floors of a preserved 19th-century space in Gramercy Park; the digital version, which uses recordings from 2018, aims to allow audiences to choose their own paths through the nonlinear work. The show runs several times a week through December 20; tickets start at $20.
Sunday 8pm EST / 1am GMT
A wizard at the piano and an ace musical director, Brian Nash is also an exuberant showman when he takes the mic himself—as he usually does on Sunday nights at the Duplex in the West Village, where he has held court for the past decade or so. Tonight he brings the magic to Facebook Live in a weekly virtual concert. In lieu of a tip jar, you can Venmo him at @BrianJNash. (If you do it in advance, feel free to include a request.)
Through December 2
As part of its annual Play Reading Series: Contemporary Japanese Plays in English Translation, Japan Society presents a live virtual performance of Satoko Ichihara's Underground Fairy, translated by Aya Ogawa and directed by Piehole's inventive Tara Ahmadinejad. The play centers on a girl who fe4l like an outsider in her fairyland community because she is half human. Tonight's premiere is followed by a live discussion with Ichihara and Tara Ahmadinejad. Tickets cost $15.
Available through December 4
Peggy Shaw and Lois Weaver cofounded the seminal lesbian downtown theater troupe Split Britches in 1980, and they have continued to stir the honey pot ever since. Their latest show was scheduled to premiere at La MaMa in April; now they have adapted it for a live remote performance that took place on November 20. Tickets for the on-demand recording of that show start at $5.
Through December 6
In normal times, the Joyce Theater hosts a continuous rotation of top dance companies from across the country and around the world. Now the Chelsea venue is sharing archival recordings of productions from artists who have appeared there. (They're calling the program JoyceStream, but may we suggest Re-Joyce?) Four pieces go up at once, and remain available for one month. The November lineup includes: tap dancer Michela Marino Lerman's Love Movement; a collection of short works by Thunderbird American Indian Dancers, emceed by director Louis Mofsie; two works, Gimp Gait and an excerpt from Reprise, by Miami's Pioneer Winter Collective; and Fecha Limite (Expiration Date), a look at Indigenous and Afro-Colombian communities choreographed by Rafael Palacios for Colombia's Sankofa Danzafro.
Through December 6
In Erin R. Mee's interactive, Dada-inspired Readymade Cabaret 2.0, the audience determines which scenes will be performed, and in what order, through rolls of dice. The possibilities include dramatic scenes (written by Jessie Bear) as well as computer-generated poetry, art, music and something the show calls "Chance Dances." The show is performed five times a week through December 6, and tickets cost $25.
Through December 8
Ghostlight Records celebrates the release of the new album The Liz Swados Project, a musical tribute to the innovative late musical-theater auteur whose Runaways (1978) earned her Tony nominations for Best Score, Best Book, Best Choreographer and Best Director. The event includes footage of Swados herself at Joe's as well as an appearance by Freestyle Love Supreme's Utkarsh Ambudkar and videos from Sophia Anne Caruso, Heather Christian, Damon Daunno, Amber Gray, Stephanie Hsu, Taylor Mac, Grace McLean, Alicia Olatuja and Ali Stroker.
Through December 13
Jessica John stars in Mahshid Fashandi Hager solo play about escaping Iran as a 10-year-old girl during the fundamentalist Islamic Revolution in 1979. Fran Gercke directs the world premiere for San Diego's Roustabouts Theatre Group. The show has been filmed and is available on demand through December 13; tickets start at $25.
Through December 13
A professor invites audiences to join her for a séance that probes her family's history of mental illness in Luna Eclipse, written and directed by Sara Fellini for her company, spit&vigor. As the show travels through time and space, it also moves through various locations at the atmospheric West Park Presbyterian Church, where the company is in artistic residence. The show was performed live in early November; though December 13, a recorded version is being streamed on a regular schedule for $15.
Through Dec 15
The Dominican Artists Collective surveys the view from Washington Heights in a group work that explores Dominican-American history, culture and identity. Melissa Crespo directs a cast of 11 DAC members for this NYTW presentation.
Through December 16
Brooklyn-based blues-rock-folk singer-songwriter Toshi Reagon, the daughter of Sweet Honey in the Rock cofounder Bernice Johnson Reagon, excels at merging diverse textures. In this live, free post–Election Day concert at Joe's Pub, she looks ahead to what the future may or may not have in store; the event includes prerecorded segments with Taina Asili, Carl Hancock Rux, Morley and tap-dance genius Michelle Dorrance.
Through December 22
The 92nd Street Y's estimable Lyrics & Lyricists continues its virtual "preludes" season with a salute to three generations of a Broadway-composer family tree: Richard Rodgers, who wrote countless pages of the Great American Songbook in his collaborations with Lorenz Hart and Oscar Hammerstein II; his daughter, Mary Rodgers, best known for composing Once Upon a Mattress; and her son, Adam Guettel, the genre-expanding creator of The Light in the Piazza. The singers this time are Allison Blackwell, Nikki Renée Daniels, Katherine Henly, Telly Leung, Julia Murney, Zachary Noah Piser, Pearl Sun and Mariand Torres; Beth Malone serves as narrator, and Paul Masse is the musical director. Tickets cost $15.
Through December 31
Larry Powell adapts his original dramatic satire The Gaze…No Homo, an exploration of how Black queer artists navigate historically white spaces, into a free 12-part serial streamed by Los Angeles's Fountain Theatre. Three episodes go live every Friday morning for a month, and they all remain viewable through the end of the year. Powell himself is among the relay-race team of rotating directors; the cast includes Galen J. Williams, Sharon Lawrence, Devere Rogers, Eugene Byrd, TC Carson, Yvette Cason and Jason "Freckle" Greene.
Through January 20
L.A.'s biggest nonprofit theater company, Center Theatre Group—which runs the Ahmanson Theatre, the Mark Taper Forum and the Kirk Douglas Theatre—streams all three parts of MacArthur "genius" grantee Luis Alfaro's Greek Trilogy, which transplants ancient tragedies to the world of modern Latino-American life: Oeidpus El Rey, Mojado and Electricidad. The plays are free on demand and include an option for Spanish captioning.
If you would like to be considered for a listing on this page, please write to Adam Feldman at theaterfromhome@gmail.com at least one week in advance. Include complete details about the event, including a description as well as date, time, link, price and how long the stream will be viewable. Also include a photograph (not art or graphics) of one or more of the artists. Submission does not guarantee a listing.