Heads up! We're working hard to be accurate – but these are unusual times, so please always check before heading out.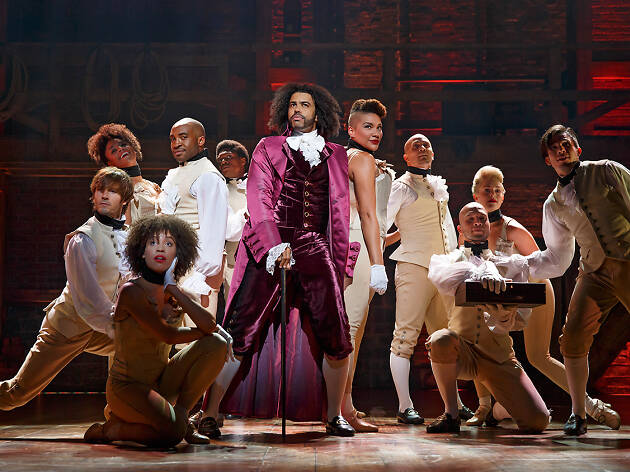 The best theater you can stream online anytime
Much of the best streaming theater, dance and music of the lockdown period remains viewable anytime
Our day-by-day list of the best streaming theater keeps you up to date on the latest theater, dance, opera and cabaret to be found on the internet while Broadway and other performing venues are closed for live performance. Most of this content is only available live or for limited runs, but some of it—including shows created remotely during the shutdown crisis and archival recordings of past productions—remains viewable indefinitely until further notice. As a supplement to our daily listings, here is what we might call the permanent collection: the top musicals, special events, plays, dance works, cabaret sets, comedy shows, awards nights and individual songs that have been released online since March and that you can still watch or rewatch at your leisure. While the vast majority are free, many of them do provide options for donations to charities or artists in need of support. Stream on!
American Ballet Theatre stays on its toes with a free virtual program that includes the world premieres of four works that the company's dancers have filmed from "ballet bubbles" of quarantine. The program includes: a solo created by Pam Tanowitz for principal dancer David Hallberg; a same-sex duet by Christopher Rudd, Touché, danced by Calvin Royal III and João Menegussi; Convivium, a new piece by Gemma Bond; and Darrell Grand Moultrie's Indestructible Light, set to music by Duke Ellington.
City Ballet concluded its month-long virtual fall season concludes with a bang: a festival of five world premieres, the first four of which were filmed by director Ezra Hurwitz in locations around New York City. The offerings are all free to watch and will remain viewable indefinitely. The collection includes the first commissioned work by a black woman in the history of the company—Sidra Bell's pixelation in a wave (Within Wires)—as well Pam Tanowitz's Solo for Russell: Sites 1-5, Andrea Miller's new song, Jamar Roberts's Water Rite and Justin Peck's Thank You, New York.
Lincoln Center shares two works by the venerable Ballet Hispánico, which turns 50 this year. Pedro Ruiz's Club Havana, is a celebration of Cuban dance including the conga, rumba, mambo and cha cha; Gustavo Ramírez Sansano's Carmen.maquia, which was the company's first evening-length narrative ballet, is based on the classic Bizet opera and incorporates Spanish paso doble and flamenco.
Mark Morris and his joyous ensemble spread a little light in the darkness of isolation with a special Zoom program that includes the premieres of four short works choreographed by the inventive modern dance master. Rehearsed and filmed remotely, the pieces are Lonely Waltz, Lonely Tango, Anger Dance and Sunshine. A second collection of Morris works, released in November, can be viewed here and features "videodances" of Empire Garden Mvt. I, The Lovers' Demise, Offertorium, Allegro Molto and Promenade Sentimentale.
The terrific dancer Robbie Fairchild has been on an odyssey of self-discovery in the past few years that has taken him, among other things, from New York City Ballet principal to Broadway leading man (An American in Paris) and cinematic Muskustrap (Cats). Now he ventures into the realm of digital short films with In This Life, an exploration of grief that he has co-created with director Bat-Sheva Guez. The piece is divided, à la Kübler-Ross, into five sections, with a different choreographer for each: James Alsop, Warren Craft, Andrea Miller, Christopher Wheeldon and Fairchild himself.
Szeglowski and her company, cakeface, pay oblique homage to the 1980s cable-access talent show Stairway to Stardom, whose hapless performers made up in ardency what they may have lacked in talent. Absorbing and suggestive, this 2017 dance-theater piece is less campy and more disciplined than one might expect; performed by an impressive cast of five women in disco-ball-silver outfits, it weds sharp synchronized choreography (partly inspired by moves from the series) to equally tight deadpan delivery of interview-based textual fragments about aspiration and mundanity. Jagged video and sound design add to the sense of determined disconnect.
The 12th annual Erasing Borders Dance Festival took its celebration of Indian dance to the digital realm in September. Over the course of eight days, eleven artists from around the world shared pieces in dance forms including Bharatanatyam, Kathak and Kuchipudi. Now the pieces remain viewable on YouTube. Visit the festival's website for details about the performers and works.
WestFest usually presents dance artists in multiple spaces throughout the Westbeth Artists Residence building; this year, via Zoom, the participants are creating site-specific works from locations well beyond the West Village. The festival offers two hour-long slates hosted by Deborah Lohse as her alter ego TruDee. The lineuo includes Martha Graham Company, BOiNK! Dance & Film, Digital Movement Dance, Angie Moon Dance Theatre, Here's T(w)o Collective, Andrea Ward, Dual Rivet, Bo Kyung Lee, Carol Nolte/Dance Collective, the Bang Group, Elizabeth Burr Dance, Soluq Dance, Jurbala Dance Works, mignolo dance and Jamal Jackson Dance Company. Both programs are available on the WestFest website for six months starting December 1.

The company formerly known as New York Theatre Ballet, which turns 40 this year, offers favorites from its archives. FEatured choreographers include Jerome Robbins, Agnes De Mille, Robert La Fosse, Pam Tanowitz, Steven Melendez and Frederick Ashton.
Choreographer Jacqulyn Buglisi returns to Lincoln Center for the tenth annual iteration of its memorial tribute to 9/11, described as a performance ritual for peace and invocation for peace. The event usually features more than 100 dancers circling the Revson Fountain. This year, it begins with a new, live, on-site prologue in which two dozen dancers at Lincoln Center are joined by electric violinist Daniel Bernard Roumain and spoken-word artist Marc Bamuthi Joseph; this is followed by an excerpt from Buglidi's 2001 work Requiem, the premiere of a short film called Études (culled from submissions by dancers around the world), and a video of the full 2019 version of Table of Silence Project 9/11. The stream will remain viewable on demand after the live presentation.
In the fall, Dance Now usually offers a massive festival of short works by 40 dance makers of every stripe, all challenged to mount five-minute pieces on the teeny stage at Joe's Pub. To celebrate its 25th anniversary this year, and in light of current constraints the festival has adopted a different format: the artists are stretched over six shows, spaced out roughly monthly through May. The first three are currently available for streaming; tickets cost $10.
The Arts Center at NYU Abu Dhabi streams a video of a beautiful durational performance-installation event it hosted in 2016: Lars Jan's trippy Holoscenes, in which a series of costumed performers inhabit a 13-foot aquarium whose water levels rise and fall around them, often submerging them completely. Intended to evoke humankind's struggle to adapt to climate change, Jan's visually arresting work is almost five hours long, but you can watch as much or as little of it as you like; the director-conceiver and members of the company hold a live Q&A session halfway through it. To get a sense of the piece, check out this trippy one-minute time-lapse video. Tip: It's best viewed on a very big screen.
American Ballet Theatre superstar Misty Copeland and her former ABT colleague Joseph Phillips are the forces behind Swans for Relief, an effort to raise funds for dancers in need during the pandemic crisis. In a lovely six-minute video released on YouTube, Copeland and 31 other étoiles from around the world swan out in sequence to Camille Saint-Saën's Le Cygne, played on cello by Wade Davis. If you enjoy watching it, consider donating to the group's GoFundMe campaign.
The downtown arts complex HERE shares 837 Venice Boulevard, Faye Driscoll's humorous and direct 2008 dance-theater piece about the construction of personal identity.