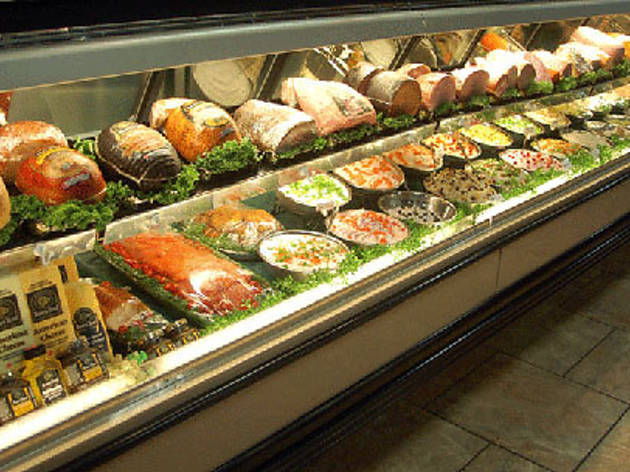 Don't be fooled by the word of mouth. Dumbo may have solidified itself in NYC gentrification history, but it's still heavy in its community roots. This tiny cobblestoned area down under the Manhattan Bridge overpass has, in recent years, flourished from an artist's enclave to a creative hub for the masses. But despite the rapid influx of family homes and the offices of some of the most innovative digital corporations today, one thing remains: Dumbo is a small town in a big borough.
Mike Germano, president, Carrot Creative and Digital Dumbo event
"The second we saw Dumbo we knew it would be our home. When Digital Dumbo started over a year and a half ago, it was initially set up just for computer fanatics around the area, but from that first meeting, we had over 160 people show up. Now that Dumbo has made a name for itself as New York's Digital District, we have seen over a 200 percent growth in attendance. Dumbo fosters creativity by allowing for open spaces that harbor collaboration, and [it has] unique views that re-inspire New York dreams each time you walk down by the water."
Digital Dumbo at reBar, 147 Front St at Jay St (718-766-9110, rebarnyc.com, digitaldumbo.com)
"With a new digital company moving in each week, we now have our own Mikey's Hook Up; [it's an] Apple computer repair shop. The whole team loves to just go down there and play some Ping-Pong at Mikey's while we wait [for computer parts to be repaired]."
Mikey's Hook Up, 70 Front St between Main and Washington Sts (718-596-1312, mikeyshookup.com)
Elizabeth Grady, director of large-scale installation gallery Kunsthalle Galapagos at Galapagos Art Space
"In this area, we have anyone you can imagine, from businessmen to families, but there's this really vibrant art community and a lot of artists who live here. We're just opening now and we've had tremendous support from everyone, from developers in the area to, of course, Galapagos."
Galapagos Art Space and Kunsthalle Galapagos, 16 Main St at Water St (718-222-8500; galapagosartspace.com, kunsthallegalapagos.com)
"Because we're so busy getting everything up and running, I like to grab a quick bite for lunch, and I almost always go to La Bagel Delight. I spend long hours working, so it's a nice place to run in, whether you're grabbing a snack or just a quick coffee."
La Bagel Delight, 104 Front St at Adams St (718-625-2235, labageldelight.com)
Adam Brown, head of press, Etsy
"Etsy moved to Dumbo from Brooklyn Heights just a year ago, but we were more than ready for the change of pace. We were really excited to move into what was already a really creative community. Being sort of cut off from the rest of the city, and with the cobblestones and all, it has this village feel. And being that there are still so many studios here, I see some of our sellers just walking down the street! They have these great open-studio tours that a lot of people take advantage of and there's this good vibe that art communities lend themselves to, but there's also this balance with a feel of safety."
Dumbo Arts Festival Open Studio Tours, various locations (dumboartsfestival.com). Sept 24--26.
"When we get out, we like to go down to the market. It's been here awhile, so of course the whole team likes to head down to Foragers for coffee and meals. It's a really popular place and you can usually find the entire neighborhood in there on mornings and at lunchtime."
Foragers Market, 56 Adams St at Front St (718-801-8400, foragersmarket.com)
Alison Oblonsky, owner, Dewey's Candy
"I've lived here seven years, and I really started feeling that sense of community when I opened the store. You know when Hillary Clinton said, 'it takes a village'? Well, it's exactly like that here. Everybody keeps an eye out for everybody else and is really supportive. We realize the success of Dumbo ultimately lies on all of us. When we promote, we really try to promote Dumbo as a whole, and we're excited to see what's coming. I mean with the carousel next year, and families, that's a whole other layer of the neighborhood."
Dewey's Candy, 141 Front St between Jay and Pearls Sts (718-422-1333, deweyscandy.com)
Hideyoshi Harashima, blogger, DumboNYC.com
"When I first came to Dumbo in the late '90s, I would get out off the subway and run to my friends' lofts. Now, everyone is moving here. [It seems that] the majority of buyers are coming from Wall Street, but there are more and more families. You might have a kids' gym next to a popular bar, and I think Manhattanites are very attracted to that kind of variety. And despite all the growth and construction, advocates are doing a good job keeping the charm of the neighborhood. You'll still see the Belgian block streets and all. I like to go under the archway; it represents the old streets revealed recently and all the new community-focused events."
Manhattan Bridge Archway, Water and Pearl Sts