Cheapest happy hours in Singapore
Take happy hour to the next level with these cheaper deals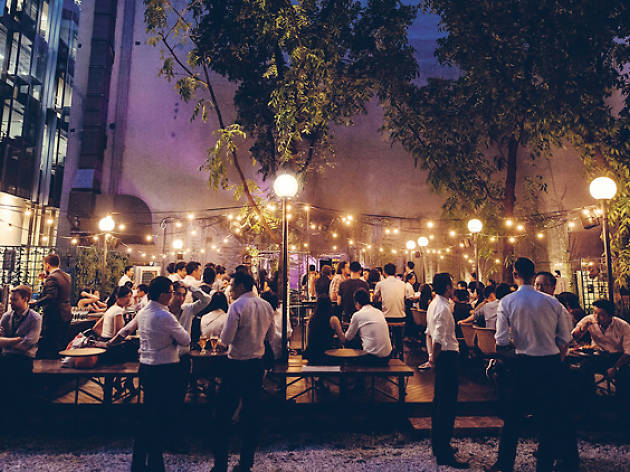 Drinking in Singapore is definitely not cheap. An average price of a pint here is $12 and a cocktail runs between $22 to $30. But that doesn't mean that you can't score a good deal at some of Singapore's top drinking holes. We scour the island for the best happy hour deals so you don't burn a hole in your pocket.
READ Cheap eats under $20 in Singapore and the best affordable lunch sets in the CBD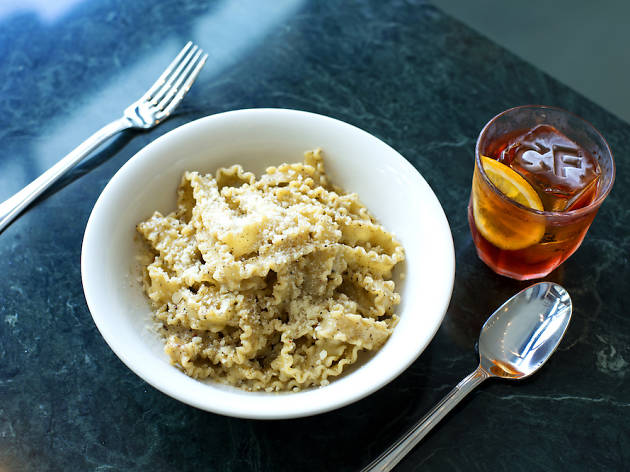 Mon-Sat 5pm-7.30pm
Easy, breezy, beautiful, Caffe Fernet is what every girl aspires to be. Happy hour from 5pm to 7.30pm where frosés go at $12, spritzes for $13 and specialty cocktails like its signature negroni at $15 – a real steal for those looking for a sundowner poised against an unbeatable backdrop.
Daily 5pm-7pm
Topped by a pagoda roof and opening onto the hotel's atrium, the Morton's Atrium Bar is striking. Its martinis ($15.95) are the biggest and best in town and free steak sandwiches are served during happy hour. The friendly crowd (regulars, hotel guests and business types) and staff keep the place down-to-earth.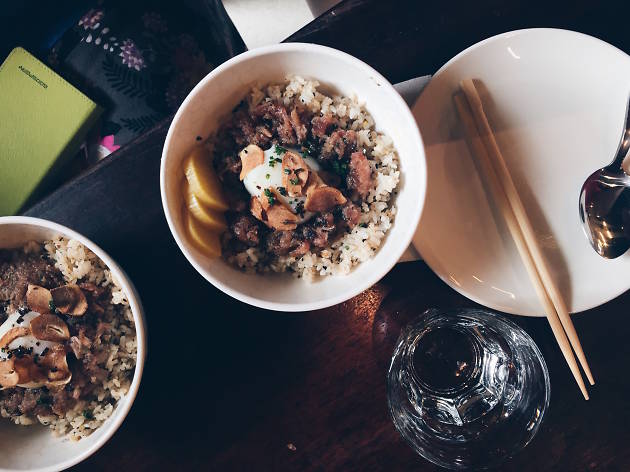 Daily 5pm-7pm
Snack on a free truffle yakiniku slider or $2 raw oysters with happy hour drinks, priced at $10 a cocktail and $12 a pint of beer. A plus for fashion types: you'll have plenty of pretty goods to eyeball with kapok's shelves just within reach.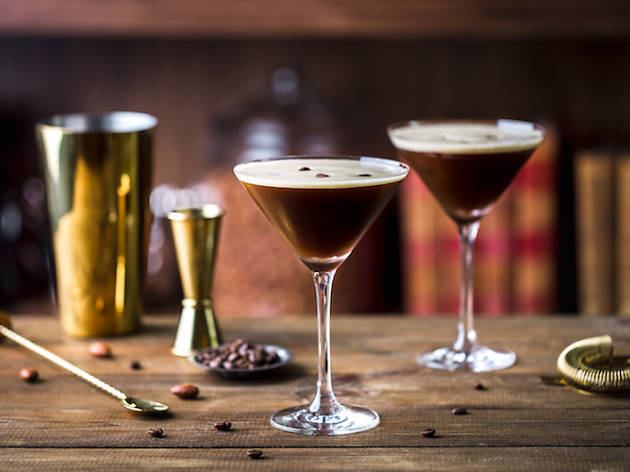 Bars and pubs, Hotel bars
Daily 5pm-9pm
Martini Bar welcomes regulars and curious newcomers during "mezzatime", which happens from 5pm to 9pm daily. During these four hours, all martinis, handcrafted gin and tonics, wines and house pours are priced at $14 per glass. And fret not if you come after 9pm, drinks are still affordably priced from $18 per glass.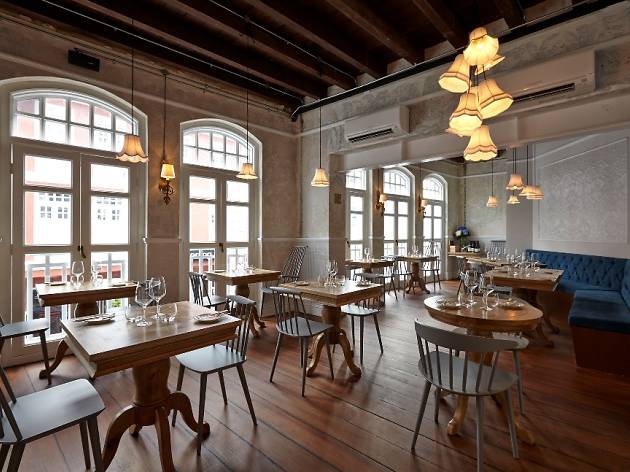 Mon-Fri noon-8pm, Sat-Sun 4pm-8pm
At this people-watching corner of Ann Siang Road, Gin and Chronics, Pimms, piña colada, Coopers Ale, Sapporo and Albens Cider – all on tap – pour for $10. And on Mondays, Oxwell's version of the G&T go for $8 in as part of its Mother Ruin's Monday promo. The eye candy is free.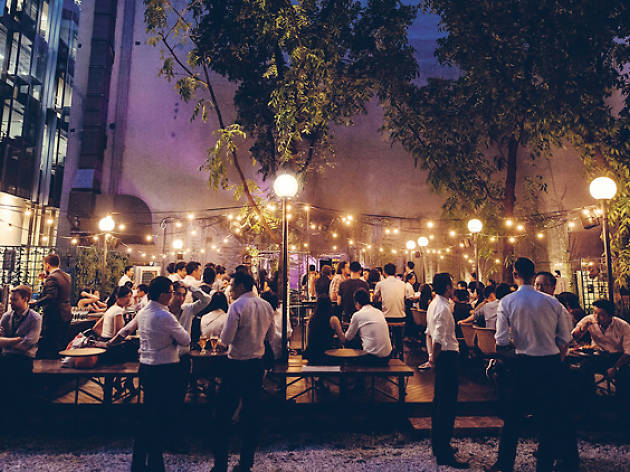 Mon-Sat 5pm-8pm
The distinctive Art Deco space that used to be Kwangtung Provincial Bank is still a favourite among the finance guys and lawyers around the area. Drinks are $9 during happy hour and you can get oysters for $2 too. Alternatively, you can head to The Powder Room, which offers cocktails on weekdays from 5pm to 9pm at just $12.
Mon-Fri noon-midnight, Sat 6pm-midnight
You know the drill. Kronenbourg 1664 half pints, house sakes, yumeshu, and red and white wines ring in at $5 all night at the chain's four bars in central and eastern Singapore.
Daily 10am-7pm

Up on the tenth storey of Hotel Jen at Orchardgateway, happy hour's a rotational list of drinks of the day, priced at $8. If you like your grapes crushed, schedule a trip up every Wednesday or Friday: ladies get free flow sparkling and house wines at $25 from 6 to 9pm. For the blokes, $35 nets you all-you-can-drink draft beer and house wine during the same time span.
If you missed happy hour...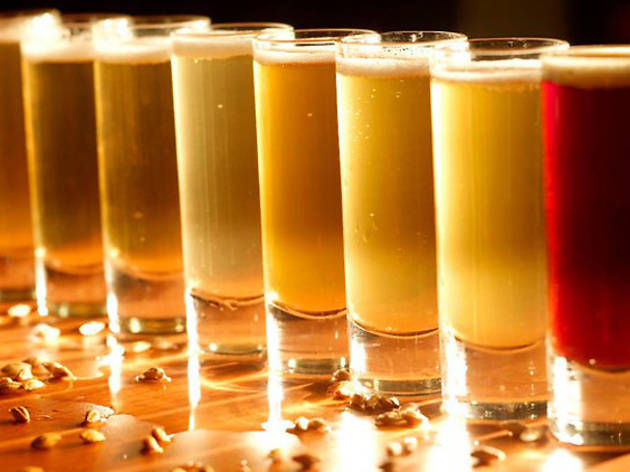 Whatever your choice of tipple, we tell you where you can get the cheapest beer, spirits, wine and cocktails, without breaking the bank
If it's a Tuesday...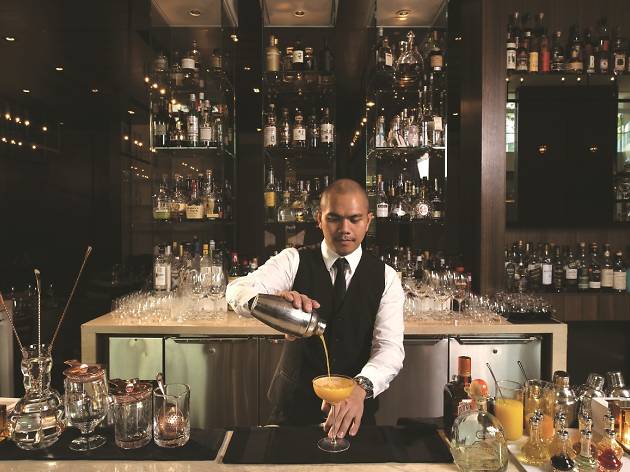 Bars and pubs, Cocktail bars
Like you, we've always felt a little intimidated to pop into one of the glitzy cocktail bars at the Marina Bay Sands. But the drinks actually aren't more expensive than their city-side counterparts, and they're now even cheaper with the complex's new Social Hour promos.
Otherwise, check out our guide to the best bars in Singapore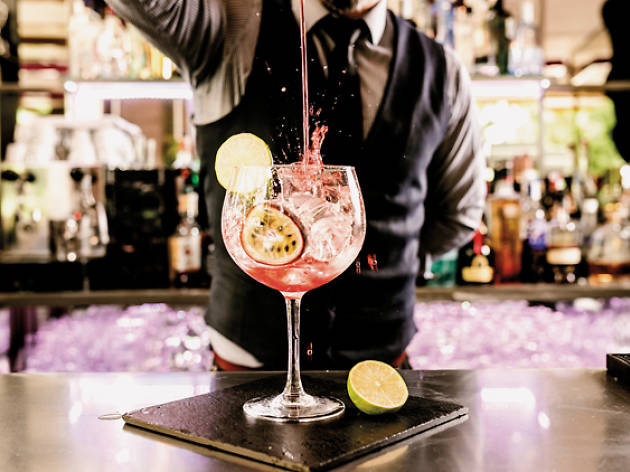 Whatever your choice of tipple, type of occasion or if you just want a drink, here's our guide to the best bars in Singapore. Bottoms up!