Heads up! We're working hard to be accurate – but these are unusual times, so please always check before heading out.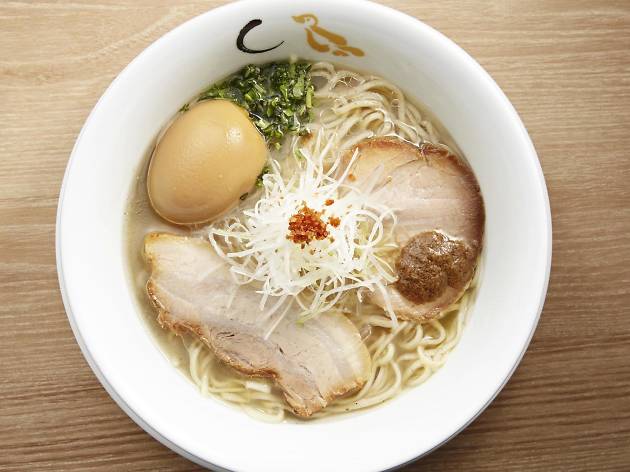 The best ramen dishes in Singapore
Any sort of weather is the perfect time for a steaming bowl of ramen. Here are our top picks
Creatures of comfort food, ramen has become quite a staple in our diets. You don't have to be Japanese to appreciate a good bowl of ramen, and what's not to love about the rich, thick broth, chewy noodles, chunks of char siew and the glorious flavoured egg with its glistening golden yolk. Ready to go to town on oodles of noodles? Here's our pick of the best bowls of ramen in Singapore.
RECOMMENDED The best Japanese restaurants in Singapore and the best affordable sushi bars in Singapore.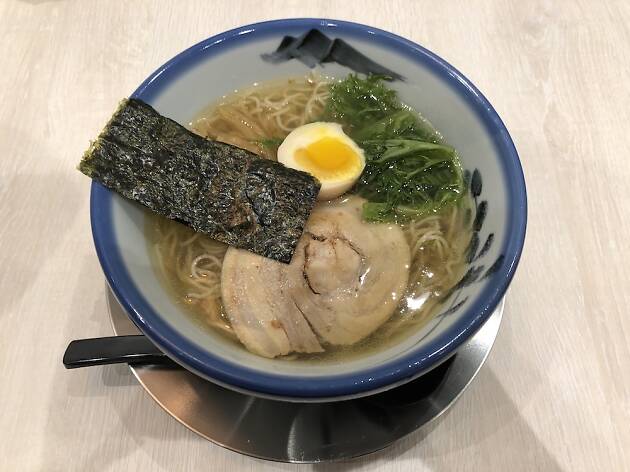 This famous ramen chain needs no further introduction. Named after Most Afuri in Kanagawa Prefecture, Japan, it brings to our shores the signature yuzu-scented chicken broth ramen. For a light, delicate flavour, get the signature yuzu shio ramen ($15.90) which comes with thin whole-grain noodles topped with bamboo shoots, mizuna or Japanese mustard greens, pork belly, egg, and nori. Those looking for a stronger yuzu punch can try the yuzu tsukemen ($15.90) with thicker noodles that you dip in a zesty dipping sauce.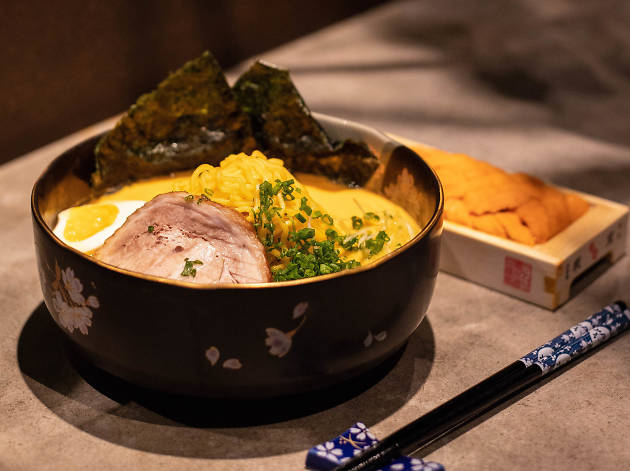 Some ramen broths can get rather rich, but none will be more decadent than one made from premium bafun uni. Each bowl ($21) at Seizan Uni Ramen comes with an orange-tinted soup base that gets its colour from the briny, prickly sea urchin. Noodles, curlier than usual, are specially created to catch more soup as you slurp through the bowl. If the name sounds familiar, it's because the store is an offshoot of two-Michelin-starred Seizan in Tokyo renewed for its dashi stock. To reflect its lineage, the dashi stock used to prepare the soup base here is made with specially imported Mount Fuji spring water.
It has a common tonkotsu broth, but what sets it apart is the special black ma-yu (roasted garlic oil) that floats at the top. The soup is rich, creamy, and lip-smacking, which is why many choose to return to Natsuttei. The fragrant condiment is made by slow-frying garlic over seven times to lend a deep, robust element to the soup. Other than that, the toppings are the standard fare of green onion and nori – a basic bowl of ramen will cost you $10.90. But its char siew deserves a special mention: each slice is cut from premium pork loin, and left to soak in its soup to absorb the flavour.
There are only eight seats in the original location of Konjiki Hototogisu in Shibuya, Japan. Despite the small space, people still flock to this humble eatery for its broth – one that was awarded a star in the Tokyo Michelin Guide 2019, and the Tokyo Michelin Bib Gourmand for four consecutive years from 2015 to 2018. Thankfully, its easier to get a bowl of this award-winning ramen in Singapore. The flagship store at CHIJMES uses clams and truffles to flavour the Shio Hamaguri Ramen ($14.90), creating a deceptively clear broth that is packed with depth and richness.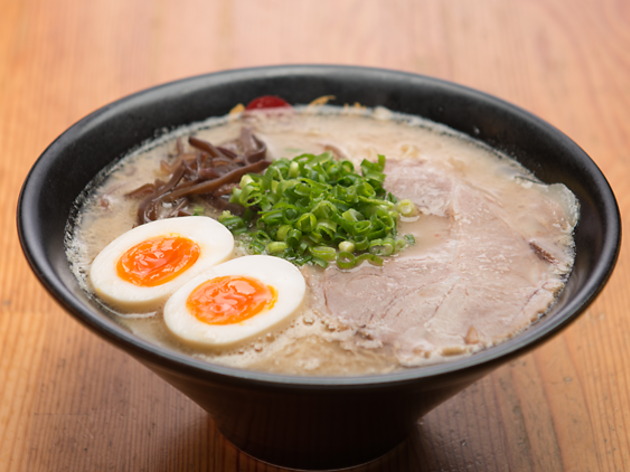 Ikkokusha's top hit is the Spicy Takana Ramen, which helped pave the way for its own outposts at CHIJMES and Tanjong Pagar Plaza. All the Hakata-style ramen bowls here are good, thin, springy noodles that are blanched for just 15 seconds and served with a pure pork broth and a perfectly flavoured egg. The Takana version is distinguished by its namesake slightly sour, crunchy preserved vegetable from Japan, which adds a lift to the rich, savoury broth.
Known for its Hakata-style ramens, Ippudo takes the crown home for its famous rich tonkatsu broth. Get the Akamaru Shinaji (from $16) for a change from conventional tonkatsu ramen. At a single glance, the blend is a quasi-Deepwater Horizon oil spill with the garlic paste dominating the other players. But upon first taste, you will realise how the blend of miso and aromatic garlic oil enhances the creamy soup.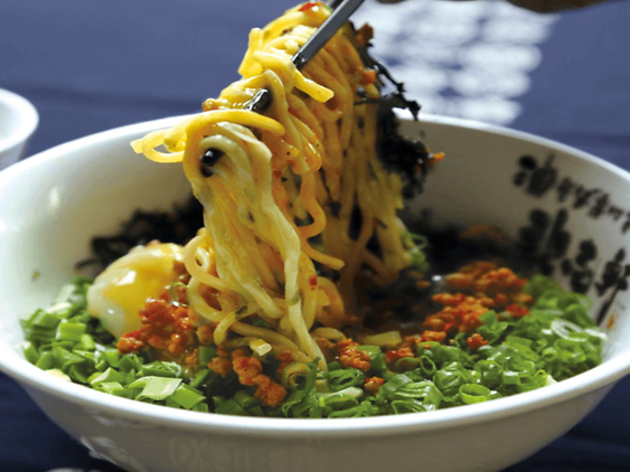 Mazesoba, which means 'to mix' in Japanese is a unique dry ramen dish that is a slightly different experience to regular ramen. Dig into the Nagoya styled soba (from $12.80) with aromatic braised meat cubes on perfectly cooked noodles topped with a runny egg. The holy trinity produces a sublime combination that combusts into surprising flavours with each mouthful.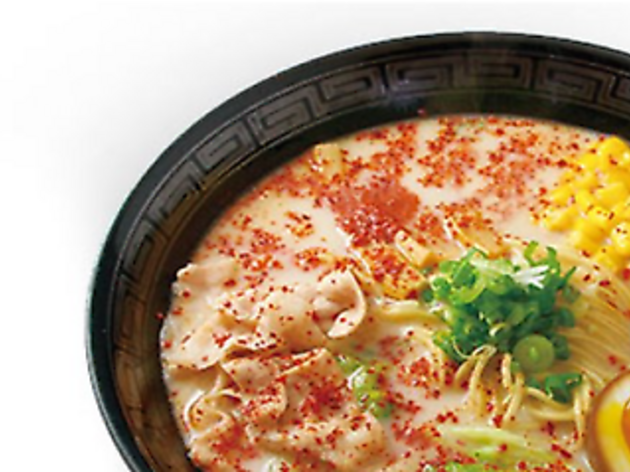 Exclusive to Tampopo, this is not your ordinary pork bone ramen soup. Having a pedigree for procuring high calibre ingredients, this flagship store imports its own noodles from Kyushu. The pork bone soup is boiled over two days to produce a thick milky and robust broth. From $16, you can try the original Kyushu ramen or level it up with the Deluxe Tampopo Black Pig Shabu Ramen (from $19).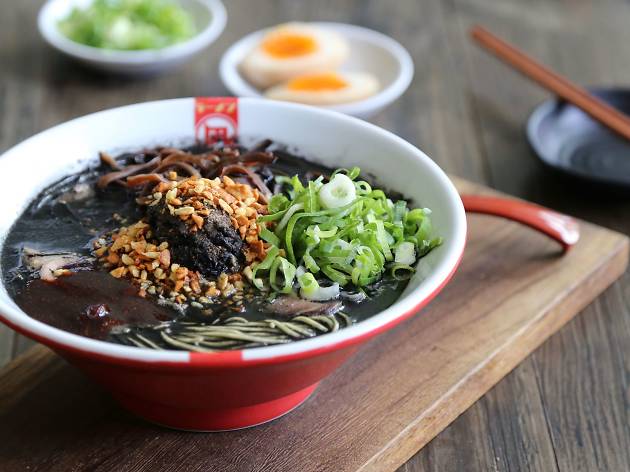 With a few accolades under its belt, one being Tokyo Ramen Of The Year, Ramen Nagi has come a long way from serving ramens in a hole-in-the-wall ramen house. Its unique signature The Black King ($15.90) may appear intimidating at first glance with the thick black broth in a complex mix of aromatic black garlic and strong spice but when slurped slowly, it is surprisingly smooth with a distinct flavourful taste.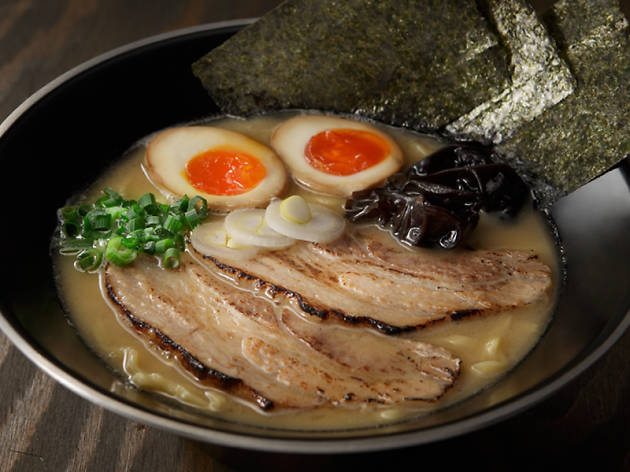 The house signature shoyu bowls simmer a whole chicken, vegetables and sardines for a deeper-coloured broth with surprisingly more surf than turf flavours to accompany the chewy noodles – which are also made in the noodle shop daily. If you're feeling adventurous and keen to try interesting flavours, order the tsukemen noodles with a thick bonito and sardine soup ($16) to dip into. For more comforting and familiar flavours the W Soup Tonkatsu ($16-$19.80) is the other more approachable option with more typical creamy pork flavours you'd expect from a bowl of ramen.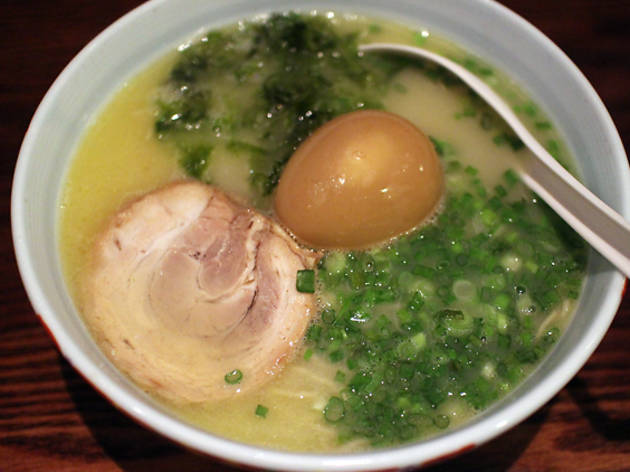 A polarising entry on the list, Marutama does it a little different from the rest – instead of the pork broth that you're more accustomed to in ramen, they use a signature chicken broth that is smooth and flavourful. A standard Marutama Ramen ($12) is kept simple with slices of chashu, seaweed, spring onions, and ramen noodle in a non-spicy chicken broth. Where Marutama wins more points is in the fried discs of sliced garlic offered at every table, and its secret chopped chilli, available on request.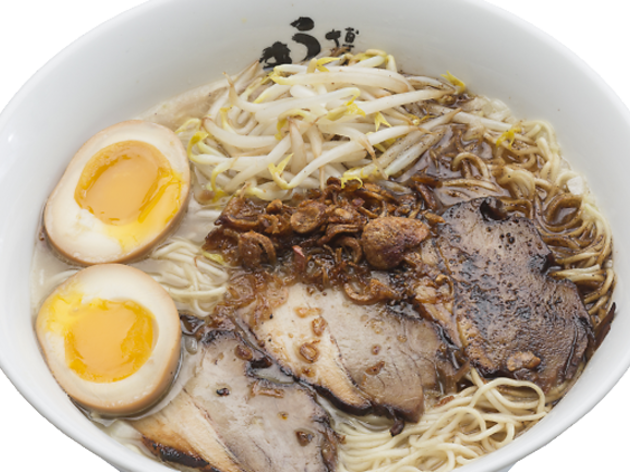 Japanese actor-turned-restaurateur and son of a ramen master, Masahiko Teshima's venture with fine dining restaurant Iggy's namesake Ignatius Chan, is a little off the ramen beaten path at the quieter, Tanglin end of Orchard Road. Still, its seven bowls and limited edition flavour whipped up for occasions like Chinese New Year deserve every bit of praise. Its Garlic Ramen ($16.80) in a tonkotsu stock, topped with bean sprouts, eggs, darkened char siew and generous flecks of fried garlic and shallots, is worth every bit of the complaints of garlic breath you'll have to endure the rest of the day. Plus, it's available late into the night at its secret speakeasy, The Horse's Mouth, downstairs, to pair with the fantastic cocktails on offer.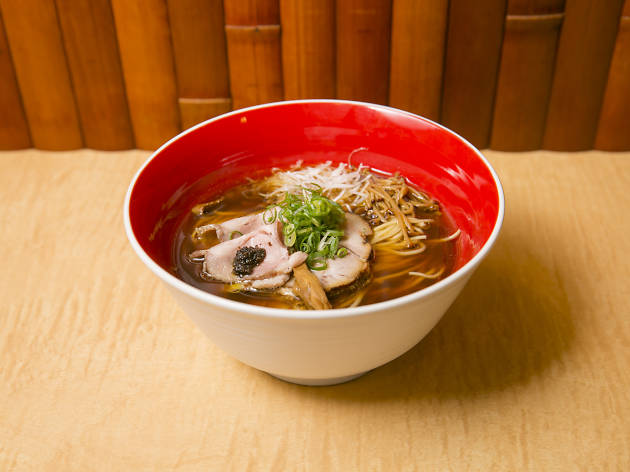 Tsuta, the world's first one Michelin-starred ramen, now has its first overseas venture in Singapore. Founded by chef Yuki Onishi, Tsuta is renowned for its noodles – made from four types of whole wheat flour – that has a firm bite and smooth texture. Choose from three types of soup bases: shio, miso and shoyu. The shio is made from a chicken-and-seafood blend with rock salt, red wine and rosemary infusions, the miso uses Tokushima-made soya bean miso mixed into a chicken soup base, but go for the shoyu, which is served with black truffle sauce. Each bowl of ramen ($15-$22.80) – choose between 100 or 140 grams of noodles – is also topped with thick slabs of pork shoulder char siew.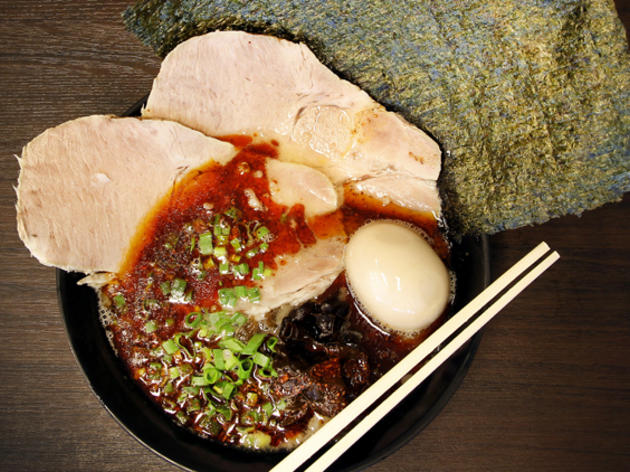 You'll have to queue for Tonkotsu King, a cosy little place near Tanjong Pagar MRT station – but it's worth it for the best ramen in town. Although noodle maverick Keisuke Takeda has opened a whole slew of ramen shacks around town, his tiny flagship still serves one of the best bowls in his portfolio of unique concoctions. The tiny paper menu keeps things simple. Pick from one of three ramen broths – black spicy, red spicy and original broth – choose how rich you want the broth and how firm you want your noodles to be. The Tonkotsu Ramen Special ($14.90) is glorious: a rich, slurpable broth, a creamy-yolked egg and three large pieces of pork. You also get unlimited hard-boiled eggs, slightly spicy bean sprouts and grind-it-yourself sesame seeds on the side, making a meal at Tonkotsu fun as well as tasty.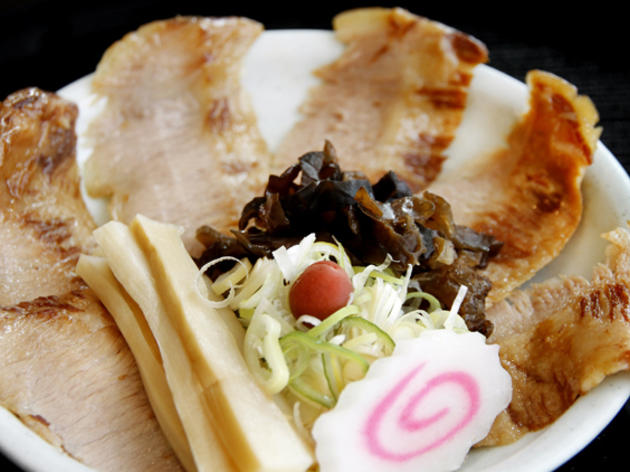 The wait in the queue at Ramen Santouka's flagship store at The Central isn't helped by the plastic food replicas reminding you of the stellar bowls of comfort they serve inside its tiny ramen-ya. The menu much bigger than most, but home in on the Tokusen Toroniku Ramen and definitely get an additional side portion of rice topped with salmon egg roe to complement the soup. Dubbed the 'choice pork ramen' by the Hokkaido-chain, gleaming, meltingly tender slices of pork jowl from Iberian pork is served separate from a bowl of yellow noodles swimming in a milky broth.
More comfort food here