Where to watch the State of Origin
Cheer on the blues at these rugby-friendly Sydney pubs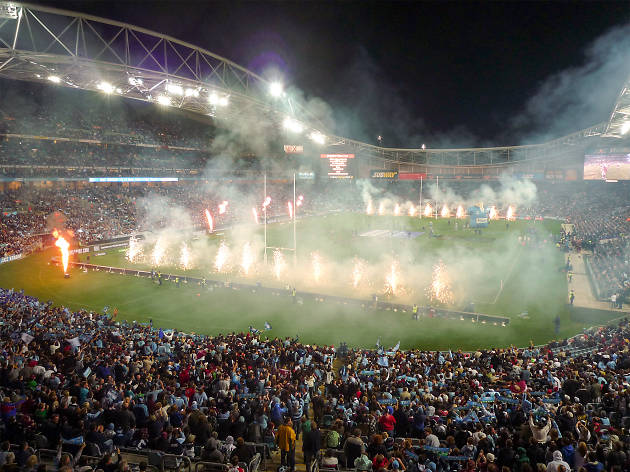 There's not a lot that'll make the great state of New South Wales down tools and come together faster than the State of Origin series each year. The reality is that any pub worth its salt will have the game on, but these Sydney venues are going to extra mile with big screens and specials for the army of blue that'll be packing the bar on Origin night.
The big screens will be on for the State of Origin at the Balmain Hotel, and to keep your energy up for the big game there're $14 steaks on offer on the night.

Read more
Bring your mightiest hunger to the Bridgeview for Origin night because they're offering a full kilo of chicken wings for $20 on the night, plus $5 VBs to accompany them.
Read more
The Courty loves a game of footy, and to really get you into the spirit of the State of Origin they're offering a $20 Queensland burger with a schooner of Carlton Draught or a NSW burger with VB. Plus you can keep things on a simmer with $15 jugs of VB, Reschs and Carlton.
Read more
Dick's Hotel will be lighting up the garden screen for Origin night, and you can book a table to ensure you get prime seats with an excellent view.


Read more
The Greengate Hotel is celebrating Origin by going big, and by that we mean they're turning on the six-metre by five-metre outdoor screen. Plus there'll be food specials announced on the night, $14 jugs of New, $6 sparkling wine and $8.50 pints of cider.
Read more
Like we needed more reasons to grab some mates and watch the footy, but the State of Origin plus two-for-one pizzas at the London is a compelling argument.
Read more
Our favourite party pub is also a sports-lovers hub and on Origin night they'll have the outdoor and the indoor screen on with full commentary, plus $15 jugs of New to keep your vocal chords hydrated.

Read more
Get your game face on with $12 jugs of local beer and cider, $12 steaks, $12 Philly cheesesteaks during the State of Origin clashes this winter.
Read more
Once the sun has set on those incredible beach views, the North Bondi RSL will be dishing up their usual $10 steak Wednesday night special on Origin night, with the game screening on the big screen.
Read more
Origin night doesn't need to break the bank when you can lob into the Oxford Tavern, order up a $12 jugs of Tooheys New or James Squire Orchard Crush for non-beer drinkers, and pair them with a $12 State of Origin hot dog.
Read more
Pyrmont's craft beer pub is pitting NSW and QLD craft breweries against each other when the Blues take on the Maroons on Origin night. Head up to the lounge bar where the big screen will be on, and cast a vote for the local brews from Akasha Brewing Company or the Sunshine State interlopers from Bacchus Brewing Co.

Read more
Watch the Origin Series at the Regent and you might be able to win the holiday to Brisbane for round two that they are offering. And couldn't we all do with a little sunshine and footy right about now?
Read more
The venue formerly known as Zanzibar has a new name, but it'll still be hosting State of Origin celebrations on the rooftop with big screens, a rooftop barbecue and $20 buckets of tinnies.
Read more
Humpday never looked so good as when you've got an Origin game on the big screens and a $15 pie and burger special winging its way to your table. Back it up with a jug of Tooheys for $12 and buckets of Fourex stubbies for $20. And if you're worried about space, you can reserve a spot on the night.
Read more
Prefer laughs to tackles?
It's getting harder and harder to find free fun in Sydney – but these stand-up and open mic nights have zero cover charge, giving you more bucks for beverages and snacks.
Read more