Sydney pubs with arcade games
Because everybody secretly loves Buck Hunter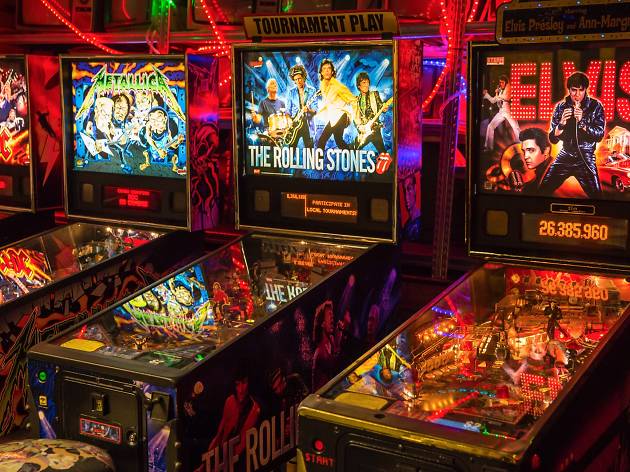 Let's face it, it's fun to get competitive on a night out. And while arm wrestling might cut it for a moment, it's likely to get you kicked out of some bars, and generally shunned in others. That's why you need games. More specifically, arcade games. When it's looking like an indoor sort of weekend, hole up in these fun-time pubs and spend all your pocket money on pinball and beers
Sydney pubs with arcade games
Sure, the rooftop bar with the sweeping beach views is a big drawcard for the Coogee Pavilion, but when the weather is a bit bogus or you just don't fancy fighting for a seat, head for the games corner on the ground floor for some ping pong and giant scrabble.
Read more
At this legendary Newtown hotel they have dedicated an entire room (albeit a smallish one) to pinball machines so when you're not feeling the beer garden vibes you can test your reflexes and sure up your bang back technique.
Read more
Manly is a fair-weather kind of place, but if you need to kill some time along the beachfront without outdoor activities, head to Manly's Asian, rock'n'roll fun palace where they have a whole bank of pinball machines up against one wall.
Read more
The great thing about an underground bar is that rail, hail or shine, it's all the same to the clever clogs who head here for a night of tinnies, whisky, fresh apple juice mixers and pinball. Throw some pizza and live gigs in there and you couldn't ask for better all-weather entertainment.
Read more
Don't make the mistake of being so charmed by the beer garden and light-filled dining room at the Henson that you don't do a little exploring of this sprawling hotel. There's also a games room where you can blow your tips on Daytona, Buck Hunter and pinball.
Read more
The huge beer garden at this refreshed Petersham pub is actually under cover so any day is a good one to drop by, but if you need something to keep your hands busy that isn't exclusively chicken burgers and craft beers, stake out the games room where they've got pinball, Buck Hunter and fooshockey.
Read more
Want more? Here are Newton's best happy hours
When: Mon-Fri 5-7pm
What you'll get: $4.50 local schooners, Young Henrys, and house wine
Read more
Show more