Try Jameson's new cold brew whiskey at these Sydney bars
Imbibe this booze-meets-caffeine tincture at some of Sydney's stellar cocktail bars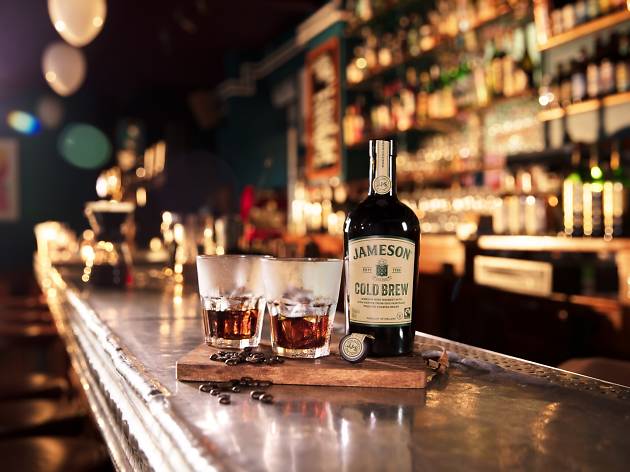 Sometimes, flavours just belong together – from strawberries and cream to guac and corn chips. Irish whiskey and coffee are one of these undeniable pairs, so Jameson, the king of malty-sweet spirits, has brought them together in one glorious, full bodied bottle.
In keeping with these hip café times, they're blending the nutty, vanilla profiles of Jameson with cold brew coffee. This gives a more refined, refreshing flavour to the drink, while maintaining that warm, rich coffee profile from Colombian and Brazilian Fairtrade Arabica beans.
If you've attended a coffee cupping or two on your way to a distillery tour, you're likely to have the constitution for sipping the spirit with little more than ice. But if you're keen to see what this punchy drink can do in a cocktail shaker, perhaps it's time to hit up a few Sydney bars serving the beverage.
Photograph: Supplied
If you like your afternoon tipples with a side of true-blue bar talent, head to the Unicorn Hotel in Paddington. This ripper of a pub has plenty of bottles of Jameson Cold Brew in stock, and could mix you a beaut Jameson Cold Fashioned (yep, a kick o' coffee beside the bitters is blissful) in between rounds of Jatz and French onion dip.
Looking to get a little frisky? The boys at Ramblin' Rascal Tavern will fix you a caffeinated cocktail that'll have you getting up to no good in their party basement. Need a breather? Head to the Wild Rover for a housemade lamb sausage roll before your next round. This hidden whiskey den has a heavy Irish accent and can fix you a classy Jameson Cold Brew and tonic to keep the night rolling.
Photograph: Supplied
If you'd like an epic view while you experiment with more Jameson Cold Brew concoctions, bags a spot on the rooftop at Darlinghurst's East Village Hotel, or the fairy-lit balcony at the White Horse. Those looking for a moody subterranean watering hole can stretch out on a Chesterfield inside the Rocks' whisky cave Doss House, perch by the bar at Earl's Juke Joint (a cocktail haven hidden inside a former Newtown butchery), or sway on the dancefloor at Frankie's Pizza by the Slice.
You can also try Jameson Cold Brew at Arcadia Liquors, SoCal, Potts Point Hotel, Webster's Bar and the Terminus Hotel.
And if you simply couldn't get enough of Jameson Cold Brew while you were out on the town, hit up Dan Murphy's and take home your own bottle. You can welcome 500mL of the smooth blend onto your alcohol shelf for $54.