Win a trip to Jamaica with Red Stripe
Drink a Red Stripe beer and you could be partying down in Montego Bay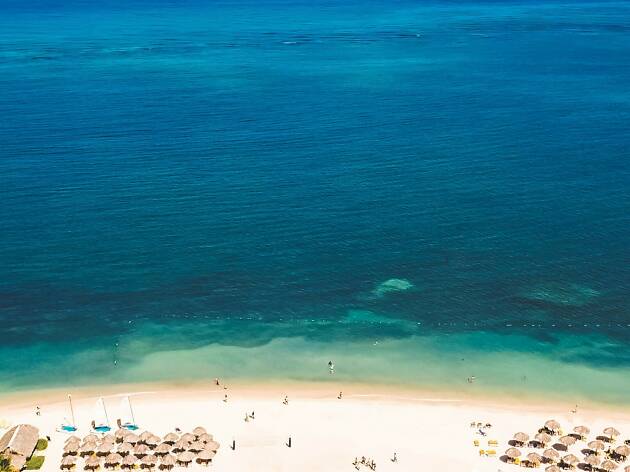 Red Stripe is a smooth, full bodied amber lager from the sandy beaches of Jamaica where it was first brewed, over 90 years ago. Named after the red stripe that used to run down Jamaican police uniforms, Red Stripe is an unpretentious drop that goes down nice'n'easy.
Fans of the beer have the opportunity to win a once-in-a-lifetime trip to Jamaica in July 2019. The prize includes return economy flights, hotel accommodation in Montego Bay, and daily activities.
To win one of two trips for two people, simply purchase a Red Stripe from a participating venue, take a creative photo with the Red Stripe promotional coaster that you'll receive with your purchase, and post it to Instagram, tagging #RedStripeAus and the venue where you bought your Red Stripe. Remember to have your Instagram set to public. The two most creative posts will win.
The competition is open from February 1 to May 19, 2019. The prize trip must be taken on July 17-21, 2019, and cannot be changed, transferred or redeemed for cash. Go here for more information and terms and conditions.
So, where can you enjoy Red Stripe and get that promotional coaster? Here's the list:
The Lansdowne Hotel
Legendary Sydney rock'n'roll pub was brought back from the dead in 2017 under the auspices of the Mary's crew. The first-floor bandroom gives breath to Sydney's oxygen-deprived live-music scene, while downstairs the the bar fronts an open kitchen sending out classed-up junk food and ice cold Red Stripe.
Coogee Beach Club
All day, every day, you can get four Red Stripes for just $25 at this pumping Coogee bar and bistro. That's one for every member of your Barefoot Bowls team – they have a bowling green on the premises.
Best Music Warehouse
The best way to utilise the power of a refreshing Red Stripe is on a dancefloor. Hit up best Music Warehouse in Glebe for live, local music, brews and snacks six days a week.
The Rose Hotel
When you think of a university-central pub, you might assume it'll feature schnitty rolls and cheap tins. But at the Rose, there's an enviable beer list featuring Red Stripe among 28 draughts, a biodynamic wine list and creative vegetarian dinner options.
Hotel Hollywood
The legendary Art Deco Surry Hills pub has resisted refurbishment for decades, and thank heavens for that. The famous mirrorball spins its lazy rotation above the ancient carpets and the weekends still packs them in.
The Cauliflower Hotel
One of the oldest pubs in Sydney had a spruce-up a couple of years back. This key clubhouse for supporters of the Rabbitohs is serving cold Red Stripe among other beers, and up on the roof it's rum and cocktails at specialty bar the Forgotten Cask.
Hotel Steyne
A hot rod among Manly pubs, the Steyne capitalises on those beach views with Henry's Rooftop, where you can expect live music, fresh cocktails and refreshing Jamaican lager.

Rosie Campbell's
A Caribbean-themed bar that gets the holiday vibes pitch perfect, they're bringing the island vibes to Surry Hills. Grab a cocktail or a round of Red Stripe lager and a juicy chicken thigh with a spicy, fragrant jerk crust.
In Situ
Mosey on down to Manly bar In Situ any night of the week and you're pretty much assured some reggae, hip hop or funk. There's about a dozen premium and imported beers including Red Stripe to choose from.
Jacoby's
This Inner West Tiki bar came onto Sydney's small bar scene as a swift antidote to every serious wine bar and tonic water menu. They're decked out in glowing fishing floats and flocked banana palm wallpaper, like a Caribbean holiday without leaving home.
JB and Sons Dee Why
The original Freshwater cocktail bar now has an outpost in Dee Why. The drinks are great and so are the burgers – and fried chicken pieces are just 50c each on Thursdays.
Rocca
You could while away the whole day at Rocca in Sydney's South. Start with a devilishly sweet serve of French toast at breakfast, stay for a lunch of pan-seared prawns, and finish your day with a sneaky tomahawk steak accompanied by beer.
The Anchor
It's a salty crowd at Bondi's nautical hideaway. The tanned and the beautiful will be sharing the bar with you, and that's just the staff. Pop in for a gin and watermelon juice, a Tommy's Margarita or a Red Stripe.
Canberra
PJ O'Reilly's
While some might not be partial to Guinness, with its malty pallet and equivalent carb intake of two slices of bread, we must concede that the Irish know their beer. This central Canberra pub is offering up top brews on tap plus hearty pub meals and a devil-may-care attitude.
Central Coast
Mumbo Jumbos
If you're in Terrigal, you'll want to find a bar by the beach. Duh. This Jamaican-influenced beach shack provides all the sandy good times you're looking for, plus jerk chicken, rum, reggae and regular party nights.