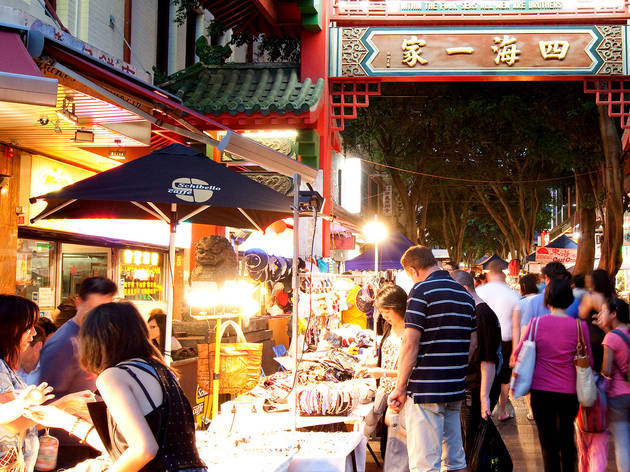 What's good in the neighbourhood: Haymarket
The new light rail is the main artery to the heart of each neighbourhood and its offerings. Step into Sydney's hub for cheap eats and night-time fun and discover more along the light rail route
At the Chinatown light rail stop in Haymarket, it's like stepping into a teeming haven for spicy noodles, exciting contemporary art, and joyous musical theatre. But where to start? We whittled down the incomparable greatness of this neighbourhood's food, drink, and experience options into this must-do list.
While you're at it, take our quiz to find out what neighbourhood best matches your personality. Or, explore the other exciting areas along the light rail route.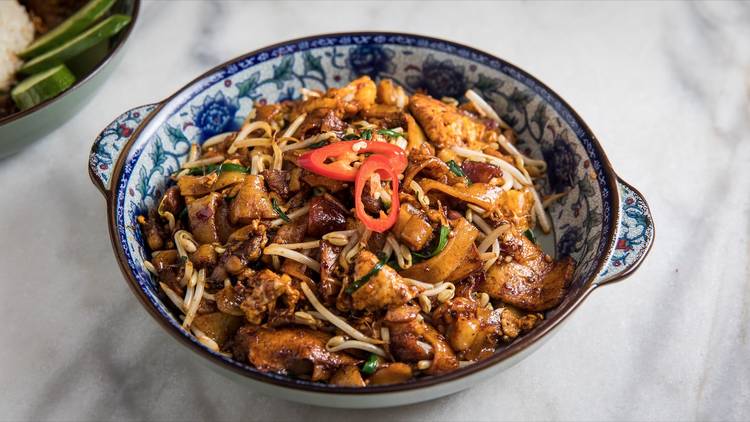 Ho Jiak Haymarket. Photograph: Anna Kucera
Eat this
Start your culinary journey with a crab-bejewelled bowl of char kuey teow from Malaysian hotspot Ho Jiak. They're open super, super late, so you can satisfy that crispy Hainan chicken craving well into the evening. Or hop over to Thailand with a fiery tom yum noodle bowl and melt-in-your-mouth crispy pork belly from Dodee Paidang. Find yourself in Haymarket in the AM but don't know where to start? Head to the pink-hued Ching Yip Coffee Lounge for some Hong Kong breakfast classics – think condensed milk toast, warming bowls of congee, and classic ham and tomato stirred with egg. Keep your morning buzzing with a robust kaffe yen and some sweet Thai fusion treats like pandan custard and gelato stuffed fried buns from Boon Café.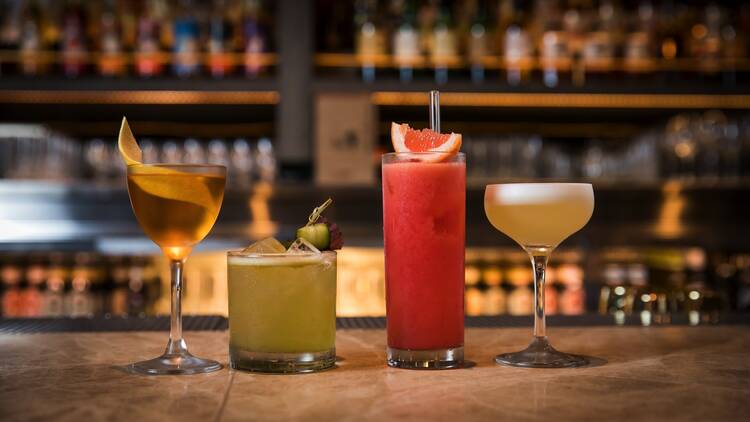 Bancho Bar. Photograph: Anna Kucera
Drink this
Quench your thirst and indulge your sweet tooth with a photogenic iced tea from the Alley Lujiaoxiang, try their signature brown sugar crème brûlée creation with "deerioca" pearls. If you'd prefer to sip on something a little, well, boozier, shuffle through Haymarket's unexpected cocktail bar gems. Try a playful creation from Bear Bar, like their Lemon Meringue Pie cocktail or a garden-fresh concoction called "What Would Stephen Fry Drink" consisting of cucumber, apple, ginger, elderflower liquer, Tanqueray gin, Lillet Blanc and grapefruit bitters. More in the mood for serious spirits? Browse Bancho Bar's extensive collection of Japanese whiskies and unwind in a booth with a sophisticated Highball. For subterranean good times, head down to Assembly and try one of their award-winning sippers or split one of their "cocktails to share" with five of your closest mates – they're served in a giant skull and appear in a theatrical cloud of dry ice.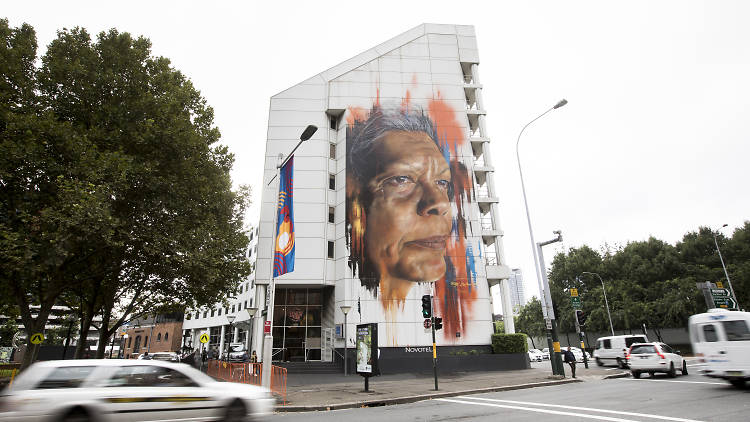 Matt Adnate 'Jenny Munro', 2016. Photograph: Ken Leanfore
See this
There's more to Haymarket than deeply excellent food options. Have a wander and be met with pockets of art, laneway installations and world-class galleries. Start your tour of beauty by copping an eyeful of the massive mural portrait of Wiradjuri elder and legendary activist Jenny Munro painted by Matt Adnate on the entire side of the Novotel in Darling Square. If the sun goes down while you're there, walk over to Jason Wing's dazzling blue light spirits in 'In Between Two Worlds' floating above Kimber Lane. Save some time for a good perusal of the exhibitions at split-level gallery 4A Centre for Contemporary Asian Art or catch a stimulating workshop at publicly accessible gallery UTS Art.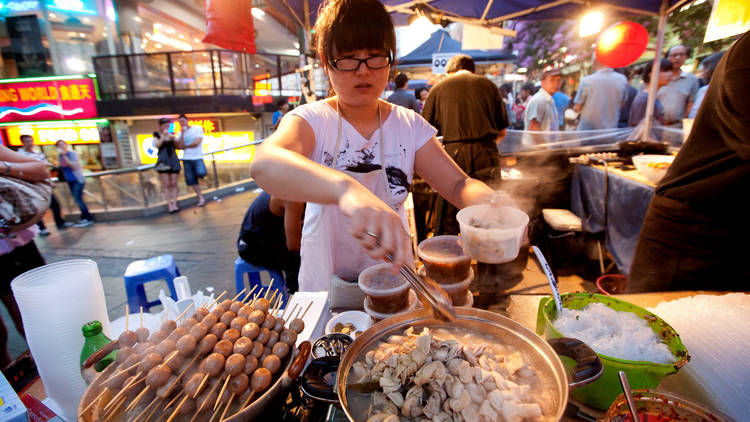 Chinatown Night Market. Photograph: Daniel Boud
Do this
Keep your Haymarket itinerary pumping with the neighbourhood's fab experiences. Catch a big name musical at Capitol Theatre or show them how it's done by belting out a tune at hidden karaoke den Lantern by Wagaya. You also haven't truly done the area justice without a snack-on-a-stick or a cute pastel phone accessory you didn't know you needed from the Night Markets on Dixon. While you're in a shopping mood, give some time to the hugely underrated Paddy's Markets, where you can fill a bag with fresh vegetables and cheap socks in one visit. Wrap up your Haymarket adventure with a space-age stay at the Fifth Element-esque Capsule Hotel.
Remember to play it safe around light rail.
---
---