Heads up! We're working hard to be accurate – but these are unusual times, so please always check before heading out.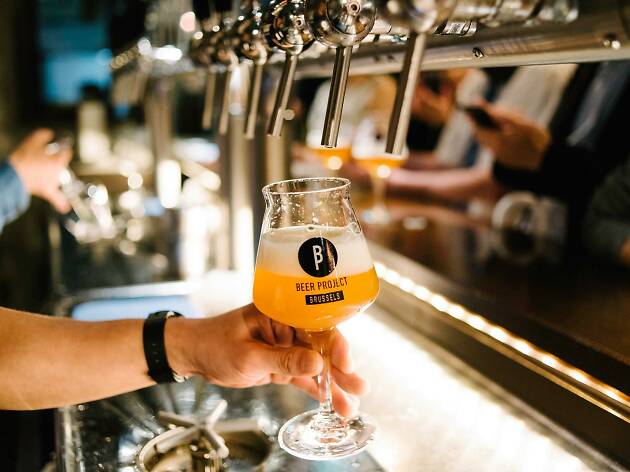 1/4
Photo: Gueorgui Tcherednitchenko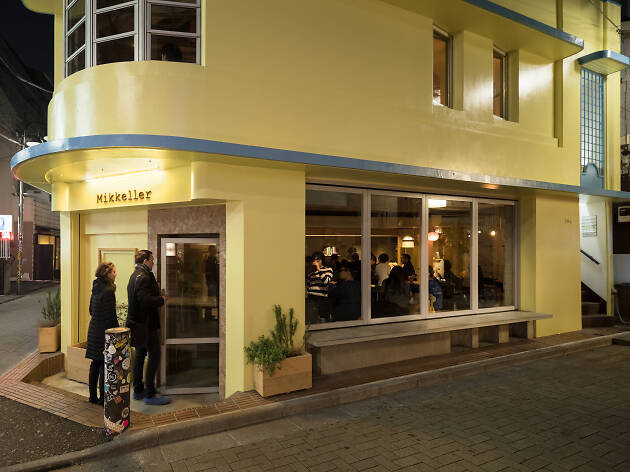 2/4
Photo: Takumi Ota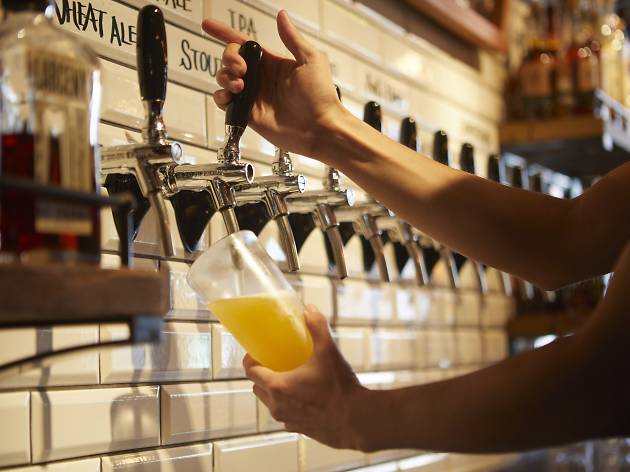 3/4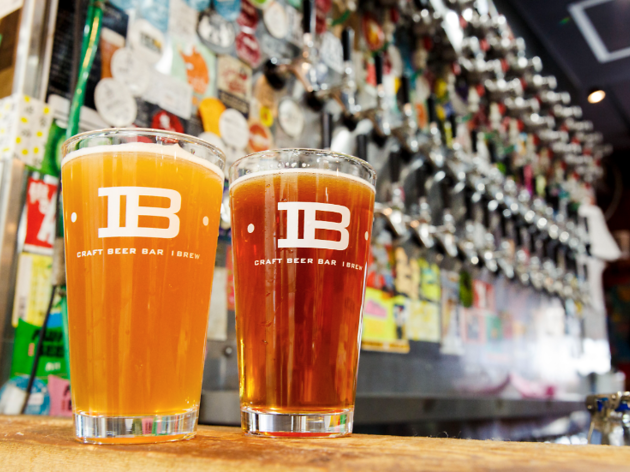 4/4
Best craft beer bars in Tokyo by neighbourhood
The watering holes with the best selection of craft beers and microbrews, from ales and pilsners to stouts and sours
Go beyond the standard lagers and konbini alcoholic drinks – because Tokyo's craft beer scene is booming. Dedicated drinkers once had to trek out east to Popeye in Ryogoku for something other than mass-produced beer, but now they're spoilt for choice, with over 400 craft brew bars, breweries and shops in Tokyo. Whether you're a fan of American IPA, Belgian wheat beer or local Japanese craft beer, you'll definitely find a brew or two to suit you at these Tokyo craft beer bars.
RECOMMENDED: Looking to sample other drinks in Tokyo? Check out our list of the best Tokyo bars.
Meguro
Having opened a full-scale craft beer empire since, the first Tokyo pub opened by the Numazu-based Baird Brewing Company is very relaxed: all brick walls and wood panelling, with a long central table that's ripe for communal drinking. It's primarily an outlet for Baird's own brews, which tend to be pretty fine: we're particular fans of the Teikoku IPA and Angry Boy Brown Ale, available year-round. Check the blackboard above the bar for guest beers from the likes of Rogue and Brewdog, and keep an eye out for Baird's own seasonal specials. Note that this is a non-smoking venue.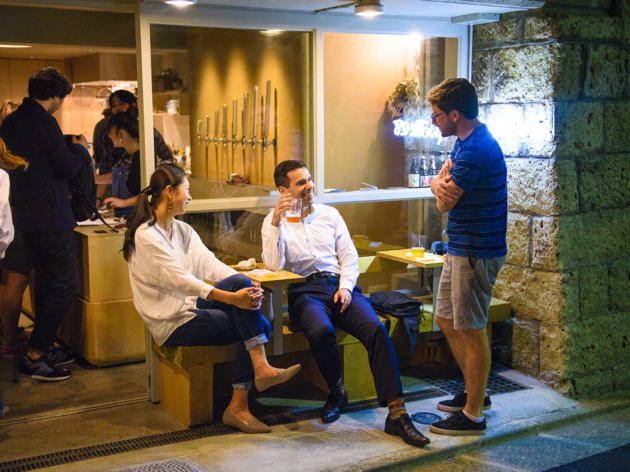 The sister shop of Kyoto-based craft beer and sake bar Before 9, Another 8 opened in posh Meguro in a space that used to be a garage. A place for laidback drinking, it's got tables and benches both inside, in addition to a stand bar that tends to get very crowded on weekends. Although beer is the speciality at Another 8 – the place is equipped with eight taps – there is also a small but very nice selection of sake. The bar snacks are pretty good too – we're big fans of the marinated octopus and celery, while those looking for something more substantial will want to try the shirasu (whitebait) and daikon omelette.
Shinbashi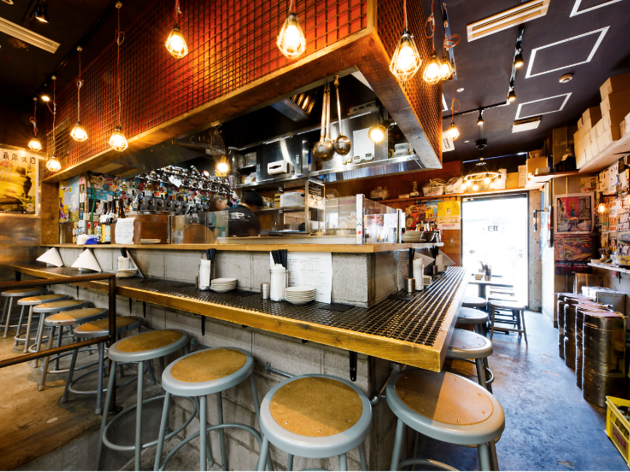 Part of the Craft Beer iBrew chain, this is one of the cheapest places to drink craft beer in Tokyo, with half-pint pours costing just ¥390 and a full pint at ¥690. There are up to 30 mostly, if not exclusively, domestic breweries and styles on tap – but don't expect too much in terms of ambience. This is a rustic, pub-like space, the kind that attracts salarymen looking for no-frills afterwork drinks, and therein lies the charm – it feels very local.
Sitting on the eastern side of Shinbashi is one of Swan Lake's taprooms. With more than 20 years of history, the gold-medal winning, Niigata-based Swan Lake brewery is known for using pure underflow water from the Agano River in Echigo. Try the Koshihikari Beer, which is a lager made from the eponymous rice, and the Amber Swan Ale if you love strong hoppy bitterness and caramel notes.
One of the cheapest places to drink craft beer in all of Japan (from just ¥267), let alone Tokyo, this often-packed bottle shop and bar hybrid offers a slice of Nagano in Shinbashi. Only products from the prefecture are sold here, which includes craft beer from breweries such as Yoho Brewing, Reijin Shuzo Brewery and Tamamura Honten, as well as sake, wine and other regional delicacies.
Ikebukuro
Located towards Mejiro, Pump Craft Beer Bar offers a casual, no-frills environment with a range of domestic and imported (mostly American) craft beers that rivals some of Tokyo's best-known bars. There are up to 15 beers on tap, from weizens to IPAs to sour ales – definitely get the lightly spiced, bergamot tea-infused Earl Grey ale from Toyama-based Johana Beer brewery if it's available. There are three sizes to choose from: half pint, regular (350ml) and full US pint (473ml).
With around 20 domestic and imported brews on tap, there is something for everyone at Ikebukuro's oldest craft beer joint – from porters to IPAs to Belgian whites and even fruit beers. The food menu at this low-key establishment leans heavily towards Europe, so expect pasta, pizza, sausages, plus your usual fried snacks.
Elsewhere...
Though it's long been regarded as the essential destination for beer enthusiasts in Tokyo, Popeye actually started life as a Western-style izakaya. Its transformation into a specialist craft beer haunt has been slow but spectacular: it now boasts an unrivaled 70-plus beers on tap, all kept in impecable condition and most of them produced by Japanese breweries.
There's table seating for groups, but the most fun to be had is at the bar, where the friendly and knowledgable staff entice drinkers with unfamiliar tipples. It isn't the cheapest place in town, and the stodgy food selection falls a long way short of the quality of the beer – but if it's the latter you're after, Popeye is hard to beat.
Step out of Okutama Station and you'll soon come across this traditional Japanese house with a pretty garden. There's a river running down in the valley just in front of the building, completing the scenic setting. It's home to a beer hall that serves five kinds of homebrewed beers, including a fruity session IPA and a light golden ale. They've got their own hop field a 20-minute drive away too, so it's all very local. Having a glass in the garden while listening to the sound of the river and admiring the trees around you will make your clock tick slower. Those visiting Okutama for rafting or hiking will want to keep Vertere in mind – even if it's only for a quick break while waiting for the train home.
More bars to explore in Tokyo