Get outdoors in NYC: Events and things to do outdoors this summer
Your guide to getting outdoors to the best beaches, pools, parks, outdoor bars and restaurants, and classic fresh-air New York events this summer
By Time Out editors and contributors, edited by Jonathan Shannon Tue May 20 2014
Get outdoors 2012
From wall art to street art to sculpture, TONY takes you on a tour of public art in New York.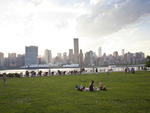 Find the best piers and riverside parks to sunbathe, stroll, watch the sunset and more.
Cool off by jet skiing, sailing or stand-up paddleboarding
Try these five protected bike paths and bike lanes in parks for a car-free route.
---
Outdoor dining and bars 2012
Find where to cool off with a summer drink near NYC's best hot-weather attractions.
Our guide to the city's best alfresco watering holes.
Booze a sunny day away at one of these outdoor drinking destinations.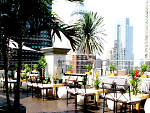 Booze with a view of New York at our favorite hotel-toppers and decks—from lounges with tough doors to affordable, no-hassle picks.
---
Outdoor sports and activities 2012
---
Related Get outdoors coverage
---
---