Michelin-starred resturants in Bangkok
A master list of all Bangkok restaurants with Michelin star(s)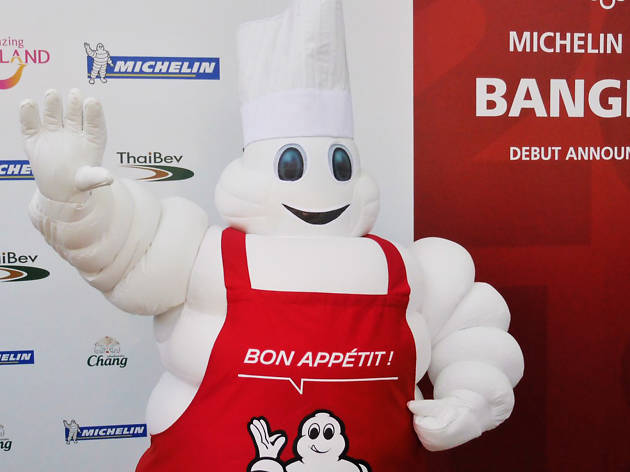 After the long anticipation, Michelin, the French-born tire company whose city guides with the signature red cover have been worshipped among globetrotting foodies as trustworthy bibles, has finally launched its first Bangkok edition with 98 restaurants mentioned within the guide—17 of which are awarded stars.
Thailand is the 30th country in the world to have a self-titled Michelin Guide, one of the world's most respected dining guides, known for star ratings given by "anonymous" inspectors following five criteria: (1) quality of ingredients (2) mastery of cooking methods and flavors (3) chef's personality (4) value for money and (5) consistency. The first year puts a focus on Bangkok restaurants, with an expansion to other major cities later on.
Two Michelin stars
With a sweeping view overlooking Chao Phraya River, the historic Le Normandie of The Mandarin Oriental Bangkok has been offering rich Bangkokians with the refined touch of French cuisine for years.
Read more
One Michelin star
At Bo.lan, the finest ingredients, taken from different sources around the kingdom, deserve more praise than imported produce, and hands are valued more than cooking machines. Bo.lan has also zero tolerance for course menus and serves the dishes all-together family-style—exactly how Thai food is supposed to be enjoyed.
Read more
Bangkok's fine dining restaurant serves authentic Thai cuisine in the classic Thai-style house.
Read more
One of the two Michelin-affiliated sushi restaurants in Thailand, Ginza Sushi Ichi offers a dining experience that comes with a hefty price tag. Paying up to B10,000 for an omakase meal may seem ridiculous at first, but they fly in freshly caught ingredients on a daily basis and are on a chummy basis with chef Ishibashi, who comes to Bangkok once every quarter.
Read more
J'Aime by Jean-Michel Lorain has introduced a new menu which includes the revamped razor clams in their gelée, now presented as a Surf & Turf appetizer cooked with olive oil and served with crispy sweetbread, yellow radish and orange mousse.
Read more
Titled "Chef of the Century" and earned the most Michelin stars in the world, Joel Robuchon brings the taste of Michelin stars closer to Bangkok. The menu sees a list of decadent cuisine à la française whipped up by refined ingredients.
Read more
Paste is probably one of Thailand's most understated restaurants. This modern dining room offers fine Thai dishes crafted with respect to traditional Sanitwonge recipes, yet also brimming with innovative confidence. Drawing its name from "curry paste," the centerpiece of Thai cooking, Paste pays particularly attention to the very source of their ingredients.
Read more
Tucked away behind a discreet façade and heavy wooden doors, Saneh Jaan revels in the most authentic elements of Thai food culture. Saneh Jaan's executives are real foodies who, for decades, have traveled around the kingdom to sample its greatest dishes. The menu reads like a credits list of time-honored classic Thai dishes.
Read more
Henk Savelberg, a renown michelin star chef, has just opened his fine dining in the Bangkok city center. Serving modern French cuisine, they offer a full course meal, for example, the pre starter of grilled watermelon with ham, pickle ice cream and dressing, the main course of grilled Angus beef with red wine sauce and garlic bread, and the dessert of yogurt, chocolate, nuts, and dried fruits.
Read more