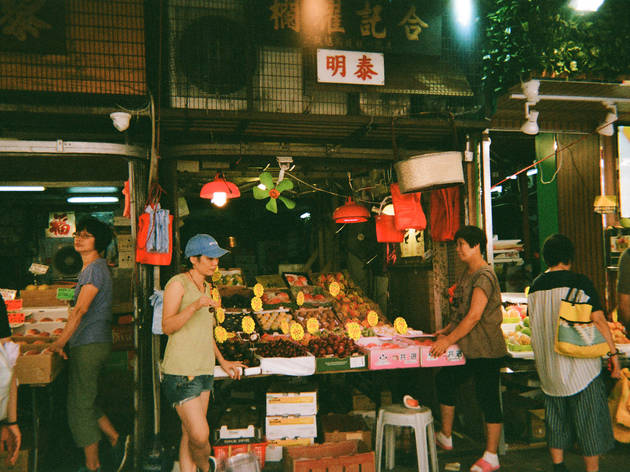 Best places to shoot street photography in Hong Kong
Ditch the skyscrapers for the streets
Anyone can say they're familiar with the city, but not everyone knows about all the nooks and crannies scattered around different neighbourhoods, possibly because we're all overwhelmed with our routines that we seldom explore the local street scene presented to us on a daily basis. Here's a list of places that you've probably been to before but never took the time to explore in-depth – and we're not talking about generic Instagram spots or housing estates for your social media. Capture the authentic side of Hong Kong and its people, and let the photos speak for themselves. By Andrea Wong

RECOMMENDED: Explore some of Hong Kong's abandoned villages and secret islands to capture a different side of the city.
Best places to shoot street photography in Hong Kong
Wholesale fruit markets are a constant hustle and bustle type of place. From the early hours of the day when stock is being replenished to when customers flock in and out to get their hands on the freshest fruits in season – there's not a single moment of silence at the market. The vibrant colours from the large variety of seasonal and evergreen fruits, old-school red lampshades, and the nature of people buying and selling fruits all make for a perfect setup to encapsulate the vibrant and vivid atmosphere in the area. It's also great for film photography. Try taking photos here with a Fujifilm film camera – or even just their disposable cameras – the brand's signature hues will enhance the reds and greens throughout the market.
Now is definitely not the time to travel, so we might as well get imaginative and draw parallels to the places you've been before. The bustling crossing right outside Sogo in Causeway Bay may be a mundane path for your daily commutes, but if you look at it from a higher perspective, it's basically like a mini (and yellow) version of Shibuya Crossing in Tokyo. Though there aren't as many intersections, you'll still be able to photograph people crossing from all directions while trying to make their way to the other side before the light turns red. Drop by during lunchtime to capture rare sightings of old folks making food deliveries on their bikes.
There are lots of different compositions to explore. If you decide to go above ground, try to catch the right lighting as pedestrians casting shadows on the streets will add an interesting dynamic to the frame. Alternatively, if you're an avid people-watcher like us, you can record cool time lapses or slow-motion videos even if it's just on your phone.
View this post on Instagram
Popular amongst locals and tourists, not only are these street markets beautiful during the day – where you can capture the casual yet buzzing atmosphere of people strolling around and negotiating prices with vendors – but they're especially vibrant at night when the neon signs are all lit up. If you're interested in capturing some night photography here, you can go the extra mile and find higher ground for a different perspective. The lights coming from the market will contrast with the open space above, and the surrounding buildings will add depth to the picture.
From the fuzzy but familiar music to the no-fuss ice cream cones, these red, white, and blue Mobile Softee trucks have played an important part in our childhood memories. Capture a child's gleaming smile as they grab their ice cream cone and take a bite, or wait around for a while to get a shot of the vendor's bored and tired face as they wait for their next customer. Try taking a photo at night, the cold, fluorescent lights inside the truck will give the picture a luminescent focal point. We promise when you look back on these photos, you'll feel immense joy reminiscing about the simpler days.
They're a bit difficult to find if you don't know where to look, but you'll usually find one by the Tsim Sha Tsui Ferry Pier or by the Observation Wheel in Central.
Locksmiths, stamp makers and shoe / leather repair stalls
We're so used to walking past the succession of stalls nestled right outside exit D2 of Central MTR station that we often overlook the scene. In this dimly lit but busy path, stands small traditional locksmiths, stamp makers, as well as shoe and leather repair stalls with a plethora of tools ready to fix up anything. These stalls are simple proof that traditional craftsmanship can withstand competition from modern chain stores of similar nature. Snap a pic of these local treasures that give Hong Kong a diverse character while you still can!
More photogenic locations in Hong Kong
Buck the trend and pay a visit to these unusual places in Hong Kong.