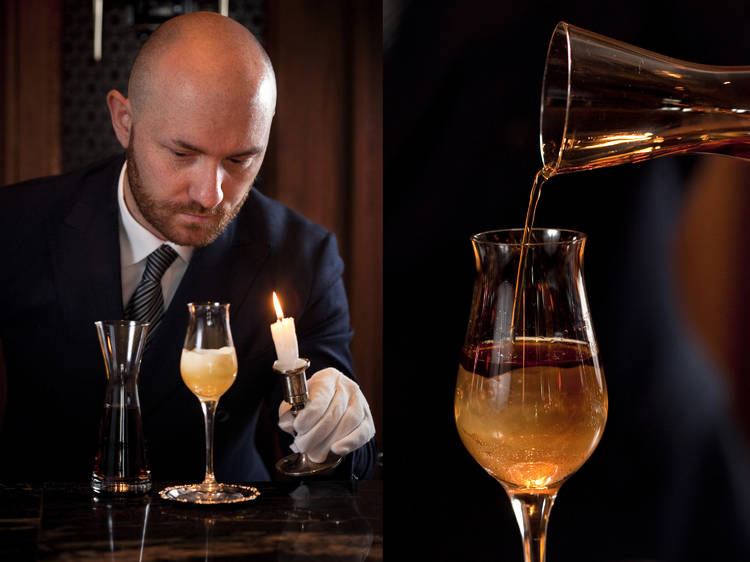 Photograph: Courtesy Caprice Bar
MAKE IT YOURSELF
Ingredients:
50ml gingerbread and miso bourbon
7.5ml honey syrup
1 dash Angostura bitters
3 dashes Alsatian Riesling
Mandarin oils
How to make the gingerbread and miso bourbon:
Ingredients:
700ml Bourbon
65g white miso
80g brown butter
10g fresh ginger
1) Place the brown butter in the pan over a stove set to medium heat. Let it melt, then turn off the heat, and strain out any solid parts.
2) Combine all the ingredients and cook them in a water bath (cook by surrounding the pan with water) at 45 degrees for 60 minutes.
3) Pour the concoction in a sealed container and place it in the freezer.
4) Once you see that the fats have solidified, separate the liquid from the fats and bottle it.
How to make the honey syrup
1) Mix two parts acacia honey to one part hot water.
2) Whisk it properly until the honey is dissolved. Bottle and refrigerate. The mixture can last for up to three weeks.
Make the cocktail
1) In a mixing glass, stir all the ingredients together and strain them into a rock glass over a block of ice.
2) Release the oils of the mandarin skin on the surface of the cocktail for aroma. Serve and enjoy!