Drink This: Cocktail recipes to make at home
Cocktail recipes from Hong Kong's top bartenders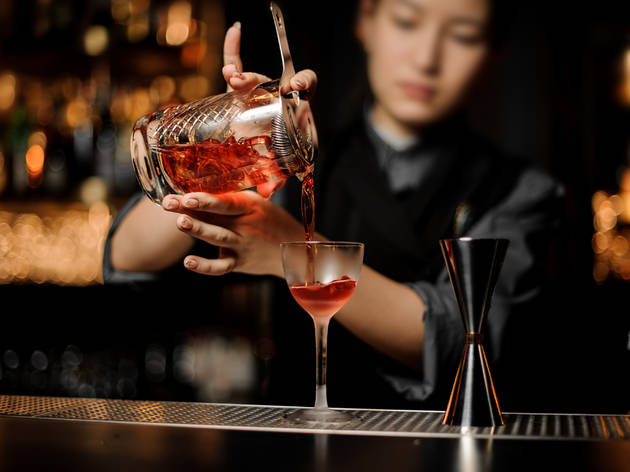 Drinking this holiday season is a bit different this year as temporary closures of bars and pubs has been extended pending further developments in the city. A lot of your favourite bars have started to offer takeaway or delivery during this dry season so hit them up if you'd like to get perfectly balanced tipples to enjoy at home. But, if you're looking to spice up your home bar and tap into your inner bartender, we've rounded up a few cocktail recipes from some of the best mixologists in Hong Kong so you can get the ball rolling.
RECOMMENDED: Setting up your first home bar? Click here to find out everything you need to set up your home bar.
Drink this: cocktails recipes to make at home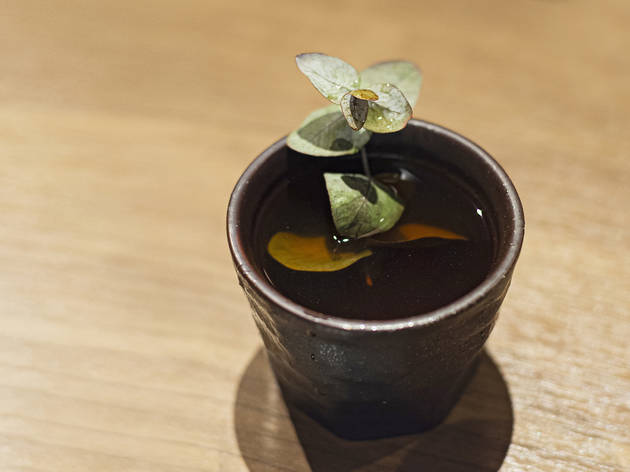 Christmas cocktail recipe: The Glögg by The Old Man's Lucas Fialin
Hot drinks are easily one of the best things about the arrival of winter, and a spiked hot drink goes down quickly during cold holidays. Lucas Fialin, head bartender at award-winning The Old Man, shares his twist to the classic Nordic winter drink, Glögg. Glögg is a spiced mulled wine or spirit usually made of fortified wine, jazzed up with citrus, cinnamon, cloves, cardamom, ginger, and other spices. Lucas' rendition is inspired by his non-existent relationship with Santa Claus from his childhood, and his recipe may be prepared with or without alcohol so kids or teetotalers can enjoy a cup. "As a child, I have sent many letters to Santa Claus," shares Lucas. "I would tell him how nice I have been during the year. That I behaved as a good and cooperative kid and therefore, I deserve, I claim the right to have nice gifts," he enthuses. "Unfortunately, after countless letters sent to his address and many expensive phone calls to his direct line throughout many years, I gave up! This fat bastard never answered me," he jokes. When he was around 10 years old, together with his family, they visited Lapland; the region is said to be the home of Santa Claus. "In Lapland, the weather is around -15 degrees Celsius in the wintertime. They even have 'seasonal' hotels built and sculpted out of ice! You get it. It's quite cold," he shares. "During our visit, we drank a lot of warm lingonberry juice to keep me warm while the parents would drink Glögg. A kind of mulled wine based on berry juice instead of wine," he explains. "I travelled a good part of Lapland for over a month, but I found no trace of the legendary bearded guy. Yet, even though I never found Father Christmas, I grew up realising he's a good guy. I know it because I've been lucky enough to find gifts every year under the family tree," he enthuses. "Now I made peace with him and ever since when I drink mulled wine, it reminds me of the cold wind and the frostbite of the lowlands." "This recipe is made non-alcoholic. It doesn't need alcohol to bring taste, depth, and body. What's good about this drink is that it pretty much works with all kinds of spirits – neutral, white, matured, no distinction. Any liquor already existing on your dusty shelf for years can finally be used, well, preferable not all together though," says Lucas. He says this drink is great enjoyed with a group of people – preferable the one you like – so gather your loved ones and make this recipe at home for the holiday season.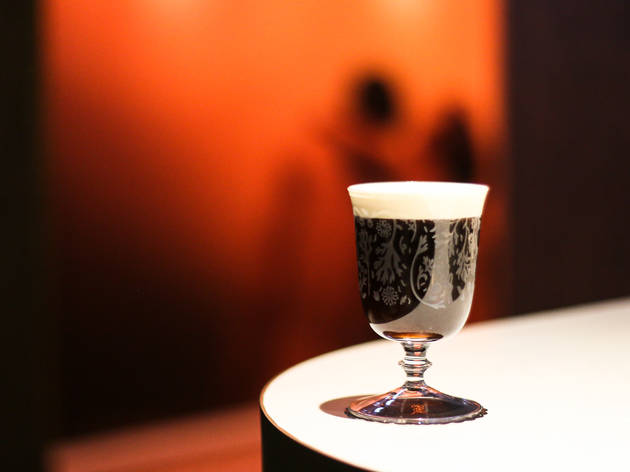 Drink This: Irish Coffee by The Diplomat's John Nugent
When cold air starts biting at the doors and windows, there's no better way to start your day than with a hot drink. And since the holidays are coming and you find yourself trapped at home, a hot booze-spiked drink might be a great idea to warm you up for the season. For cocktail inspiration, renowned mixologist John Nugent is sharing his twist to the Irish Coffee recipe, a classic comforting concoction that's been enjoyed since the 1940s. Known for putting innovative twists on old classics, John entered the Hong Kong bar scene in 2017 as the head mixologist for the now-closed Lily & Bloom. This year, he opened his first independent venture, The Diplomat, and even with the continuous challenges of the year, his bar has become the watering hole for people hankering for after-work drinks in Soho's hip and happening H Code. "Irish Coffee is not necessarily associated with Christmas, but people love it because it is a hot drink," John shares. Made with coffee and whiskey, the Irish Coffee was created on a stormy winter night in Foynes, one of Europe's biggest airports located in the wild west coast of Ireland in 1942. According to history, a young chef named Joe Sheridan created the drink to warm delayed airline passengers, since then the Irish Coffee was born. With the arrival of winter, a nice cup of Irish Coffee mug is pleasurable to sip on. "The cocktail has always been synonymous with cold weather," John adds. "I love straightforward cocktails (or with puns), so this one is no different. It's definitely one of our favourites to serve during the colder months. It just makes sense. It's a great drink to have at 1pm on a Saturday but isn't weird after a nice meal either. It's a classic for a reason, and we are excited to serve it in The Diplomat. The difference with ours is we add a touch of Cognac to give the drink a luscious nutty flavour, and add raw demerara sugar which adds a full-bodied flavour as opposed to just being a sweetener," he explains. To taste John's twist to the Irish Coffee, drop by at The Diplomat to order it from the menu, and they will prepare it for you. To enjoy it at home, follow the recipe below: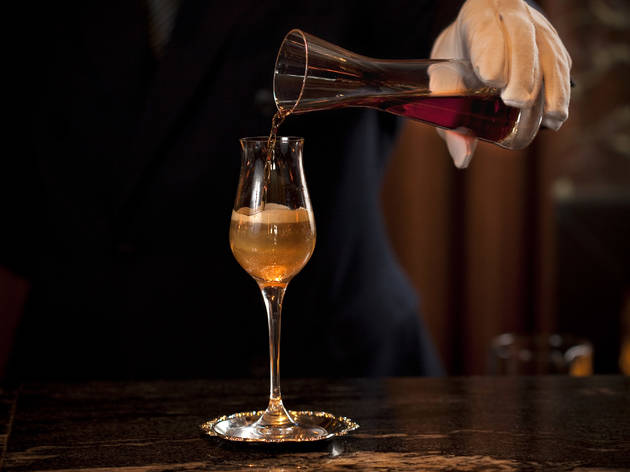 Drink This: Kleber Old Fashioned
One of our favourite ways – and probably one of the most necessary methods – to unwind over the holidays is to sip on fancy Christmas cocktails to get into the festive spirit. This year, some of our favourite drinking joints are temporarily closed, but a lot of bars with catering permits have prepared festive cocktails to add some cheer to the winter season, so you can still get a taste of boozy yuletide concoctions. If you're at home and would like to enjoy some festive drinks, we've asked Caprice Bar's beverage manager – and Time Out Hong Kong's 2020 bartender of the year – Lorenzo Antinori to share with us one of his Christmas cocktail recipes so you can make it at home. RECOMMENDED: Click here for tips on how to set up your bar at home. Travel is off the books this year, and while we can only imagine Christmas in other parts of the world, the best way to satisfy our travel itch is to use our sense of taste and a bit of imagination. Travel to Europe with Lorenzo's Kleber Old Fashioned, inspired by one of the largest Christmas markets in Europe, the Strasbourg Christmas Market. Taking place in the Place Kléber, the central square of Strasbourg, France, the market has existed since 1570 and runs every year from November to December. "The cocktail is a take on the Old Fashioned cocktail that combines comforting flavours of Christmas such as ginger and mandarin, complemented with unexpected ingredients such as miso and Alsatian Riesling," shares Lorenzo. "It's a combination of comforting and unusual flavours that triggers curiosity. The ginger, brown butter, and miso give the cocktail an unexpected interesting texture, while the Alsatian Riesling adds bright and aromatic notes and complexity," he adds. To taste the Kleber Old Fashioned, drop by at Caprice Bar and request for it and they'd be happy to whip it up for you. To enjoy at home, follow the recipe below: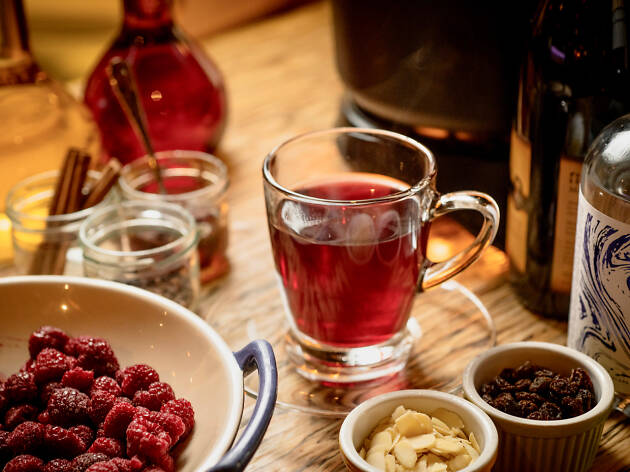 Drink This: Glögg
"Glögg is a very important Christmas drink in Finland. If you visit anyone's home or a restaurant in December, the first thing you get is glögg. Everyone has their own recipe. There are as many different recipes as there are meatball recipes.Typically, the base is red wine, water and sugar, all spiced with cinnamon and cloves. For wine, I use pinot noir, since it tastes quite like blackcurrants. I always like to use different berries, so this year I've thrown in raspberries as they're quite tangy. Using these berries helps build layers of flavour. That way, it's more difficult to find out what's in there, it's like a magic potion. It's nice to add some orange and lemon, too. For this I use the peel, not the dried kind – I find they're too bitter. I always like ginger, so that goes in too. Cardamom isn't very common but I enjoy the scent, so I add that as well.You want to heat the glögg to about 70 degrees in order to keep the alcohol. After that, you can cover it and just leave it. Ideally for at least three hours to get all the flavour out of the ingredients. It doesn't even need any extra heat afterwards. Towards the end, add some berry wine. For special guests I would choose cloudberries, since they're extremely fruity. The final step is the hard liquor. In Finland we often add vodka to ensure there's a kick in case too much alcohol accidentally evaporates off. You don't need to add it to the saucepan, just put some in each cup and pour the glögg over it. It gives off a nice scent and helps give everyone nice red cheeks!" MAKE IT YOURSELFIngredients:750ml red wine 25g raspberries 100ml berry liqueur 50ml of your spirit of choice (can be vodka, whisky, gin, etc) 50ml Honey Cinnamon sticks, orange and lemon peel, ginger, cardamom, cloves (to taste)Instructions:1. In a pot, heat the red wine together with all the seasonings and berries. Heat it to no more than 70 degrees so the alcohol doesn't evaporate. Turn off the heat.2. Let it sit for three hours, then strain at the end.3. Add 50ml of your chosen spirit to the cup, then pour on the glögg.4. Add almonds and raisins to the cup as a kind of snack, if hungry.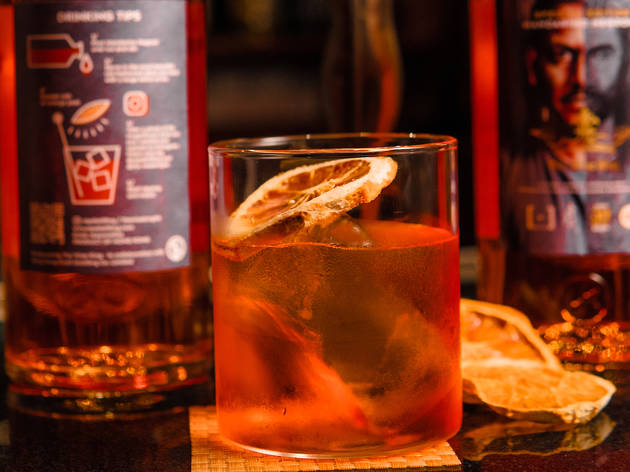 Drink this: Mandarino Negroni
The Negroni is one of those cocktails that mixologists love to experiment with. Using bitters, vermouth, and gin, the ingredients to this classic aperitif can be recreated using alternative spirits and crafted in many different twists. With creativity and the right balance, Negroni riffs can taste even better than the old-time classic. In Hong Kong, Spanish bar The Wise King is known to offer various renditions of this bitter cocktail and have always presented new and seasonal Negroni twists in their menu.  The bar recently launched their #Revived2 cocktail menu early part of the year, and it included two Negroni twists called R&R Negroni (made with rhubarb and raspberry gin, vermouth bianco, amontillado vinaigrette, bitters, and amaro) and the claypot aged Olla De Barro Dos ($128) (made with vermouth bianco, Rinomato Americano, brandy, and brined gherkin (dill pickles). Back in April when the bars were ordered to shut down, The Wise King started to bottle their cocktails and Hongkongers got the taste of their signature King's Negroni and Washed Negroni in the comfort of their homes. This time around, they collaborated with local gin distillery N.I.P Distilling for a special bottling of Mandarino Negroni combining the local gin with Mancino Vermouth, Mandarinetto Isolabella, and Rinomato Americano Bianco.                                      The Wise King's owner and head mixologist Sandeep Kumar "Every quarter, we work on a Negroni at The Wise King. In the past, we have had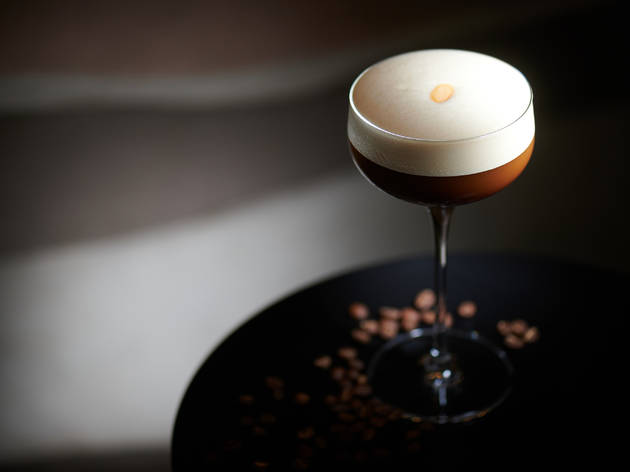 Drink This: Spent Martini
Earlier this year, specialty coffee roastery, Cupping Room quietly opened a brand new concept store, Doubleshot by Cupping Room. Located in the centre of Hollywood Road, the place makes specialty brews and offers a full dining service during daytime and transforms into an elegant cocktail bar at night. By Ann Chiu Translated by Elaine Soh   Bar consultant Chanel Adams – formerly from New York speakeasy Please Don't Tell (PDT) – specially designed Doubleshot's signature cocktails, while the current menu is maintained by head bartender Jade Lau. According to Adams, it is very common for most coffee shops to be a coffeehouse by day and a cocktail bar by night, so she wanted to bring this hybrid concept into Hong Kong. The curated cocktail offerings draw inspiration from coffee flavours and brewing techniques.  One of the must-try drinks on the menu is their signature Spent Martini ($118), a twist to the modern classic, Espresso Martini designed with sustainable mixology practices. To help minimise food waste, the shop utilises used coffee grounds for alcohol infusion and the sweetener from unsold almond croissants. They named the cocktail 'Spent Martini' because of the 'spent' ingredients repurposed for the drink. The result is an aromatic concoction with earthy notes, and smooth coffee and nutty finish.  "Some bars use espresso coffee capsules when making cocktails, but here at Doubleshot, we make our espresso using single-origin coffee beans, which gives our cocktail depth in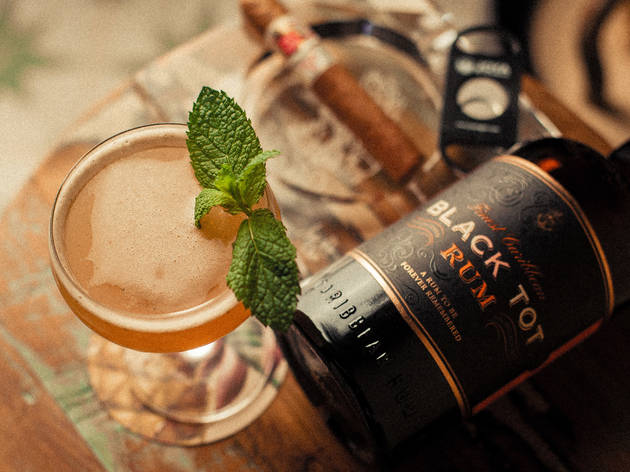 Drink this: Old Tot
Rum is experiencing a renaissance as market consumption grows steadily worldwide. In Hong Kong, rum is still an underrated spirit compared to whisky and gin, but with a new rum bar opening in the city, it seems like the interest in this sugarcane spirit might be catching on.  Opening on the corner of Hollywood Road, right beside Quinary, is Caribbean-inspired bar The Daily Tot. Should there be no more delays in the reopening of bars in the city, the bar will officially open their doors on August 11. Named after the centuries-old ritual of handing out a daily rum ration to royal navy sailors from 1850 to the 1970s, The Daily Tot aims to change the way Hongkongers perceive rum as being closely tied in with tiki traditions. Behind the bar is renowned mixologist Gerry Olino, who has worked in Hong Kong's bar industry for years, formerly as the group beverage manager of Ming Fat House Group (Mrs. Pound, Foxglove, and Dr Ferns) and the head bartender at Shangri-La's Lobster bar.    The Daily Tot's head mixologist, Gerry Olino To give us a glimpse of their menu, Olino whipped up one of their signature rum cocktail recipes so you can try it at home or at The Daily Tot when the bar opens. Paying homage to the modern classic cocktail Old Cuban – an original creation of Audrey Saunders, the owner of Pegu Club in NYC – Olino created his signature twist and named it Old Tot. The cocktail is a hybrid of a French 75 and a mojito, and like all great classic cocktails, the recipe is deceptive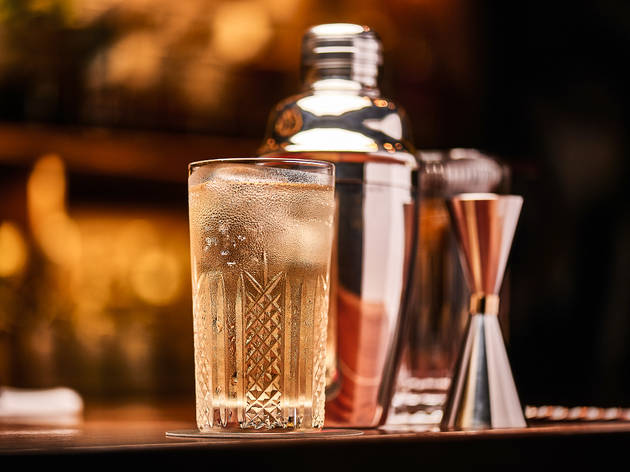 Drink this: Super Highball
With the continuous rise of Japanese whiskies and the current trend on fizzy drinks, we have seen a recent surge of highball cocktails appearing on bar menus. But as cocktail menus get more complicated Mizunara: The Library's head mixologist, Masahiko Endo, shows us a classic Japanese highball that is not often served in Hong Kong bars, the Super Highball. RECOMMENDED: Get to know the women behind the stick in Hong Kong's bar scene Japanese highballs are commonly mixed with whisky and soda water. The Super Highball requires two kinds of whiskies, one base whisky (preferably a blended one) and a smoky or sherried one on top. "Many customers in Japan know about this kind of style," Masahiko says. "A highball is an easy-drinking cocktail, and sometimes, a customer wants something extra with a unique smoky flavour, or maybe a heavier sherry flavour on top. Adding that layer of flavour gives the classic Japanese highball a deeper complexity." Mizunara's head mixologist, Masahiko Endo "The flavours are dependent on what kind of blended whisky you want to use. And also, what type of flavour profile you want," he adds. You can use pretty much any whisky that you prefer and top it with a complementing stronger whisky on top. For this recipe, Masahiko used a blended whisky with a rounded malt profile, notes of green-apple, fruitcake, butterscotch, with a hint of smoke. He made it into a classic highball and floated a chilled peaty single malt on top. "In Japan, most bartenders just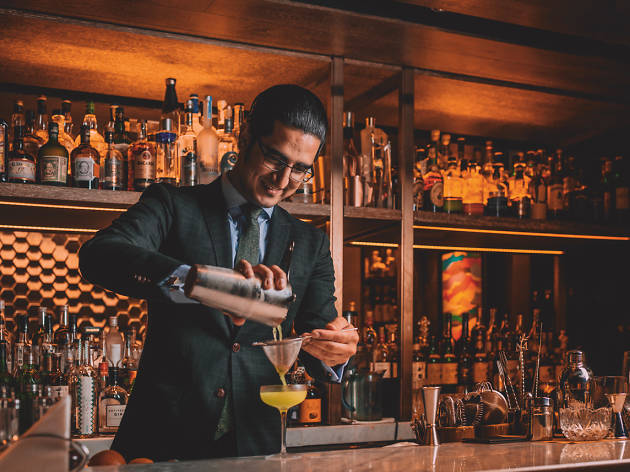 Drink this: The Optimist
The Optimist is a drink that defines my outlook in life – keep it simple. It's helped me connect with people across the drinks industry. I'm a big fan of simple cocktails because they're easy to make wherever you are and don't require a lot of mise en place to be successfully executed.On a visit to Tokyo, I was overwhelmed by the amount of detail that Japanese bartenders put into their work. A recently opened bar that I visited, Mixology Salon in Tokyo, does a mean negroni. Working at an Italian restaurant like 8 1⁄2 Otto e Mezzo Bombana, we serve negronis all the time but at Mixology Salon, I ordered a green tea negroni, made with green tea-infused gin, Campari and vermouth. It was a delightful drink with a fine balance of flavour and the green tea added great herbal notes.I've tried to create something that's as interesting to taste with The Optimist while not overcomplicating things. It's inspired by the daiquiri and it's designed to be straightforward and easy to make at any bar or at home – a lot my guests admit they give it a shot themselves! I created the cocktail as my entry for the Bacardi Legacy Global Cocktail Competition in 2015 and it helped me represent Hong Kong and Macau at the global finals in Sydney, Australia. A simple to make-anytime drink, personally, I'd recommend it for lunch or as an early evening aperitif. MAKE IT YOURSELFIngredients:60ml Bacardi Superior10ml ginger syrup10ml honey water22.5ml lime juiceYellow chartreuseHandful of basil leavesInstruct
Drink this: Dear Jade
People always think baijiu is something to get super drunk on – it's a 57 percent spirit, after all. What customers never expect is that baijiu can enhance flavour so well. Its flavour profile is unique and it can last a very long time on your palate. That's what makes it so good, even if it makes for a challenge when creating a cocktail. I first started on this cocktail when a baijiu brand asked if VEA was interested in a collaboration. We began with an east-meets-west idea to reflect Hong Kong and tried to see what we could pair the baijiu with. Tequila was a no. Mezcal wasn't bad – the smokiness helped. Rum is too sweet. Gin's maybe a little bit too complex. Eventually we settled on brandy, as the way the French make it is quite similar to baijiu. That's when we started trying different types of brandy. After sampling a great variety, we settled on pear brandy. We don't use much baijiu, just a dash, but add the brandy on top and you get a really strong aroma that goes together really well. Naturally, the cocktail is popular with people from the Mainland. But a lot of other tourists are curious about it too. They're the ones who have never tried baijiu before but they've heard about it. They say, 'Oh, this baijiu stuff is actually really nice!' And I reply, 'sure, mixed in a cocktail like this it is. But drink it non-stop and it'll be a different story'. MAKE IT YOURSELFIngredients:10ml baijiu100 high proof vodka30ml pear brandy45ml champagne45ml pear purée15ml lemon juic
Need supplies?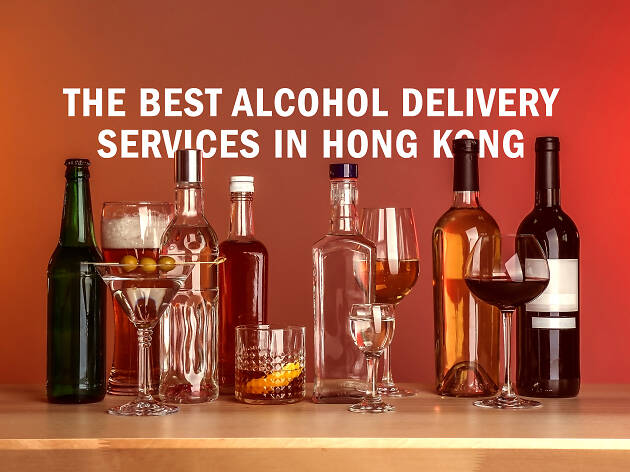 The best alcohol delivery services in Hong Kong
Now that the city's bars, pubs, and clubs are closed until July 21, thirsty Hongkongers will be turning to their homes to drink their favourite tipples. If you're looking for liquor delivery options to stock up on your supply, this roundup of the best alcohol delivery services will let you kick back and wait for the booze to arrive on your doorstep.  RECOMMENDED: If you're wondering what cocktails to make, check out these classic cocktail recipes. Are you missing your favourite Hong Kong bars? Here's how you can support them during the temporary closure.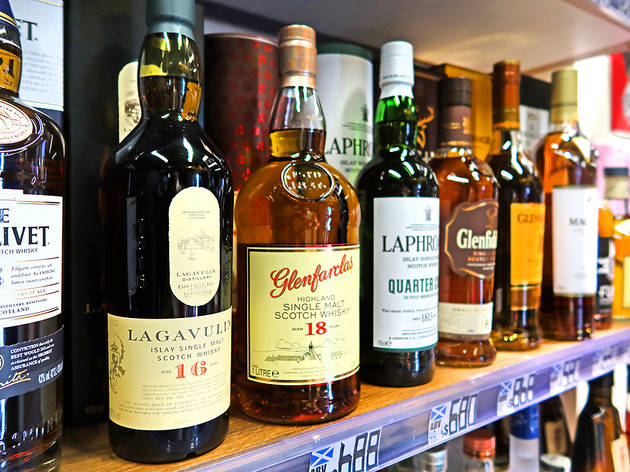 The best alcohol deals from online liquor shops in Hong Kong
Since most of us are drinking from home while we wait for our favourite bars to reopen, now is a good time to stock up your home bar. But ordering bottles of wine or buying liquors to make delicious cocktails doesn't have to cost you a fortune. If you're planning to purchase bottles, below is a list of online liquor shops currently offering great deals to ensure that your home bar never runs dry.  RECOMMENDED: Trying to make cocktails at home? From Negroni, Margarita, to Bloody Mary, click this link for classic cocktail recipes you can make at home.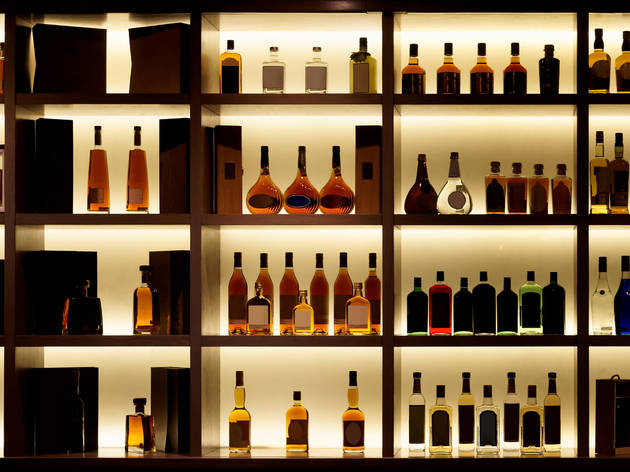 The best whiskies to order online below $600
First things first, is it whisky or whiskey? Well, It really depends on where the product is made. The mnemonic is – use whiskey with an 'e' if the country it is coming from has an 'e' in its spelling, for example, Ireland uses the 'e,' which was carried over to American whiskeys. Scotland doesn't use the 'e,' same as Japan, and Canada.  Now, let's not boggle your mind with that and let's get to the liquid gold. Whisky was once thought of as something only older moneyed men drink, but, sorry dad, we're now adding up whisky on our top-shelf and even discovering new brands in the market aside from the usual whisky bottles that start with glens and J's. Today there's a growing younger market for whisky as the millennials have started to shift their tastes. RECOMMENDED: Make some Super Highballs at home with this recipe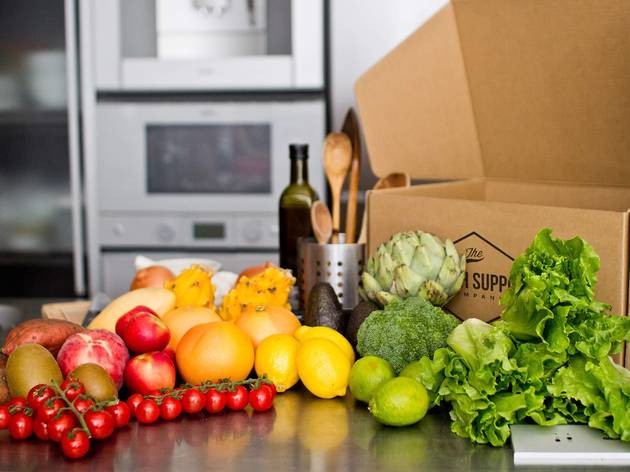 Best online grocery delivery stores in Hong Kong
Don't have time for grocery shopping? Far too exhausted after work? Or do you simply don't want to leave the house? Whatever it is, you can save yourself the time and effort and check out these online grocery delivery sites in Hong Kong. From organic food shops to stores that cater to specific dietary needs, our list covers it all. RECOMMENDED: With all that food, don't forget to stock up on the drinks too. Check out our list of the best alcohol delivery services in Hong Kong.