With the continuous rise of Japanese whiskies and the current trend on fizzy drinks, we have seen a recent surge of highball cocktails appearing on bar menus. But as cocktail menus get more complicated Mizunara: The Library's head mixologist, Masahiko Endo, shows us a classic Japanese highball that is not often served in Hong Kong bars, the Super Highball.
RECOMMENDED: Get to know the women behind the stick in Hong Kong's bar scene
Japanese highballs are commonly mixed with whisky and soda water. The Super Highball requires two kinds of whiskies, one base whisky (preferably a blended one) and a smoky or sherried one on top. "Many customers in Japan know about this kind of style," Masahiko says. "A highball is an easy-drinking cocktail, and sometimes, a customer wants something extra with a unique smoky flavour, or maybe a heavier sherry flavour on top. Adding that layer of flavour gives the classic Japanese highball a deeper complexity."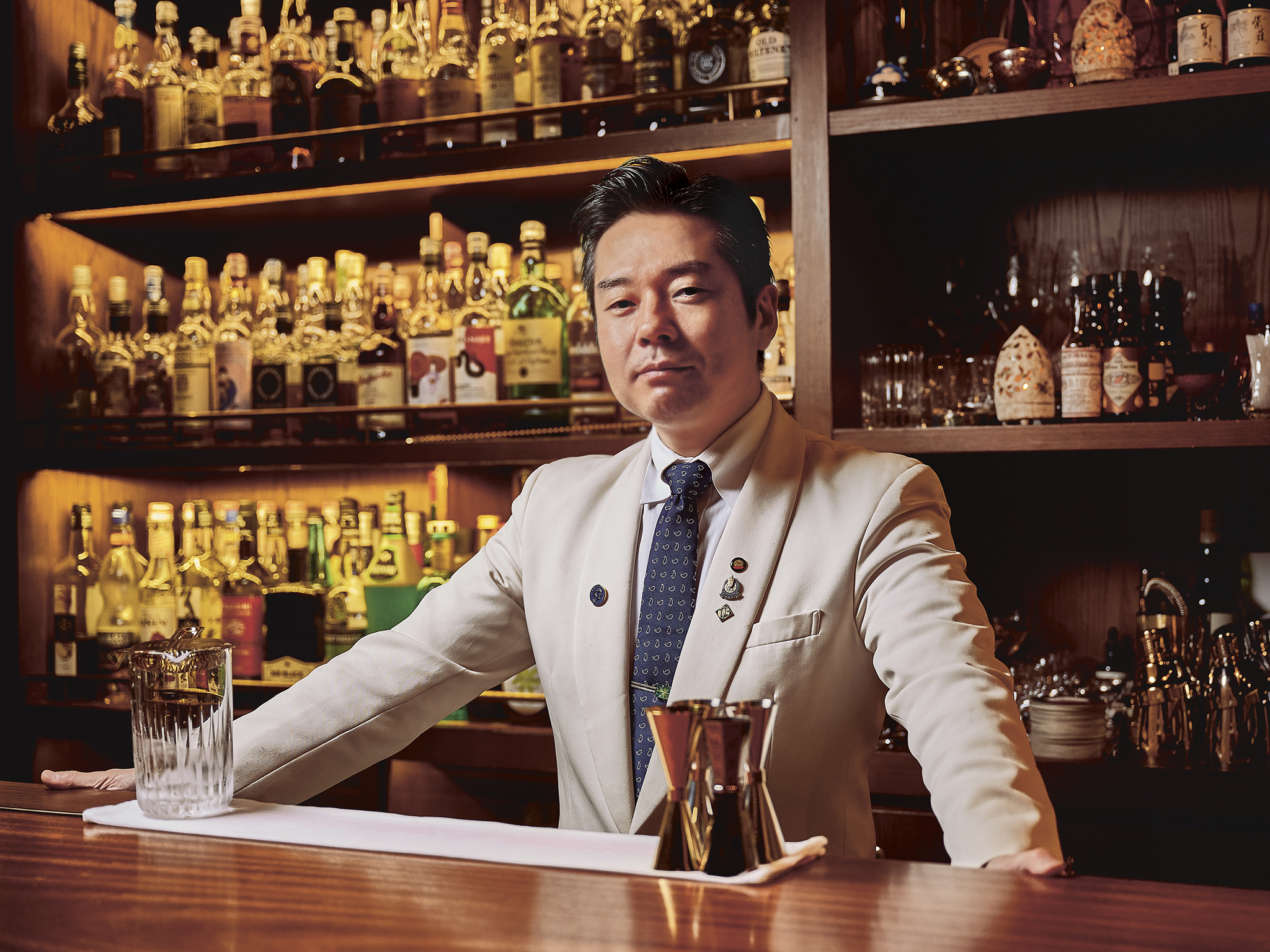 Mizunara's head mixologist, Masahiko Endo
"The flavours are dependent on what kind of blended whisky you want to use. And also, what type of flavour profile you want," he adds. You can use pretty much any whisky that you prefer and top it with a complementing stronger whisky on top. For this recipe, Masahiko used a blended whisky with a rounded malt profile, notes of green-apple, fruitcake, butterscotch, with a hint of smoke. He made it into a classic highball and floated a chilled peaty single malt on top. "In Japan, most bartenders just add the topped whisky straight from the bottle, but for me, I chill it in ice first so that it blends well with the temperature of the highball."
The recipe calls for a Japanese blended whisky, two-part soda water, topped with a chilled 5 ml peaty Japanese single malt. "I recommend using soda water with a strong bubble and less mineral taste. And it's essential to use proper ice. Any cocktail should use proper ice; otherwise, your drink will not be a good one. In Mizunara, we make the ice blocks ourselves, which usually takes four days to make because we freeze it slowly in minus 10-degree temperature and only use double distilled water," Masahiko shares.
Mizunara: The Library is a go-to bar for whisky enthusiasts in Hong Kong. Tucked away in an old building in Wan Chai, it's not the easiest bar to find, but if you do you'll find over 800 bottles of whiskies from Japanese, Scottish, American, and Irish distilleries, and enjoy various whisky cocktails on the menu. The Super Highball is not part of their regular menu, but Masahiko makes the cocktail every time someone requests for it, or he will recommend it when someone asks for a highball.