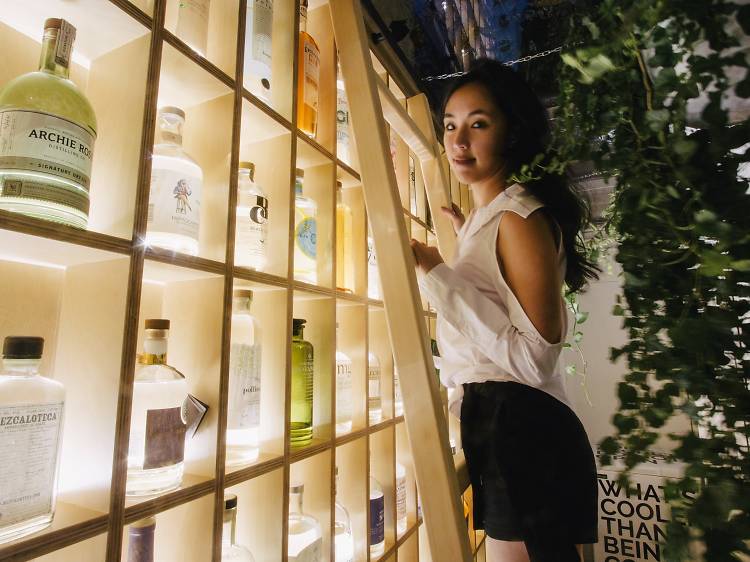 Victoria Chow, founder and managing director of The Woods
Victoria is known in Hong Kong as one of the game-changers in the local bar scene. Having been recognized for her pioneering approach to drinking concepts, she became part of Forbes 30 Under 30 Asia. In 2014, she founded The Woods, one of the first bars of its kind in the heart of SoHo. The place offered cocktail tasting menus and drink pairings. Today, the concept has evolved from a brick and mortar cocktail bar to a monthly pop-up concept, catering service, and also extending the services to The Woods Annex, a private tasting library where people can taste over 400 bottles of spirits from Victoria's collection.
"Wines were my first love from a young age when my dad would bring me to Napa Valley while we were living in California," she shares. "My interests grew to include craft beers in college when I lived near a craft brewery. When I came back to Hong Kong, and while I was working at an events agency, I continued to study wines through the WSET program," she adds. Victoria was fascinated by the 'spirits' portion of the WSET syllabus and noticed a lack of artisanal cocktail bars in town, and this drove her to create the beginnings of The Woods.
She says that being a woman in the drinks industry has played to her advantage, "we bring a different aesthetic and energy to creating cocktails and running bars," she explains. "I love being able to incorporate my passions for design, culinary arts, and spirits all into one. I also love introducing people to new types of spirits and flavours and seeing people have fun experimenting outside their comfort zones the next time they go out." For aspiring women bartenders her advice is to keep learning, not just within the cocktail framework but explore various categories such as arts – floristry, sculpting, poetry – to expand their creative thinking. "And don't forget to balance this out with the business element!" she enthuses. "Pay as much attention to pricing and operations as you do to creating cocktails."
Catch Victoria in her spirit tasting/appreciation sessions at The Woods Annex, book a slot at thewoods.hk