Where to watch the 2018 World Cup in Hong Kong
Wondering what Hong Kong bars are showing the footie action this summer? We've got you covered...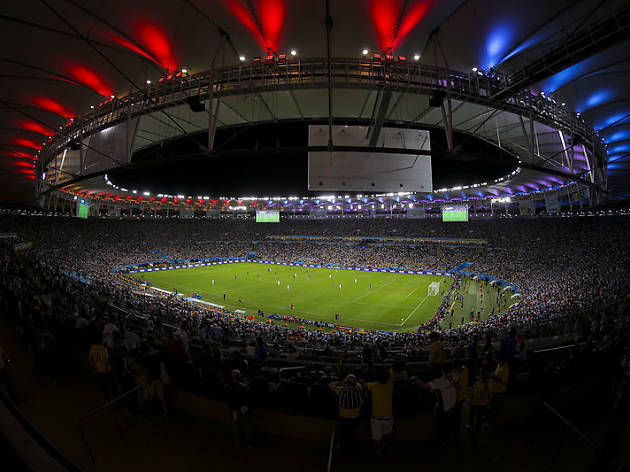 We're all for chilling at home and enjoying respectable, sedate appreciation of the beautiful game. But there's nothing quite as exhilarating as some good old-fashioned tribalism – being surrounded by your fellow and rival countrymen – enhancing the atmosphere and making even the dullest game a spectacle. So, with the World Cup 2018 kicking off in Russia on June 14, here are our picks of the best bars in Hong Kong with big screens up on the walls that are screening as many games as poss this summer.
If you're looking to class it up a bit after (probably) Germany have won the World Cup, you might wanna check out our list of the city's best bars. Or, if you prefer your sports actually in the watering hole rather than up on a big screen, check out Hong Kong's best darts bars. Otherwise – c'mon [insert country of choice]!
Image:Danilo Borges/copa2014.gov.br Licença Creative Commons Atribuição 3.0 Brasil [CC BY 3.0]
Where to watch the 2018 World Cup in Hong Kong
With one of the largest draught beer selections in the city and a menu replete with hearty favourites, The Globe is tailor-made for sports. The space is peppered with loads of TVs, meaning you're not getting that 'everyone together staring at the same screen' experience, but it's ideal if you want to catch a game with your mates in generally less crowded surroundings.
Read more
Unlike most of the bars along Lockhart Road, which are largely showing the World Cup, Champs in Wan Chai Road won't be full of randomers just strolling in to catch the game. This is a bit more of a dedicated spot for football fans that should be full of World Cup fever. The underground vibe seems to accentuate the noise and atmosphere, making it a great spot.
Read more
If you're a sports fan who isn't into the rowdier places, Dickens offers a more reserved atmosphere, letting you watch the game in peace while still enjoying a decent pint with a good view of the action.
Read more
While Scotland – heartbreakingly – will miss out on yet another major tournament it doesn't mean the city's premier (and only) Scottish pub won't be showing the action. Come join the city's Jock contingent as they moan about missing out.
Read more
Spent the day on Lantau and want to catch the game? Fear not, this Mui Wo pub is a cracking option. Given the town's formidable English contingent, you'll be in good company if that's who you're rooting for. Otherwise, expect some good-natured ribbing.
Read more
Since Ireland will unfortunately not be in Russia this year, Delaney's opens its doors to fans of other competing nations. Back in 2014, the Spanish and Mexican fans made this place home so expect something similar this time around.
Read more
This iconic sports bar has been serving patrons for more than 30 years. Between their 18 TV screens and a frankly obscene 120-inch main screen, it's easy to see why so many flock here every time a major tournament is happening.
Read more
While it could be said that Kennedy Town is something of a haven for cool, hipster bars that would scoff at the notion of showing sports, Forbes 36 belies this burgeoning stereotype by being something of a bastion for football. With loads of seating and TVs economically arranged so you get a view no matter where you're sitting, it's a World Cup mecca at the western end of the Island Line.
Read more
For the next morning...
Whether it's English, Irish, Scottish, Welsh or Ulster – the fry-up is a hallowed meal for many. And it always seems to taste best after a heavy night of beer drinking and yelling.
Read more