This Christmas, Shady Acres takes getting into the holiday mood to a whole new level. Their cool and grunge industrial space has transformed into The Shady Chalet, an Instagrammable Christmas cabin heavily decorated with colourful lights, pine cones, candy canes, baubles, and pine shrubbery. You'll also find Yuletide decorations inside their venue, such as Christmas portraits of the Shady Crew, a fireplace by the bar, and even a hanging mistletoe branch.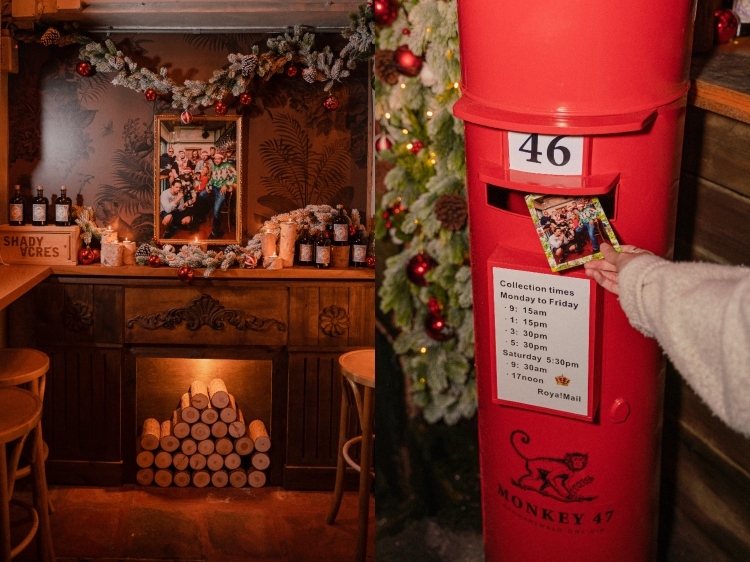 The bar has collaborated with gin distillery Monkey 47 Gin to offer seasonal drinks, from classics like sloe mulled wine ($110), Ginger For Life ($110) with gingerbread and pumpernickel, and Schwarz Collins ($110) with spiced citrus tea and lemon, all of which are made with Monkey 47's gin. Along with the festive drinks, guests can also enjoy a classic gin and tonic ($75) at Shady Acres from now until December 24.
Aside from festive drinks and nibbles, Shady Acres will be celebrating the holidays with a month jam-packed full of fun activities such as carol performances on December 11, trivia quiz nights on December 7 and 14, a tropical-themed Christmas party on December 8, and many more. Additionally, guests can write Christmas wishes on the bar's festive postcards and pop them into the Shady Post Box outside the bar to spread the festive cheer by bringing a gift down to the bar to exchange with a stranger and partake in Secret Santa from December 5 onwards.
Find the full Shady Chalet event calendar here and follow Shady Acres on Instagram to find more information.
Recommended stories:
What's hitting the shelves? New beverage launches in Hong Kong
Rejoice this Christmas with festive films at The Grounds
Best movies to watch in Hong Kong cinemas this month
Follow us on Youtube, Facebook, and Instagram, and subscribe to our newsletter to get the latest news and updates on what's going on in the city.