Unless December's Geminids Meteor Shower made you hopeful that shooting stars will still grant your travel wish for 2020, by now we've all accepted that this year's travels will be off the books. But that doesn't mean we can't experience winter vacations in the city. A little staycation will get you the R&R you need to beat the holiday social distancing blues.
Domain
If you are on the lookout for new dining and staycation experiences, head to the east side of Hong Kong Island and check out East Hong Kong's new offerings for the season. The hotel recently unveiled new renovations and additions to its dining and social spaces, as well as upgrades to all 345 rooms and suites which is set to complete in Q2 of 2021. The new rooms will be carried out by CL3 Architects Ltd – an award-winning architecture and interior design studio – which will focus on sustainability and emphasize user-friendly designs. Meanwhile, if your WFH game is weighing you down, the hotel's answer is Domain, East's newest spot featuring spaces for recreation, food and drink, private working areas, informal meeting spaces, and shared tables for co-working. The cafe offers freshly brewed coffee and healthy food options that include gluten-free and vegan selections.
Feast private dining room
The hotel's dining facility, Feast (Food by East), also got a makeover and updated menus. The revamped space evokes a welcoming atmosphere for visitors, mixing modern aesthetics with a hint of Eastern influence and a touch of playfulness. In contrast to the vast area of the atrium, they've created an intimate dining space with an open kitchen. Diners can enjoy the appetiser buffet as well as an extensive selection of Asian and Western main courses that you can request through contactless ordering with the use of their online app. Just open the menu via a QR code, click your orders, and the servers will bring it to you within minutes.
They are also offering the stylish Bord Bar, an elegant drink trolley with an eclectic selection of premium gin and sake, so you can have your favourite tipple made for you while you feast. For the holidays, Domain is introducing festive flavours to their coffee offerings. You'll feel warm and toasty when you have a sip of their Apple Crumble Latte, Butterscotch Mocha, and Christmas Spiced Espresso Tonic ($65/per order), while you indulge in traditional holiday flavours of freshly baked pastries and panettone. For festive feasting, Feast has enticing holiday food options for their Festive Brunch ($558 per person on December 25) and Festive Dinner ($728 per person on December 24 and 25). Indulge in Christmas classics like roasted turkey, raclette with trimmings, spiced fig cake, Christmas trifle, and more. They've also put together an array of dishes for takeaway if you'd like to enjoy the festivity at home.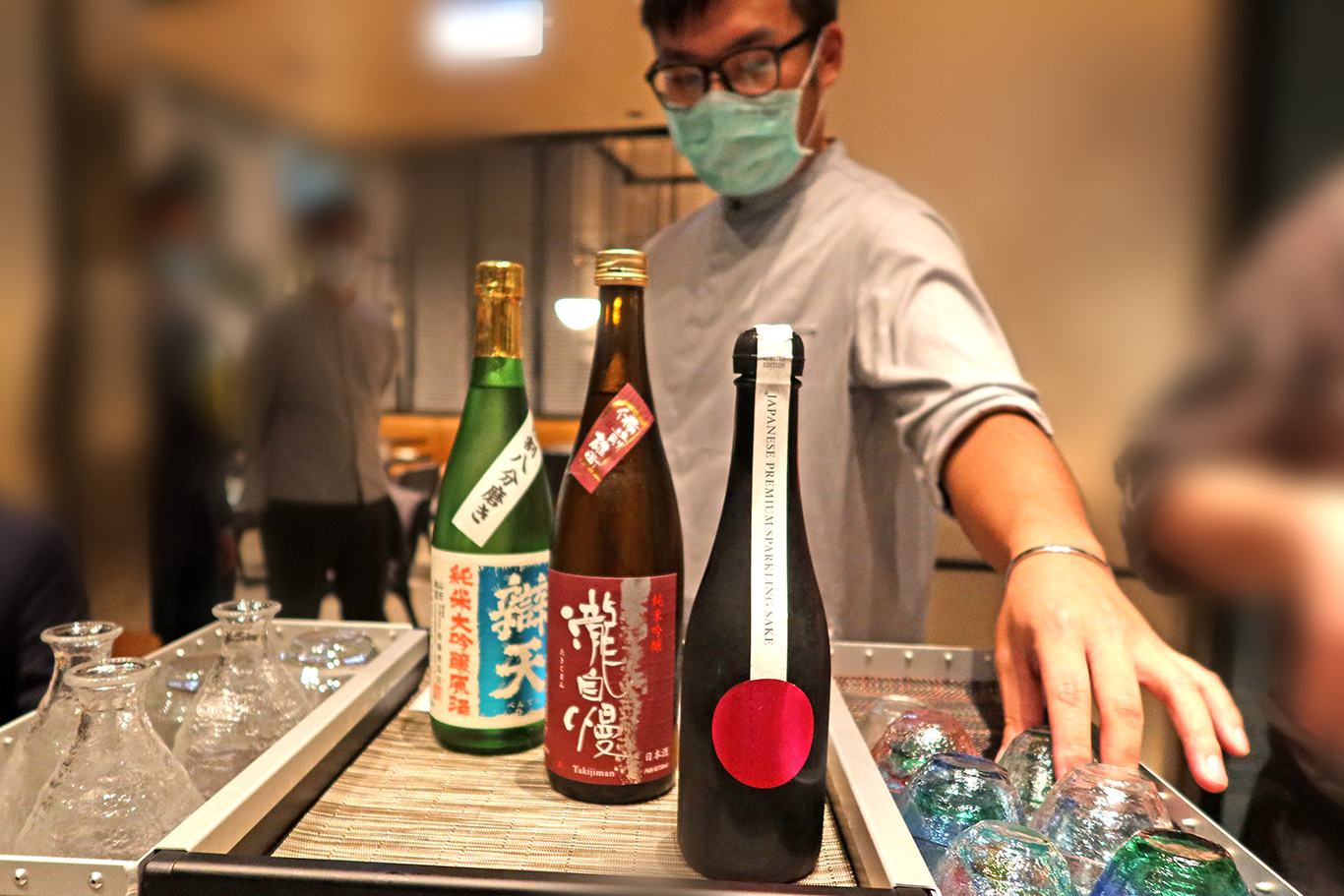 Feast Bord Bar
If the current social distancing measures ease by New Year celebrations, celebrate the New Year in style at East's rooftop bar Sugar. The bar will be bringing guests the joy of travel through an Around the World' themed celebration ($1,200/per head). Imagine you're in the Italian countryside while sipping on Prosecco and Aperol, or be transported to the streets of Japan with a bottle of sake and Awamori. The bar team has also come up with special cocktails to fit the theme so you'll never go thirsty while welcoming the New Year. For an elevated vacation this holiday season, the hotel is offering a Stay Above the Cloud package (price starts at $1,480, available now until December 18, 2020, for stays until January 3, 2021) with accommodation to a room with a panoramic view, complete with a delectable dining experience. The package comes with a one-night stay (option for a 50 percent discount on second-night stay), $1,000 dining credit at the newly renovated Feast or the hotel's new dining space, Domain, welcome drinks for two persons at rooftop bar Sugar, and complimentary Diamond VIP membership across Marathon Sports, GigaSports, and Catalog stores.
For more information, visit easthotels.com. If you're looking for more staycation options, check out our roundup of the best Hong Kong staycation deals to book for Christmas.

Want to hear about the latest openings and learn about the most happening staycation spots in the city? Subscribe to our newsletter and be the first to get the news!