More than ever, the ongoing outbreak is motivating people to take care of their health, starting from exercise to the food they eat. This has resulted in an increase in healthier brands penetrating the market, which includes cold-press juices, rice water, kombucha, CBD-infused beverages, and coconut water.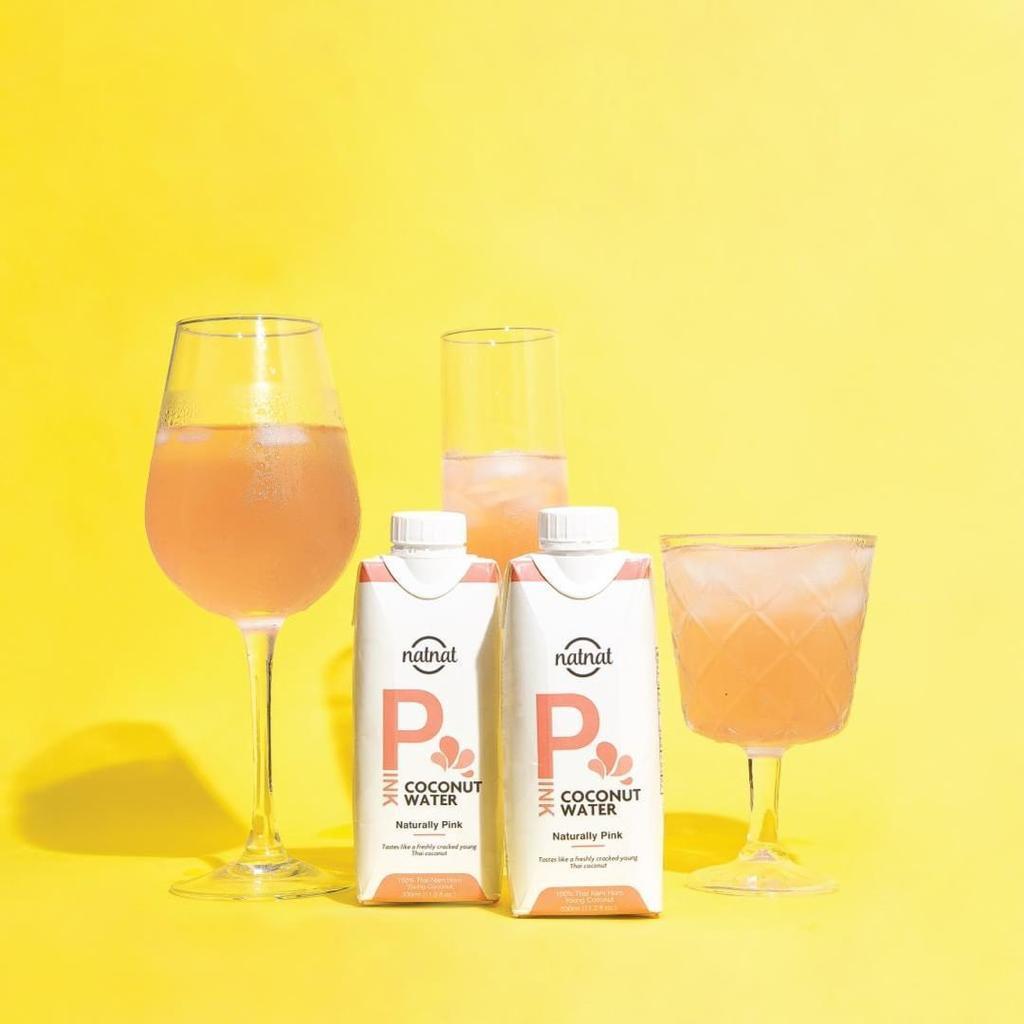 Drink it neat or mix Natnat Pink Coconut water in your favourite cocktail or mocktail
Coconut water is not new in the market, and for decades it has been a go-to drink for health-conscious individuals and celebrities drinking it for potassium, electrolytes, and its antioxidant properties. While there are many packaged coconut waters available in the market, the healthiest choice is still the juice from freshly cracked young coconuts, which is unfortunately not easy to come by, plus whose got time to crack open one every time you need to hydrate? Here comes, Natnat, a brand of all-natural coconut water established in Hong Kong. What makes this particular brand interesting is it's unique, natural pink hue, which not only makes it stand out, but also makes it the healthier choice compared to most packaged drinks available in convenient or grocery stores.
Sourced from the highest quality, hand-picked coconuts from Thailand – using a specific variety of coconut called Thai Nam Hom – the product contains high levels of antioxidants, enzymes, polyphenols, and potassium – 100 percent natural, with no added sugar, water, or preservatives. Why pink? Well, that colour is the result of a natural chemical reaction that happens when coconut water is exposed to light and air. When coconut water turns pink, it means it contains high levels of polyphenols, a naturally occurring antioxidant. Most packaged white coconut water in the market retains its white colour because of additives and by undergoing heavy processing and treatment before packaging. Whilst it contains no preservatives, the product's shelf life lasts up to a year because of the cold treatment process the company uses to package the water. The only difference is pink coconut water does have a slightly nuttier taste compared to regular coconut water.
Another plus factor about this brand is its packaging is made from biodegradable sugarcane alternatives to plastic. Compared to plastic items that take up to 1,000 years to decompose, their material only takes 90 to 100 days to go back to its organic state.
Priced at $28 per 330ml tetra pack, Natnat coconut water is now available on HKTVMall, Uber Eats, Deliveroo, Natnatlife.com, as well as at select coffee shops, restaurants and F&B outlets across the city.