The city is abuzz with genuine excitement at the recent opening of Hong Kong's newest hotel The Hari. It seems nothing can stop hospitality here, not even the social distancing restrictions, and Hongkongers are more than happy to welcome it with open arms and empty stomachs. Following the launch of their first floor Italian restaurant and bar, Lucciola, the hotel has now opened the doors to their second restaurant Zoku, a Japanese restaurant helmed by chef Phillip Pak, a Nobu alumnus that you may recognise from the now-closed Lan Kwai Fong restaurant Ce La Vi Hong Kong.
Japanese-inspired cuisine at Zoku
Zoku, a Sino-Japanese term for clan, tribe or family, sits on the second floor and offers a refreshing take on Japanese cuisine in a lounge-style dining room. Meanwhile, the attached terrace bar (opening soon) provides an open-air experience that goes across the length of the hotel with a huge living green wall backdrop.
A tribute to Japanese cuisine, Zoku's wide-ranging menu features everything including sushi, sashimi, tempura, kushiyaki (grilled meat skewers), hot main dishes, and more that are all modern renditions of the classics. Highlights include appetisers such as wagyu dumplings ($188) served with soy vinegar and garlic oil; a crispy kataifi-wrapped snow crab salad with baby spinach and heirloom carrot salad tossed in yuzu vinaigrette; temaki-style (hand-rolled) sushi which takes on a more taco-shaped form filled with premium ingredients such as toro, uni, and caviar ($188); and a miso-marinated Alaskan black cod served with pickled ginger flower and plum.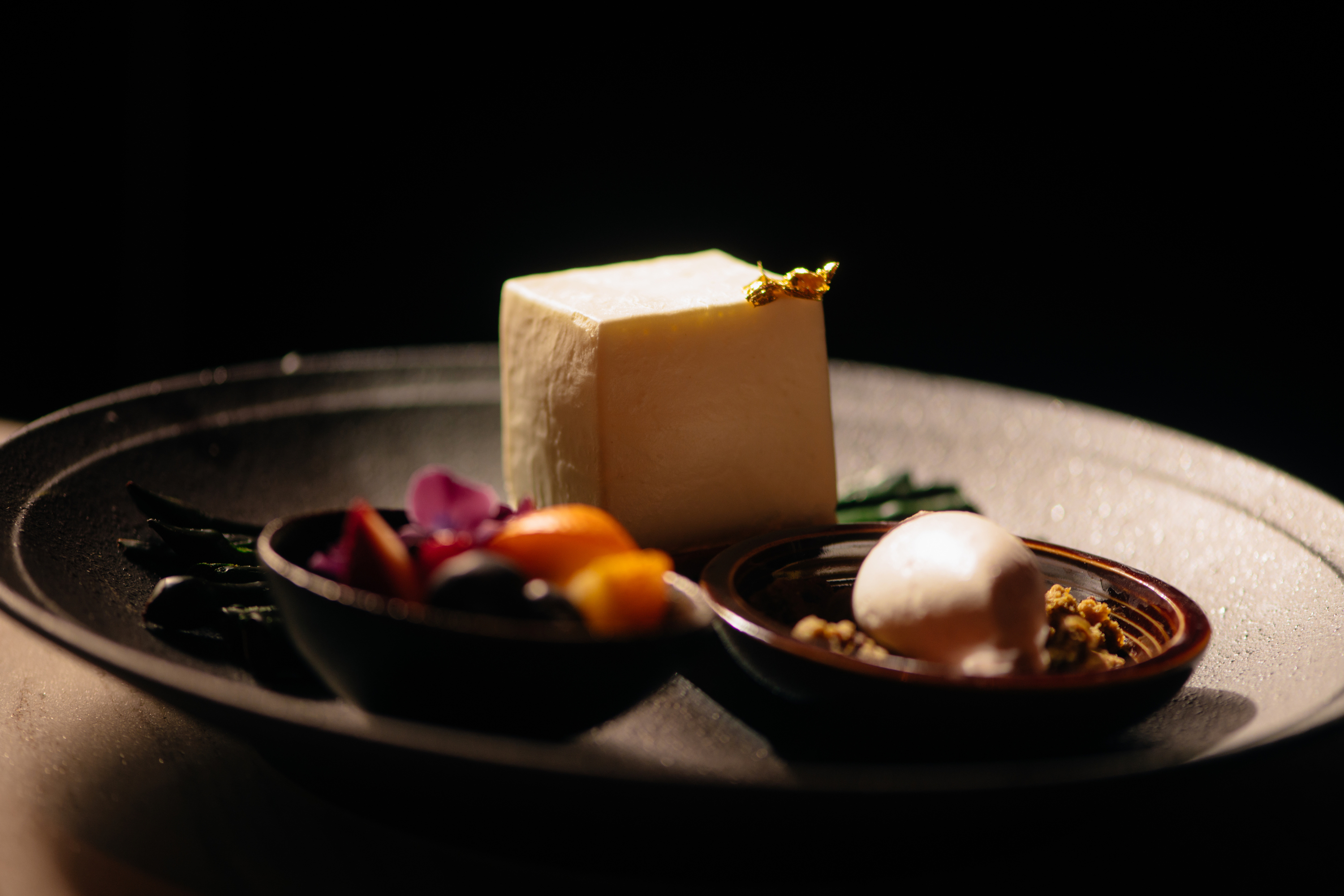 Tofu cheesecake
As for desserts, a coconut-infused mochi cake ($118) which is somewhat similar to a Hong Kong wife cake in texture, served with miso caramel and coconut sorbet, molten green tea cake with chocolate ice cream ($118), or tart filled with seasonal fruits and yuzu pastry cream ($118), offer a sweet ending to your meal.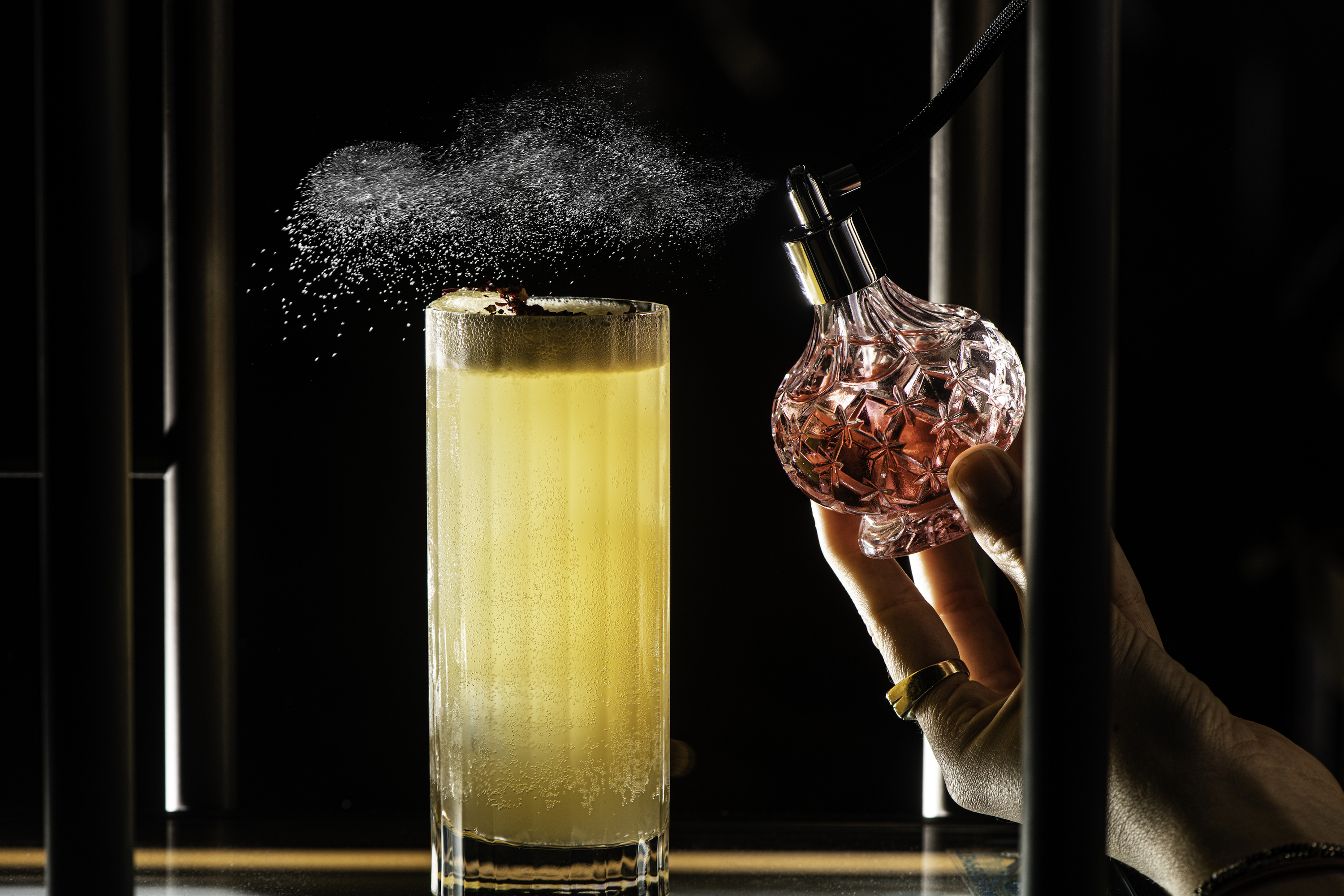 Suzie Wong cocktail
Not forgetting the drinks, bar manager Sabrina Cantini Budden has created an imaginative selection of cocktails that draw inspiration from both Japan and Hong Kong. The Wan Chai Sour ($108), for example, takes the Hong Kong pineapple bun and makes it into a butter fat-washed pineapple rum cocktail with pineapple, lemon, elderflower liqueur, egg white, and spicy oil, while Suzie Wong ($108) is inspired by the 1957 novel 'The World of Suzie Wong' and includes a cheeky mix of whisky, rose syrup, cucumber, and yuzu soda with a spritz of rose water. And then there's Tsundoku ($108), which describes a person that has piles of books but doesn't read them (we all know someone like this!), a daiginjo sake and gin-based cocktail brightened by peach, cranberry, ginger, and soda, before its garnished with a paper crane.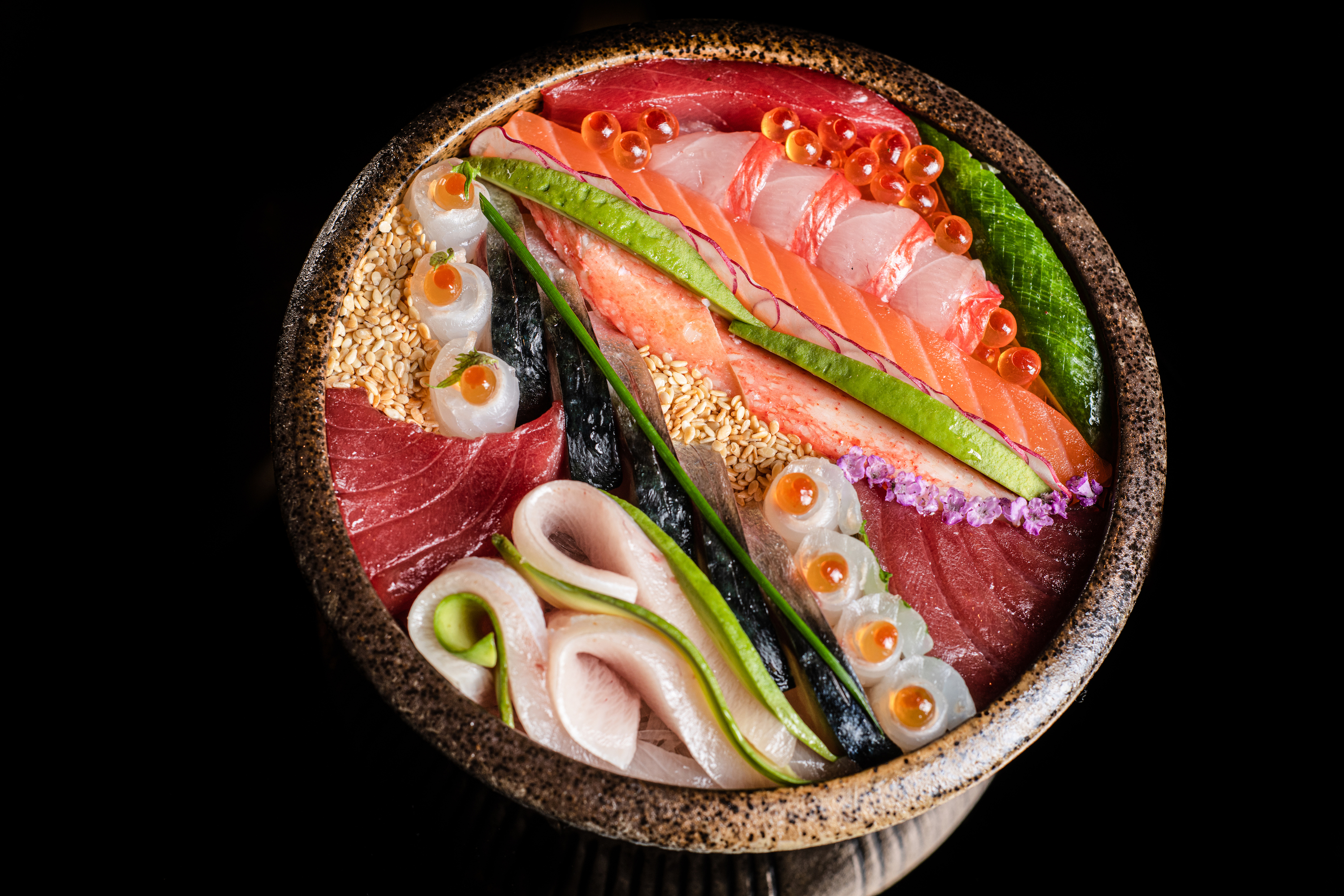 Chirashi sushi rice bowl
Now open for lunch from Monday to Sunday 12-6pm (due to current social distancing restrictions), Zoku offers lunch sets, with rice bowls and bento (from $298 to $348), along with the a la carte menu. The restaurant is accepting walk-ins but reservations are recommended and can be made through their website.
Zoku, 2/F, The Hari Hong Kong, 330 Lockhart Rd, Wan Chai
Want to hear about the latest restaurant openings and learn about the most happening events in the city? Subscribe to our newsletter and be the first to get the news!