The best eggs benedict in Hong Kong
What's brunch without eggs benedict? Try out the best spots in HK for your eggs benedict!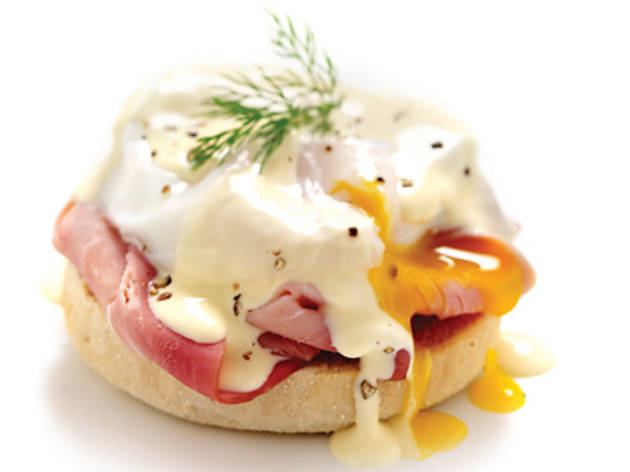 18 Grams
This restaurant is almost always packed – but with good reason. The Benes here are drenched in a sweet hollandaise sauce that releases a smokier flavour when combined with the broken yolks. The chefs serve two variations – the classic eggs Benedict or the Hemingway, which is served with smoked salmon instead of ham and accompanied by a light salad. $89. Shop B04, Gala Pl, 56 Dundas St, Mong Kok, 2770 1339; 18grams.com.
Brick Lane
With a laidback vibe, it's hard to believe this eatery is located right in the heart of the chaos that is Tsim Sha Shui. True to its English roots, Brick Lane's interior has a raw off-white appearance which combines well with its warm woody accents. Its version of the famous eggy breakfast dish is equally appealing, consisting of an English muffin piled with wilted spinach, bacon or ham and fancy extras like Parma ham and black truffle paste. $85. 2 Blenheim Ave, Tsim Sha Tsui, 2736 8893; bricklane.com.hk.
Known especially for its eggs Benedict, the Brunch Club's mouthwatering take on the morning classic comes with salmon, chorizo, mushrooms and caramelised onions. This cosy café is perfect for people who want to recharge after a day of shopping in riotous Causeway Bay. Let your legs rest while you enjoy the eggs with a cup of Fairtrade joe. $88. 1/F, 13 Leighton Rd, Causeway Bay, 2890 2125; brunch-club.org.
Read more
DotCod Seafood Restaurant and Oyster Bar
Can't think of where to go for your next breakfast meeting? Drop into DotCod, a superb seafood spot within the matrix of busy Central. This place sports an impressive and delicate breakfast menu – and we love the three scrumptious eggs Benedict dishes here. There's the traditional ($128), which has two eggs poached on slices of smoked Canadian beef, or the lobster ($158). Also try the smoked salmon Bene ($158). Shop B4, Prince's Bldg, 10 Chater Rd, Central, 2810 6988; dotcod.com.
Sporting an exterior lined with palm trees and glass, Oolaa captures the senses before even entering the restaurant. It's located on the periphery of Soho and is the ultimate brunch place for those who want to let their hair down. The chefs serve their poached egg dishes in a number of ways – with smoked salmon, ham, smoked bacon or the healthy Florentine version, which substitutes spinach for the ham. $110. G/F, Centre Stage, Bridges St, Sheung Wan, 2803 2083.
Read more
The Green Lounge
This hidden gem of an eatery serves a brilliant all-day breakfast. The Benedict here comes topped with bacon bits and herbs. You can also get a variation of the dish paired with smoked salmon and a light hollandaise sauce which has earned rave reviews of late, perfect when paired with a mug of tea brewed from the impressive collection here. Be prepared for queues, though, as there's limited seating. $65. G/F, Xiu Ping Commercial Bldg, 104 Jervois St, Sheung Wan, 2535 9979.