The ultimate guide to Hong Kong brunch
A definitive list of Hong Kong's must-try brunch buffets and à la carte options
A brunch makes a weekend memorable. With so many choices in the city, though, just where do you begin? Lisa Cam munches her way through the Hong Kong best buffets and à la carte brunch options to bring you a definitive list of our city's must-tries
Classic
Sun, 11am-2.30pm.Tuck into hearty steaks and all things meaty here. Enjoy a full starter buffet, with foie gras and a Belgian waffle station, as well as a choice of the restaurant's signature cuts for the main course – such as the Black Angus burger. To complete your brunch experience, which is $390, get free-flow prosecco for an extra $280 or white sangria for an extra $260.
Read more
M/F, Mandarin Oriental Hong Kong, 5 Connaught Rd C, Central, 2825 4007;mandarinoriental.com. Sun, 11.30am-3pm. Variety is the key at Clipper Lounges's Sunday brunch. In addition to a buffet there are also crêpe stations to hand. As for the free-flow champagne – pay attention – Moët & Chandon Rosé Impérial is served every first Sunday of the month for $748, while, on the rest of the Sundays, the bubbles are by R de Ruinart for $688.
Read more
11/F, Grand Hyatt Hong Kong, 1 Harbour Rd, Wan Chai; 2584 7722;hongkong.grand.hyatt.com. Sat and Sun, 11.30am-3pm. The exciting barbecue brunch here brings you a boatload of fresh and a healthy salads, seafood on ice, chargrilled lobster and prime ribs in addition to desserts, fresh juice and smoothie station. Unlimited sparkling, white and red wine, as well as beer, is available for an extra $198. It's $538 for adults and $269 for children between six and 12.
Read more
Sat and Sun, 11am-1pm & 2pm-4pm.
Zuma offers Japanese-inspired cuisine and a separate playroom full of toys to keep the kiddies busy. An opulent spread can be found on the countertops of this semi-buffet. For your mains, we recommend the salmon in ginger teriyaki sauce. It's $490 a pop but free-flow sake, beer, cocktails or wine is an additional $100 and $160 for champagne.
Read more
Sky high
Sun, midday-3pm. Thirty floors up in Wan Chai is Pirata and the Sunday brunches here shine. For $298 you can indulge in an antipasti and pasta buffet, as well as choosing mains like steak tartare or roast chicken from the à la carte menu. Free-flow starts at $180 with prosecco or bellini, as well as red and white wine. Bump up your choices of tipple with barrel-aged negroni, vermouth and Aperol spritz for an extra $48.
Read more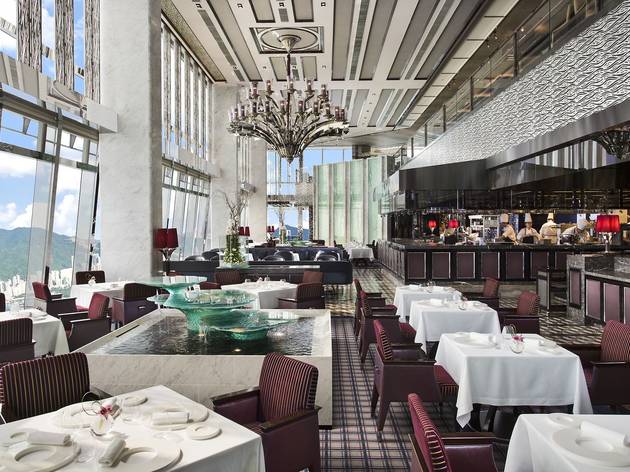 Tosca
102/F, The Ritz-Carlton Hong Kong, International Commerce Ctr, 1 Austin Rd W, West Kowloon, 2263 2270; ritzcarlton.com. Sun, 11am-3pm. Situated in the highest hotel in Hong Kong, the Ritz-Carlton's Tosca is where you hit up if you want to elevate your brunch. The spread includes grilled lobsters, rib-eye steaks, lamb chops, Neapolitan pizzas, sea bass and top class Italian cheeses. Prices vary depending on which brand of unlimited bubbly you want with your meal, starting at $838 for champagne, $998 for Ruinart Brut Rosé and $2,580 for Krug Brut, Grande Cuvée. A royal brunch, if you will.
Sun, 11.30am-3pm. Perched on the 34th floor, Tott's has one of the highest views of the harbour in Hong Kong. The brunch buffet here soars too. Apart from all-you-can-eat seafood and sushi, there's also a carvery. Enjoy the free-flow Veuve Clicquot for $688 or help yourself at the DIY bloody Mary station. Without champagne, brunch costs $558 and it's $388 for kids.
Read more
Alfresco
This tucked-away Italian spot has a terrace overlooking unparallelled views of Victoria Harbour from the Wan Chai coastline. And it's just launched the 'Lobster Sunday Brunch', which is guaranteed to have fans of the crustacean salivating. Choose between lobster aglio e olio, lobster prosecco risotto or lobster lasagna for your main in addition to scrumptious appetisers, cold cuts and a cheese buffet, plus the suckling pig carving station. The brunch is priced at $398 for adults, $298 for kids and an additional $198 for free-flow sparkling, red or white wine and beer.
Read more
Unconventional
Sun, midday-3pm. Hankering for some brunch but sick of ham and eggs? Namo Avant Thai serves up a buffet line full of exotic bites, from Thai-style omelettes to chicken wrapped in pandan leaves. The mains are made to order and include items like the duck breast roll in Penang curry with lychees. All this deliciousness costs only $298 a head. Free-flow prosecco is $200 extra.
Read more
Sat and Sun, midday-3pm. Hong Kong's most iconic Greek restaurant has an epic 'Rump 'n' Rooster' brunch that's headlined by a carvery of roast beef and a team of spit-roasted whole chickens. Mounds and mounds of fresh salads, sides and desserts are served in the bumper buffet for $295 a person. Of course, there's also a free-flow sparkling wine and beer option for an extra $195, too.
Read more
Long and lazy
Café Deco Pizzeria
Level 1 & 2, The Peak Galleria, 118 Peak Road, The Peak, 2849 5111;cafedecogroup.com. Sun only, 11am-3pm.
Cool, casual and contemporary, Café Deco Pizzeria's marathon five-hour brunch is one of the longest in town. Sink your teeth into the range of pies, with everything from wasabi chicken to char siu pork toppings, and even enjoy an indulgent hazelnut and strawberry dessert pizza. There are also favourites such as eggs Benedict, classic spaghetti carbonara and grilled US sirloin steaks going. And it's a bargain at $228 for adults and $128 for kids between the ages of six and 11 years old, although there's no free-flow option here.
Angelina
Shop 3031, 3/F, IFC mall, 8 Finance St, 3188 0842;facebook.com/angelinaparis.hk. Sat and Sun, 10am-3pm. This elegant French cake café hosts one of the daintiest brunches in town. For $398 you can have unlimited juices and pastries, with your choice of coffee, tea or the famous (and delicious) Angelina chocolate. Mains include a choice of Dauphin potatoes with bacon or salmon, rounded off on a sweet note with fruit salad or French toast. You can upgrade the morning with champagne for $130 a glass as well.
Sat and Sun, midday-4pm. Boqueria's all-you-can-eat 'Super Fin De Brunch' is the stuff of legend. With buffet stations and roaming carts filled with tapas and Spanish favourites like grilled churrasco meats, salads and desserts, you can graze on your favourite items for hours on end. The brunch is a bargain at $288 and, for an additional $188, you can booze it up on Estrella beer and juices. Add another $288 to the brunch price and enjoy free-flow cava, bloody Marys and wines.
Read more
Waterfront
Sat and Sun, 11am-3pm. Perched on top of Central Pier 7, Watermark is about as 'oceanfront' as they come. Let the brunch buffet tempt you with ocean fare like Alaskan crab legs. There's also a corner devoted to eggs and even a carving station. Adult prices are $388 on Saturdays and $438 on Sundays. For an extra $100, you can get free-flow red, white, rosé and sparkling wines, as well as beers and juices.
Read more
Giando
1/F, The Fleet Arcade, 1 Lung King St, Fenwick Pier, Wan Chai, 2511 8912;giandorestaurant.com. Sat and Sun, midday-3.30pm. Facing the soon-to-be-reclaimed coastline of Fenwick Pier, Giando offers an authentic Italian brunch with a view. The buffet begins with a selection of cured meats and cheeses, followed by a choice of appetisers and main courses from the à la carte menu. The price is $308 a person and, for an additional $138, you can enjoy free-flow prosecco and draft beer.
Best brunch beverages
Acceptable drinks to down just after you've woken up (before or during brunch)...
Read more