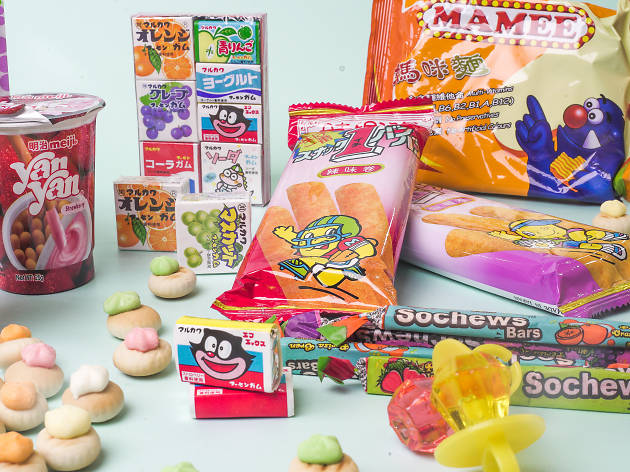 10 best local childhood sweets and snacks in Hong Kong
And where you can buy them
Have you ever walked past a local traditional tuck shop – sadly, they are very rare these days – and had yourself a flashback of your childhood days? Sure, we have plenty of sweet treats available like rainbow desserts, traditional sweet soups, or even funky crisps flavours, but if you're in need of a taste of nostalgia, here's a list of some top childhood sweets and snacks in Hong Kong. We'll even tell you where to buy them too!
RECOMMENDED: Want to make your own sweet treats? Get some inspiration from these Hongkongers who have their baking game on point.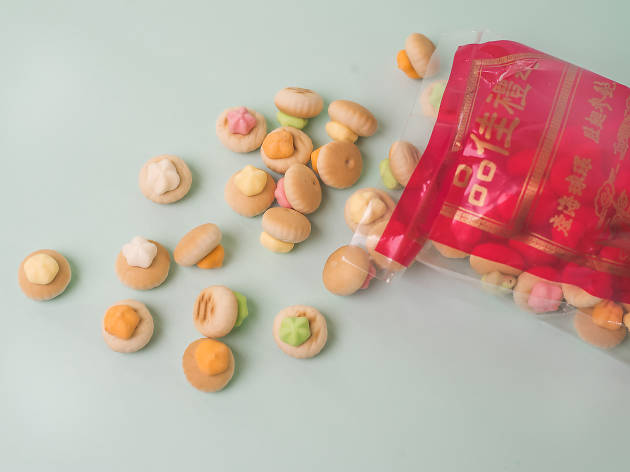 Photograph: Freddie Rodgers
More commonly known as 'Belly Button Biscuits', each of these round little biccies are topped with bright, colourful icing. It's one of those snacks that everyone had a pack of at home, and everyone had their own way of eating them. Some would only eat their favourite colour of icing (although they actually all taste the same), while some would just grab a handful and stuff their face. Some would save the best for last and eat the biscuit first, but more often than not, people just preferred to bite off the icing leave the biscuits untouched.
Available at most ParknShop outlets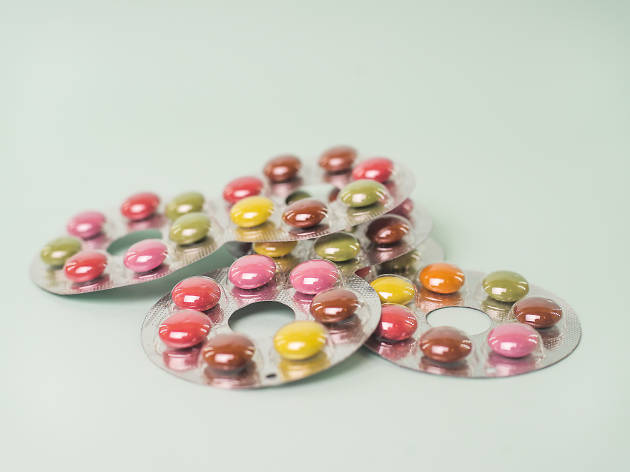 Photograph: Freddie Rodgers
Remember when you were young and you thought glasses were cool? Or at least, you thought it was fun to put on glasses? Perhaps that's why this snack was so popular. With a hole on each side of its round, glasses-like packaging, this snack enables you to wear the entire thing like a pair of glasses and show off (or look silly) in front of your friends. But not before devouring all the chocolate beans inside first, of course.
Available at Lingsik.com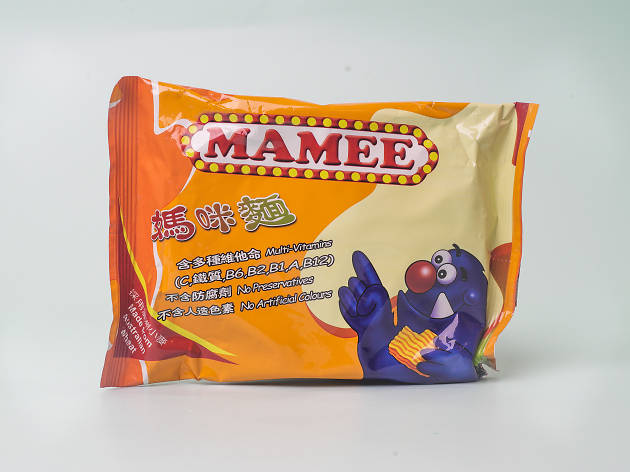 Photograph: Freddie Rodgers
Mamee Noodles had us shaking foods way before McDonald's ever made it mainstream. If you're unfamiliar with Mamee Noodles, they're similar to instant noodles, except you don't need to cook them. Simply crush the noodles up before opening, add in the seasoning powder, and shake along to the Mamee Noodles jingle. The art of adequate crushing and shaking must be perfected beforehand or you'll end up with uneven chunks and flavours.
Available at HKTVmall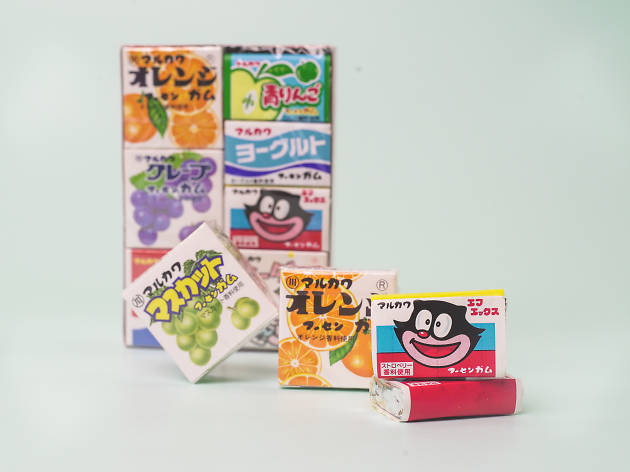 Photograph: Freddie Rodgers
Marukawa bubble gum 丸川吹波珠
Marukawa bubble gum made frequent appearances on the school playground. First of all, they're cheap. Which meant you could always afford to buy a pack with what little amount of pocket money you had. Secondly, they taste amazing. Available in flavours like orange, grape, honeydew melon, and even Ramune (marble soda), the gum made it hard for you to stop yourself from swallowing it. Thirdly, and perhaps the most important of all, you can blow huge bubbles with them and compete with your friends to see who could blow the biggest one! You know, cos it's cool and stuff.
Available at HKTVmall and most Tasty Mart stores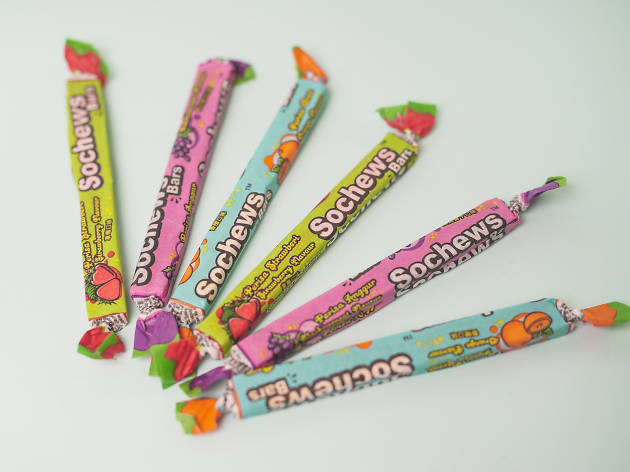 Photograph: Freddie Rodgers
Call us biased, but nothing is going to change our opinion that Sochews Bars are the best sweets ever made. Every break time, these sugary bars would fly off the shelf at the school tuck shop. Each bar would set you back only $0.50 and could last through the whole break, if not the whole day. Sochews Bars are very hard to find these days, and for some reason, no one can ever remember what they are actually called. They're usually just referred to as "those long, thin fruit candy things".
Available at Lingsik.com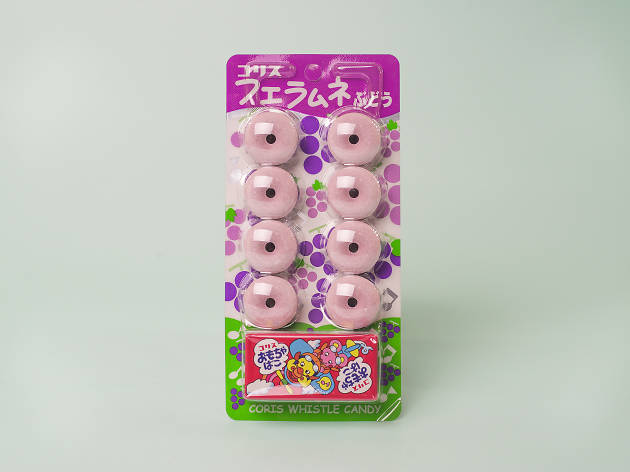 Photograph: Freddie Rodgers
Without a doubt the noisiest candy ever made, the Whistle Candy was popular amongst kids – but definitely not their parents. All you have to do is hold the piece of candy vertically between your lips and blow or inhale as hard as you can for a (very annoying) high-pitched whistle sound. The Whistle Candy usually comes with a small plastic toy too, giving you twice the fun.
Available at Lingsik.com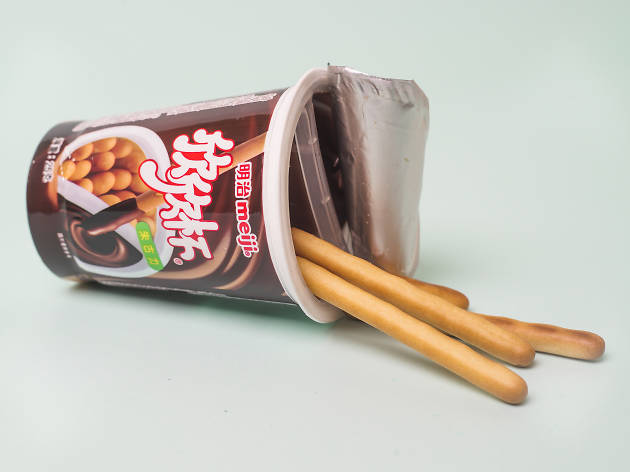 Photograph: Freddie Rodgers
Meiji Yan Yan Chocolate Cup 明治欣欣杯
Somewhat of a luxury snack to kids back in the day, the Meiji Yan Yan Chocolate Cup was definitely more on the expensive side of things (one chocolate cup could probably get you around two packets of crisps). Peel back the lid and you'll find finger biscuits on one side, and chocolate dip on the other. Although there are many variations of this snack by different brands, Meiji was always the go-to. Unfortunately, you could never quite find the right balance of how much to dip, and end up with too many finger biscuits leftover and no chocolate dip. A real first-world problem kind of situation.
Available at most ParknShop outlets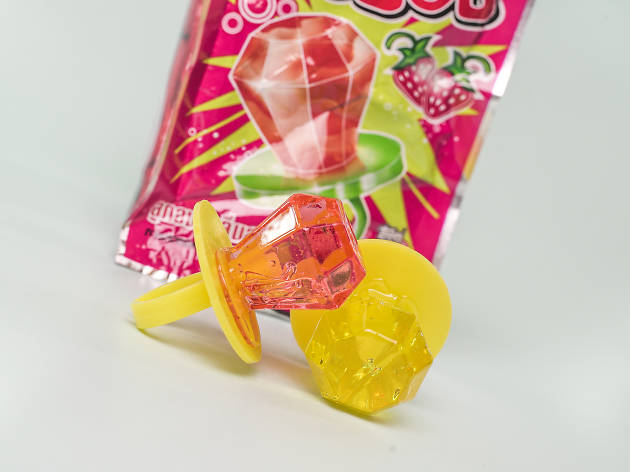 Photograph: Freddie Rodgers
How can we talk about childhood sweets and not include Ring Candy? With a diamond-shaped candy lodged on top of a plastic ring, a Ring Candy can last you for hours. Slide one along your finger and you'll instantly have a 100-carat 'diamond' on your hand, what's more impressive than that?
Available at AeonCity.com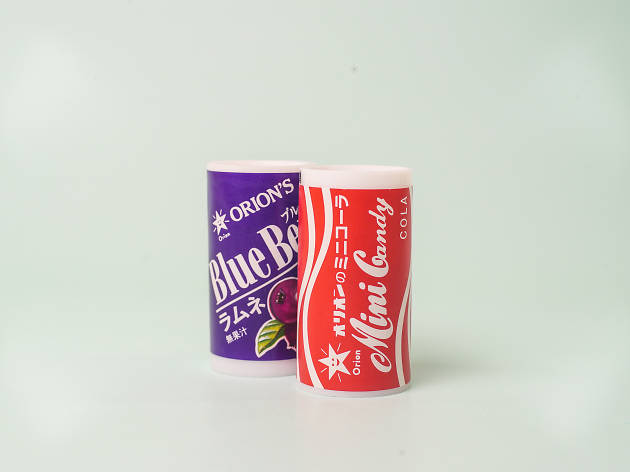 Photograph: Freddie Rodgers
Shaped to look just like a soda can, Orion's soda candy is well-loved for its adorable packaging. These tiny sugary tablets usually come in two flavours (grape and coke), and they melt in your mouth at an instant. They're so addictive that you'll often finish the whole thing all in one go.
Available at Ztore.com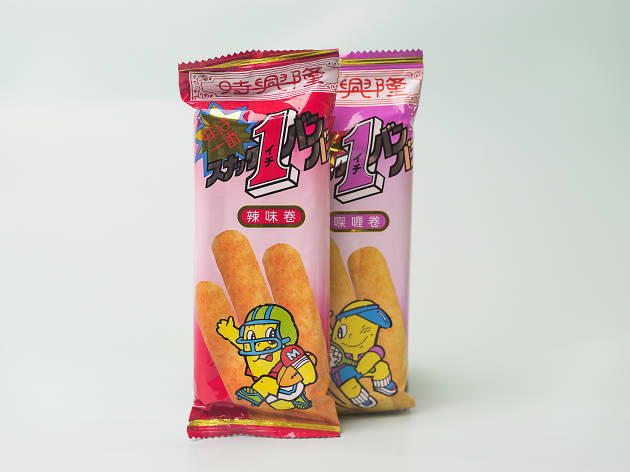 Photograph: Freddie Rodgers
Sze Hing Loong Curry Corn Roll 時興隆咖喱卷
Ask any 80s or 90s kid about Sze Hing Loong and they'll start belting out its classic TV jingle. From cheesy rings to dried shredded squid to prawn crackers, Sze Hing Loon has produced some of the most classic snacks we all know and love, one of which, is the Curry Corn Roll. Available in packs of three, this snack is often made fun of for its shape and appearance that looks like Chinese incense, which are often burned in sets of threes. True as it may be, nothing could have stopped us from munching this flavourful, crunchy, and highly addictive snack.
Available at Ztore.com