Heads up! We're working hard to be accurate – but these are unusual times, so please always check before heading out.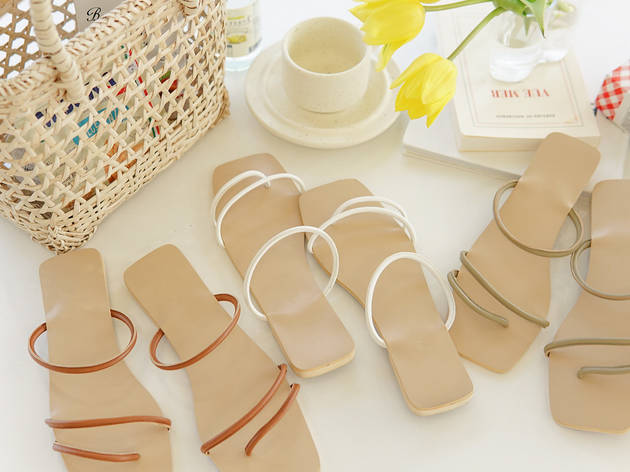 6 local Instagram boutiques you should shop from
We are completely sold on these
Keen on updating your wardrobe for the summer but don't want to brave the city crowds for a shopping spree? Then it's about time you start scrolling through the huge variety of local Insta-boutiques that's been popping up left and right in recent years. Whether you are looking for the perfect pair of shades, the hottest sneakers, or some chic activewear, you'll be happy to know that you no longer have to trawl the streets for the latest fashion trends. Here are some of the best IG boutiques in Hong Kong that deserve to be on your radar. By Natalie Lam
RECOMMENDED: Don't forget to take care of your skin too and check out these tried-and-tested affordable beauty products.
Best Instagram boutiques in Hong Kong
View this post on Instagram
For those who aspire to be as well-dressed as the beautiful actresses you keep seeing in K-dramas, The J Diary has to be your ultimate go-to shopping spot. Specialising in high-quality Korean fashion, this beloved IG boutique is stocked with the trendiest jumpsuits, gorgeous sandals, and a great selection of dresses – basically everything you need to look effortlessly fashionable, no matter for work or a night out. Besides, did we mention its Instagram is not only a shop but also a beautiful lifestyle blog that boasts an enviable feed?
Free delivery for orders at $200 or above
Serco Store (@serco.storee)
View this post on Instagram
Catering to both men and women, Serco Store offers a huge collection of stylish clothing from a diverse range of well-established brands, including Nike, Champion, Kangol, Stussy and more. Whether you are into Japanese trends or feeling those vintage vibes, there's always something for everyone. What's more, the shop also has some of the hottest fashion items that you won't be able to find anywhere else in Hong Kong – no wonder it has a whopping total of 165k loyal fans!
Free delivery for orders with 3 items or above
Lovey Crazy (@loveycrazy)
View this post on Instagram
If you are seeking a one-stop-shop to pick up all your wardrobe essentials, Lovey Crazy is the one for you. Sourcing its materials from across the globe, the shop features various products from iconic labels such as Tommy Hilfiger and Dickies, ranging from hats, shoulder bags to even sneakers. Remember though, all orders must be placed via its website because it does not accept any orders from DMs or Whatsapp. The shop also frequently holds time-limited sales and offer special discounts, so watch out for those!
SF delivery fees will be charged for all orders
DD Sneakers (@dd.sneakers)
View this post on Instagram
Want to truly embrace Hong Kong's streetwear trends? Then you'll need to visit DD Sneakers. Stocked with every streetwear staple item you'll ever need – from stylish caps, plain but nifty t-shirts to the hottest kicks – this is the place to turn to if you're looking for a statement-making jacket or a pair of classy socks to complete you outfit. You'll also be able to find a range of streetwear pieces such as printed hoodies, Nike sandals, and casual dresses at relatively low prices. DD Sneakers is without a doubt one of our favourite IG shops.
Free delivery for orders at $400 or above (residential delivery not included, pick-up at SF stores or EF lockers only)
Ang Boutique (@angboutique_)
View this post on Instagram
Chock-full of athleisure and activewear that comes with great functionality, Ang Boutique is best known for not only its unbeatable collection of chic workout outfits and swimwear but also for its economical price tags that everyone covets. Alongside sports apparel, you can also find a variety of good-value accessories like earrings, bracelets, and anklets to up your fashion game this summer. Best of all, the boutique boasts an easy exchange policy, which means you can go ahead and Insta-shop till you drop without worrying about sizes!
Free delivery for orders at $500 or above
Welentine (@welentine_hk)
View this post on Instagram
Jewellery and accessories alike are mighty essential to complete any look. While most accessory shops tend to carry heavy price tags nowadays, you'll be happy to know that those at Welentine are relatively more affordable. Apart from boasting a stunning assortment of earrings, necklaces, and bracelets that speaks to every style and matches with every seasonal trend, the shop is also known for its couple watches collection. Welentine is definitely an IG shop worth splurging on – but don't forget to watch out for the occasional sales and promotions!
Free delivery for orders with three items or above
More things to keep you busy online
You're bound to have a ruffing good time scrolling through these
Some of our favourite Hong Kong artists head to Instagram to give their take on the pandemic