Heads up! We're working hard to be accurate – but these are unusual times, so please always check before heading out.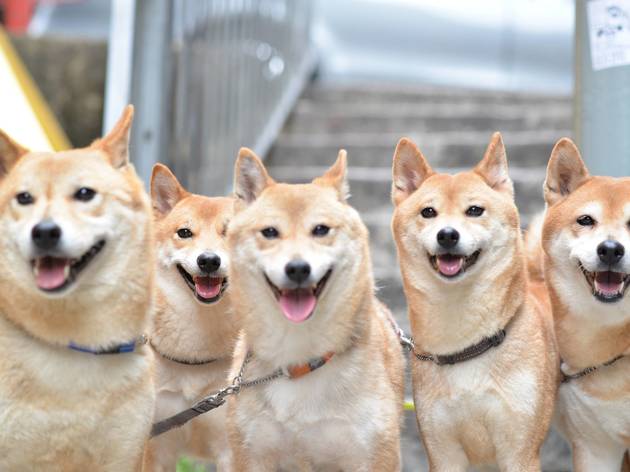 Adorable Hong Kong dogs to follow on Instagram
When you're feeling blue, just head on to these delightful dogstagrams for some therapeutic relief.
If you're one of the lucky ones who have your dogs by your side during isolation or work from home, then you must have a lot of cuddle therapy to get you through the days: that or a lot of slobber on your laptop keyboard. Either way, having your furballs beside you during these stressful times can bring a lot of joy. For some of us who live alone and no doggos by our side, we can turn to Instagram for a load of pet therapy.
Here are some of our favourite and squidgiest dogs in Hong Kong's Instagram sphere.

RECOMMENDED: Are you a dog owner? Spend a paw-fect day lounging and dining with your furry friend(s) at any of these dog-friendly restaurants in the city
Dogs on Instagram you should be following now
View this post on Instagram
If you love poodles and golden retrievers, why not double the fun and follow Crosby, a cute goldendoodle who came all the way from New York, now living his fun life in Hong Kong. Follow his feed for his adventures in the city as he tags along with his hooman mom, and Indulgent Eats Instagrammer, Jen Balisi. You'll often see this pooch making a cameo appearance in Indulgent Eats' IG account, ogling at hearty slices of pizza, fried chicken, or wagyu sando. This fluff boy is so cute he even got the attention of New York Post and listed him as one of the cutest costume-wearing dogs in NYC.
View this post on Instagram
We love a rescue dog-story, and this 8-year-old female Shetland Sheepdog adopted from Villa Kunterbunt Lantau rescue/adoption service is living the time of her life with her hoomans and cat-brother Noodle. His blue merle coat makes him a standout among other Shelties and his kind face will melt away your blues. Follow him on his Instagram account and give him some lovin' boop.
View this post on Instagram
Check out the stars of this Instagram account, Coby and Aki – twice the fun, double the cuddliness. With over 62k followers on Instagram, the fur duo has probably more loyal fans than some of our own personal IG accounts combined. Coby is the white, double-layer coated Samoyed boy and Aki is the bright-eyed plush coat girl Shiba Inu. Their owner regularly posts about their dog ventures on social media and even compiled a series of fun videos on their Facebook account. You'll have endless fun watching them swing their heads and sing along to phone rings or just getting some rubs from the hooman.
View this post on Instagram
Hong Kong is in love with Shiba Inus and it's easy to spot one when walking in the city, we even have our very own Shiba Inu cafe in Causeway Bay. One of the most famous in-fur-luencers in HK are WE5-Shibaland's Mochi, Toro, Mini, Yakult, and Yobi. They have amassed over 18K followers on Instagram and over 15K on Facebook. They're so popular in their Sheung Wan neighbourhood that they even starred in a campaign for Old Town Central last year. Catch them on their socials and be entertained with these five plush tails and squidgy frames. If you're a Shiba Inu owner yourself, you might get some tips from their feed as Leo Leung, their owner, features some useful videos on dog training.
View this post on Instagram
Can't have your whiskey? Then just get a dose of this fluffy male Yorkshire Terrier beloved by his 7K plus followers on the 'gram. Small and adorable, Whiskey is an entertaining, fashionable pup. Follow his adventures and cute OOTDs, whether he is just strolling down the park, displaying his new outfit, sliding on a skateboard, or just hiding inside his hooman's leather bag, his photos and videos will surely put a smile on your face.
View this post on Instagram
Unimpressed Oli & Co is the page of a bunch of cute and cuddly, but not easily impressed, Tibetan Spaniels owned by Emerald Shek. Headed by Oli (the leader of the pack) and the rest of his gang Anna Belle, Bailey, and Charlie, together they entertain their social media fans with their funny antics and expressive faces. Make sure to catch the cameo appearances of their homie @boxer_theboxergirl.
More about pets in the city
Hotels in Hong Kong that caters well to our four-legged friends
Hongkongers love cats and dogs, and are equal lovers of food. Combining the best of the both worlds, we round up the best pet cafés in town where you cuddle, pet and play with adorable fluffy four-legged friends as you and your mates enjoy a meal or a cuppa.
Some of the best dog parks that are open and ready for you and your furry friend to enjoy in style.