The best shops in Hong Kong
Hong Kong is a shopper's paradise. We round up the best Hong Kong shops that you absolutely need to know about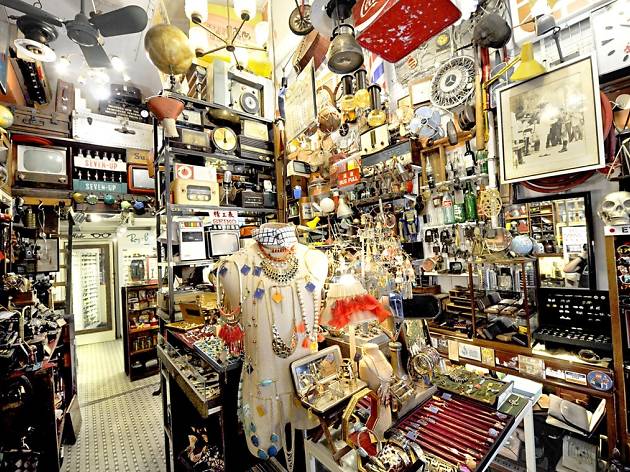 With a complete lack of sales tax – except on alcohol and tobacco – Hong Kong has long been famous as a shopping destination. We've got both great malls and fantastic street markets that are well worth shoppers' time. But that's not all. There's a fantastic range of small, independent shops that are perennially interesting to browse and which fly under the radar. They deserve not to be missed and that's why we're featuring them here. And if all this shopping makes you hungry, remember to check out our guide to Hong Kong's best restaurants.
Best Hong Kong shops
Limited edition sneakers and pretty much the coolest skateboards in town? Sign us up! 8Five2 has been kicking it since 1999, back when it was Hong Kong's only authentic streetwear and skateboard shop. Today, it houses the best skate brands going and maintains an avid passion for the city's constantly evolving street culture. Along with shopping at the store, you can also sign up for events and news to keep in with the skateboarding scene.
Read more
If you're not cool with the 2010s and you reckon you were born in the wrong era, you might want to make your way over to this funky vintage store on Aberdeen Street. There you can discover groovy clothing and memorabilia that will make you nostalgic for the days when disco was king. Forget about time machines and head to Bang Bang 70s instead.
Read more
Say no more. We're obsessed with pretty much everything at Caelum Greene – Hong Kong's very first dedicated athleisure store paving the way for quality, comfortable athletic wear and lifestyle products in our city. We appreciate its attitude towards the environment and the ecoconscious mindset that prioritises both sustainability and style.
Read more
Stressed about piecing together your ideal home or office? Eclectic Cool hears you. Standing strong in its love and passion for great design, service and advice, Eclectic Cool is there for you every step of the way when it comes to finding the perfect pieces for your new house or work space. With a wide selection of storage pieces, homeware, furniture and lighting from renowned design brands like Lee Broom and Zipporah, you're in safe hands here.
Read more
Stroll along vibrant Hollywood Road to find chic shop Edit. Co-founders Genevieve Chew and Jacqueline Chak take inspiration from their travels and handpick items – whether vintage pieces or items by emerging designer brands – at international markets and bazaars. They've even designed their own capsule collection that's showcased at Edit.
Read more
Home to some of today's coolest Japanese and American streetwear, this shop is truly 'incredible'. It's been around for more than 10 years serving up great basic clothing and classic styles that can last a lifetime. Get your fill of clean crisp denim or leather lace-up boots and graphic tees at one of their three shops in town – each with their own unique charm and atmosphere.
Read more
Can we move into this space? This chic-yetsimple shop in the heart of Mong Kok is an accessories and clothing store which also doubles as a casual living area for those who want to chat or have a drink. Sip on Taiwanese teas or a craft beer while you browse through cute trinkets from knit cacti to well-tailored tees. Check in regularly as the shop also hosts DIY workshops ranging from leather crafting to making your very own brass rings adorned with natural stones.
Read more
Housed next door to Hong Kong's only arthouse cinema, Broadway Cinematheque, Kubrick (no prizes for guessing where the name comes from) is one of the city's best bookstores. The shelves heave with novels by everyone from Kobo Abe to Yevgeny Zamyatin – if you're looking for best sellers, you best try elsewhere. As well as fiction there's a good range of non-fiction and poetry as well as an intriguing selection of independent magazines. Grab your titles, order up a coffee and enjoy!
Read more
A hidden gem tucked away in the back corner of Star Street, Lala Curio is a unique and colourful lifestyle shop fi lled with beautiful objects, soft goods, lighting and home décor curated by Hong Kong-bred interior designer Laura Cheung. There's no other store quite like this in Hong Kong offering an array of fascinating objects inspired by forgotten crafts from around China and Southeast Asia.
Read more
Show more
Thirsty now?
Whether you prefer to relax over a craft brew, a single malt, a glass of red or a classic cocktail, Hong Kong has an amazing bar guaranteed to have you ordering 'just one more round'.
Read more