The best Hong Kong restaurants
From seasoned stalwarts to the hottest newcomers, these are the best places to eat in Hong Kong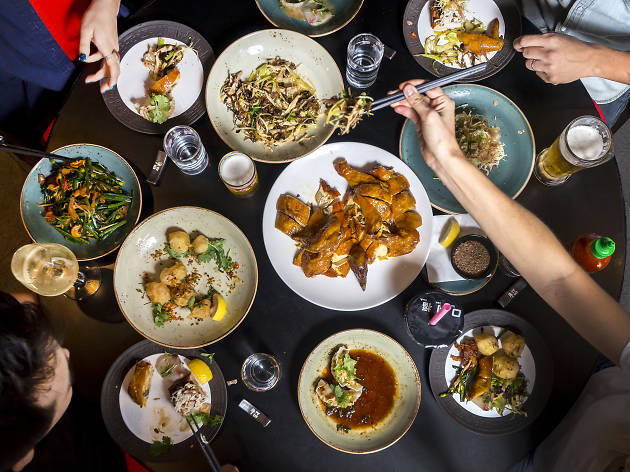 The best Hong Kong restaurants
Meaning 'mysterious' or 'understood by only a few', the word 'arcane' conjures up images of magicians, secret societies and fantasy lands. This very apt when it comes to modern European restaurant Arcane, as the food is magical and owner and chef Shane Osborn is full of fantastical culinary secrets, all learned at some of the best restaurants in London and Hong Kong.
Read more
Chef Björn Frantzén holds the accolade of owning one of only two restaurants in Stockholm to boast two Michelin stars. His eponymous eatery, Frantzén, is the height of fine dining in the Scandinavian country's capital city. Frantzén's Kitchen is his first venue outside of this, helmed by Jim Löfdahl, serving up fantastic Scando dishes.
Read more
Serving up quirky Chinese cuisine with pan-Asian and European influences, Ho Lee Fook boasts a trendy interior and excellent modern Canto fare that keeps the lines outside long, but it's worth the wait. Try the Mom's 'mostly cabbage, a little bit of pork' dumplings with sacha soy dressing and awesome cha siu pork.
Read more
Mott 32's Joyce Wang designed interior is a sight to behold, featuring a bare lightbulb-cum-iron chains installation and stark Chinese decorations such as a giant abacus and a wall of Chinese calligraphy pens in a private dining room. There's a communal 'yum cha' tea element here, with dishes such as the excellent siu mai and Iberico cha siu are sure to please.
Read more
Helmed by Nate Green, previously of 22 Ships fame, Rhoda serves up modern comfort fare with a British slant. The menu changes daily depending on ingredients and can feature anything from raw Japanese flying fish to a hearty Lanchashire hot pot. Whatever you do, don't miss the cheesecake. You'll thank us later.
Read more
VEA stands for Vicky Et Antonio – Chef Vicky Cheng, the visionary chef formerly of Liberty Private Works, and Antonio Lai, the legendary bartender behind The Envoy and decorated establishments Origin and Quinary. There's only a tasting menu on offer, that can be paired with Lai's fantastic cocktails. Iconic dish 'the egg' is an egg wrapped in raviolo with a parmesan truffle foam and garnished with caviar and gold flakes and it's a doozy.
Read more
Even after five years in the business, Yardbird attracts diners by the hordes, thanks to being a super hip izakaya/yakitori venue that Tokyo denizens wouldn't roll their eyes at. The chicken here is being treated no differently than the finest piece of toro, with love and care. And it returns the favour by donating literally every part of its body including the thigh, wing, neck, liver, tail or skin.
Read more
This multi-floor London import is a haven for Hong Kong's white-collar types. But atmosphere alone is not enough to keep the moneyed crowd coming in night after night. The performance of the Japanese roboyaki grill and the special attention you get from the knowledgable staff adds up to a wonderful night out. On a nice evening, ask for a table outside to enjoy the city lights.
Read more
Still feeling peckish?
The most delicious dishes in Hong Kong, from Michelin-starred restaurants to humble cha chaan tengs.
Read more