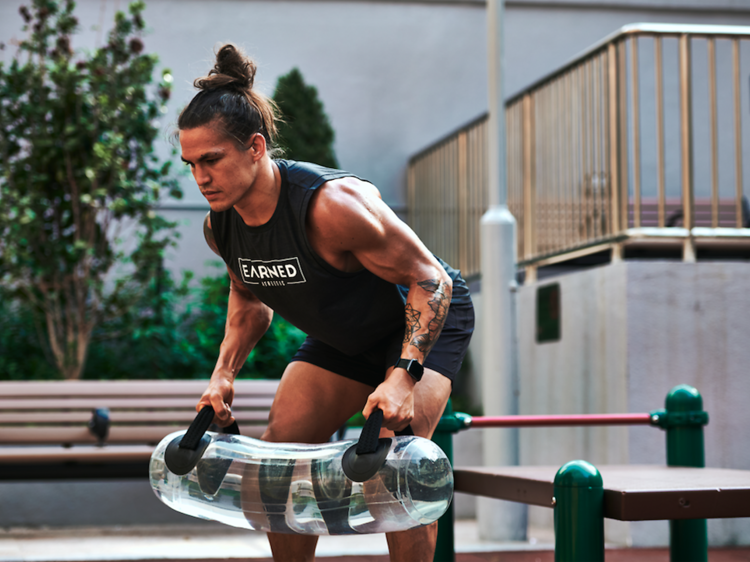 Photograph: Calvin Sit
Tell us about your experience in the last few months during the peak of COVID-19 in Hong Kong.
From having to adapt to a stay-at-home order for two weeks due to travelling overseas, to then having to close our gym temporarily, it's been interesting to say the least! It was a blessing for my training, as I got more time to sleep, eat, work, train, repeat! Although, adjusting to working online was tough, coming from a business where face-to-face interaction is everything. I missed the sense of community at Coastal Fitness.
Time away from the gym made you more resourceful and resulted in the creation of the Earned Aqua Bag, how did that come about?
While there are many exercises you can do with just your bodyweight and household items, people still craved the resistance and load normally found in a dumbbell or barbell and plates. With the Aqua Bag, we've created something that weighs 37kg, and is also easy to carry around, set up, train with, then pack back down. There are different ways to use the Aqua Bag, different squatting, pressing and rowing variations. It's designed to be used anywhere: parks, beaches, at home, at the gym and even on holiday. I'm looking forward to taking mine to the beach next time I'm in Bali!
With Hong Kong currently well into recovery before many parts of the world, what does that mean for you as a competitive athlete?
Unfortunately with COVID still causing havoc around the world, my CrossFit games season has come to a premature end. That being said, every cloud has a silver lining. While I'm upset about being unable to showcase my hard work over the past 12 months, I'm also grateful that I'm able to work on my craft even more. I'm looking forward to getting back out on the competition floor, wherever and whenever that may be.