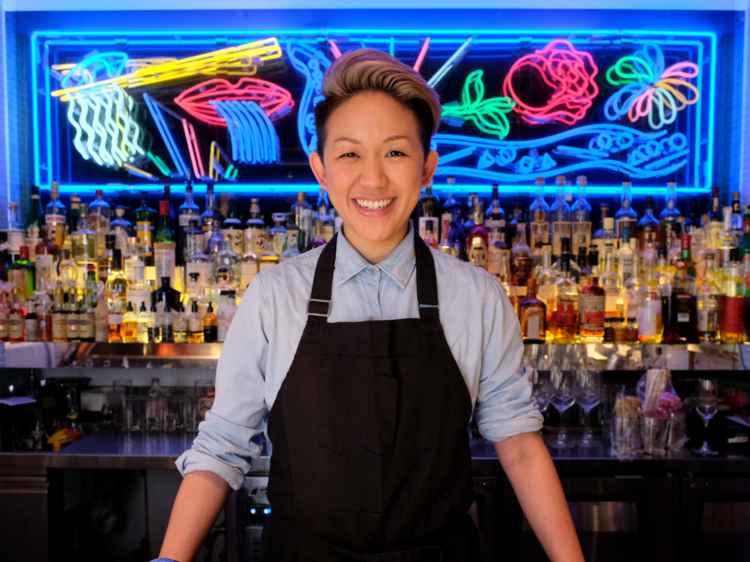 Photograph: Courtesy Little Bao Ltd
May Chow, chef and restaurateur, Little Bao and Happy Paradise, 36 years old
With a big smile and incredibly positive disposition, it's easy to see why Hong Kong chef and restaurateur May Chow is so well-liked when you meet her. But that doesn't stop the award-winning chef (Best Female Chef 2017 by Asia's 50 Best Restaurants) and founder and owner of Little Bao Diner and Happy Paradise, talk about more profound topics with perceptive insights and an observant glint in her eyes.
As we chat, she recalls how she started cooking and shares "I was interested in food for as long as I can remember, thanks to my mum's passion and connection with food. I have her to thank for sparking it." Unlike other Asian kids growing up, May helped out in the kitchen. "She'd give me a stool, a little knife, and then I would cut, or peel, wash the rice, make Shanghainese wontons and spring rolls [for her family]," she continues.
Fast forward to today, and her most recent significant achievement is "surviving Covid-19!" She adds, "you ask yourself: how do I take care of my staff? How can I continue serving my guests well? How do I make sure my investors are happy? These were things that I had to resolve ­– and quickly. And I think being able to survive these last two years, from protests to Covid-19, really showed how determined and resilient we can be no matter the circumstance."
1) What lessons have you learnt that are unique to being a woman in your line of work?
It's not just about being a woman I think, but when you're with very dominant people, how you hold your ground or fight for opportunity is very important. There was a time when I didn't react quick enough to an opportunity. There was no ill intent there, but because someone was quicker to react and more sure to claim what they wanted, they got it. That's when I thought I just need to react faster next time. I need to know what I want and just have the confidence to go for it.
2) Name a woman who's inspired you the most, and tell us why?
Jane Fonda. Her career is six decades-long and still going strong. She hasn't just won awards [from Academy Awards, Emmys, Golden Globes, and more], she's also an environmentalist, former fashion model, woman's rights activist, and so many more things. She made an exercise show that became the all-time most sold VHS program, published a number of books, and then at 70 put together the Netflix show Grace and Frankie to critical acclaim. From VHS to Netflix – that's incredible in itself. She is such a great reminder that you can define your careers, have a voice, and more importantly, continually evolve.
3) What advice do you have for women who want to become chefs or restaurateurs?
Be aware of the challenges you can potentially face, find mentors early and work at restaurants that champion women empowerment, and provide equal opportunity. At the same time develop confidence, and the expertise, so you can differentiate what is right and what is unfair, so as not to become a victim of situations. By building up that knowledge, you can trust that if you feel you're right about something you can then boldly go for it.
4) In your opinion, what does it mean to be a feminist in 2021?
Being a feminist is not limited to females. I also think we should fight for each other's rights because if we win as a collective, it's much more beneficial for the future. Being a feminist is aligning yourself with your allies, voicing the things you want in a coherent way and understanding the challenges of today, regardless if you're female because this can happen to people you care about –your mother, sister, or daughter. Instead of thinking the world will fix itself, educate yourself instead of waiting for someone to educate you. Be responsible for your own growth. Being a woman doesn't automatically make you a feminist, but learning and being a better role model for the next generation is.
5) How are you using your position to help challenge gender equality and promote female empowerment?
We have to challenge it with action. For example, when we are highlighting female chefs and menus created by them, maybe we don't need to say that it's a 'female chef' or menu 'made by women'. Celebrate these women for their achievements and not only for the fact they were born female. We should just do things that champion women without having to explicitly say so every time. Or even with these articles, I'd actually suggest that instead of only featuring women during Woman's Month, action on a commitment to equality by simply covering women in at least 50 percent of articles.
6) With the ongoing global health crisis, what has been your biggest indulgence at home? What do you miss doing in Hong Kong, and what are you looking forward to doing once everything settles?
I miss late-night food because things close at 10pm right now, and late-night food is hard to make. I love Korean BBQ, yakiniku, and izakayas that have all these innards. I recently found, in a supermarket freezer, things like pig intestines, Korean soft tofu stew pots, and cod fish roe, but I would never normally cook this stuff because it's so hard to clean and cook. But now these packs have saved my idea of a late night out. So, when I can go back out, I would like to revisit late-night food spots.
7) What do you think the future of F&B looks like in Hong Kong?
I think there will be a lot of comfort food, coffee shops, and day-to-day foods because businesses need repeat customers. There will be more products, e-commerce, and delivery. Things that will also be more experience-driven, like the outdoor cinema [The Grounds]. Creativity is unstoppable, this is them adapting their concept to the environment today. I hope foodies – the ones that are paving the way to creativity and giving Hong Kong a unique voice – can really support these things. They might not always be the ones that are most commercially viable, but they are the ones that are culturally relevant and they need to survive in order for the culture to be intact.
Visit Little Bao and Happy Paradise or follow May on Instagram to see what she's up to next in the world of food.