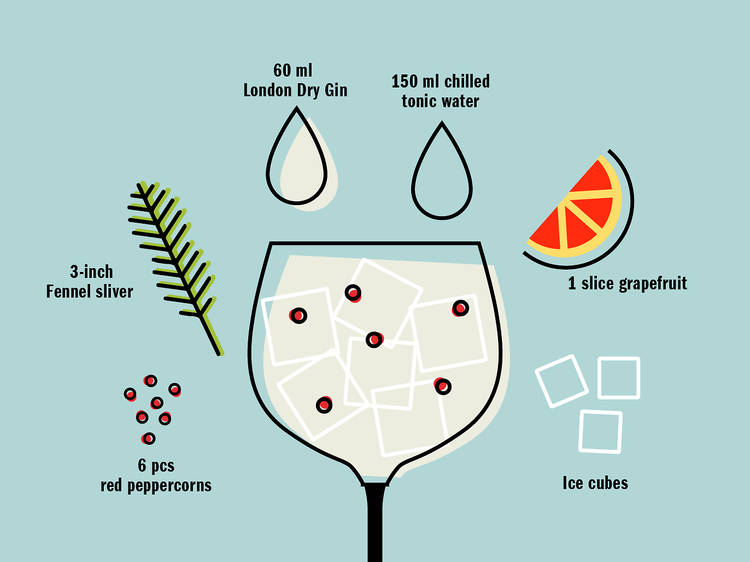 What you need to make a gin and tonic
Making a regular gin and tonic is the easiest and fastest cocktail you can whip up at home. You don't need to be a scientist to get the perfect serve, just follow your taste preference to guide you with the fruits, herbs, and other botanicals to use. For this recipe we wanted to make an herbal and spicy kick to the regular g&t.
Ingredients:
• 60ml London Dry Gin (you can use any juniper-forward gin like Tanqueray, Bombay Sapphire, or you can up your gin game by using craft gins like The Botanist, Gin Mare, Monkey 47)
• 3-inch fennel sliver
• 150ml chilled tonic water
• 6 pcs red peppercorns
• 1 slice grapefruit
• ice cubes
Steps:
1) Chill your gin and glass in the fridge for 30 minutes to an hour so. The colder the gin and the glass so you can enjoy a cold drink.
2) Fill your glass with ice. Use bigger ice cubes so that it won't melt easily and dilute your drink.
3) Pour in the gin over the ice. Stir around the edge and don't stir incessantly so as not to water down your cocktail.
4) Add in the grapefruit slice, fennel, and red peppercorns.
5) Top up with tonic water. We recommend a ratio of one part gin to three parts tonic, but it is entirely up to your preference. Taste and fix the ration until you get your desired mix.
6) Enjoy!