We've just published our definitive annual online list of '101 Things to Do in London'. To celebrate, here's our pick of 2017's cultural highlights. Get on to it now, before everybody else does…
1. Go meat-free at a new vegan market
You don't need us to tell you that veganism is on the rise; you're probably stirring almond milk into your coffee right now. This year there were more vegan street food launches than you could shake a carrot stick at. Hackney Downs Vegan Market (E8 2BT) went from monthly to weekly. And just down the road is Broadway Vegan Market (E8 3RU), a new Saturday food offering with 30 vendors (including jackfruit taco-makers Club Mexicana). There's also Vegan Nights, an evening-time street food fest returning to London on November 23. You can take our meat, but you can't take our desire to eat. Katie McCabe
2. Dance through lasers at Printworks
Rumours of London's death as a clubbing capital proved premature in February. A huge printing press in Canada Water reopened as spectacular dance music space Printworks. Even though parties there rarely go beyond midnight, the post-industrial setting, the moody darkness and the jaw-dropping lasers all help provide a space to lose yourself to some of the finest music on the planet. Squeeze in an afternoon on its huge dance floor before the year is out. Oliver Keens
Printworks, Surrey Quays Rd, SE16 7PJ. Tube: Canada Water.
3. See the porcelain piazza at the V&A
The V&A was already a stunner, even before its renovation, unveiled in June this year. The café's Gamble Room alone is a glittering Victorian fever dream filled with stained-glass windows and big spherical lights. Now, the museum is home to the Sainsbury Gallery, a subterranean space for temporary exhibitions. Plus architect Amanda Levete has upped the ante by creating the world's first all-porcelain piazza with 11,000 handmade tiles. When it catches the sunlight, it makes London look like 1960s Rome. KM
Cromwell Rd, SW7 2RL. Tube: South Kensington.
4. Return to Room One at Fabric
'It was the best of times, it was the worst of times.' Not just the words of Dickens but of every strung-out clubber to emerge from Fabric at 4am. Numerous attempts have been made to shut down our treasured superclub over the years (we nearly lost it for good in 2016), but Londoners rallied round to save it and it reopened in February. The former meat factory is a bastion of drum 'n' bass. Room One even has a bodysonic dance floor that amplifies the bassline, so you can feel the beat tremor from your toes to your tonsure. The queue might sometimes snake as far as Farringdon station, but if you haven't been to Fabric, you haven't experienced London nightlife in full. End of. KM
77a Charterhouse St, EC1M 6HJ. Tube: Farringdon.
5. Sip on cocktails at Dandelyan
There are countless places to booze in London. We have creative cocktail bars, historic pubs and intimate wine cellars. But it was revealed in July that London is also home to one of the best bars on the planet. As well as picking up Best Team at the Time Out Bar Awards earlier this year, swish South Bank spot Dandelyan was named the World's Best Cocktail Bar at the 2017 Spirited Awards over the summer. It consistently serves up London's most mind-blowing drinks in a seemingly effortless fashion. Ellie Walker-Arnott
20 Upper Ground, SE1 9PD. Tube: Waterloo.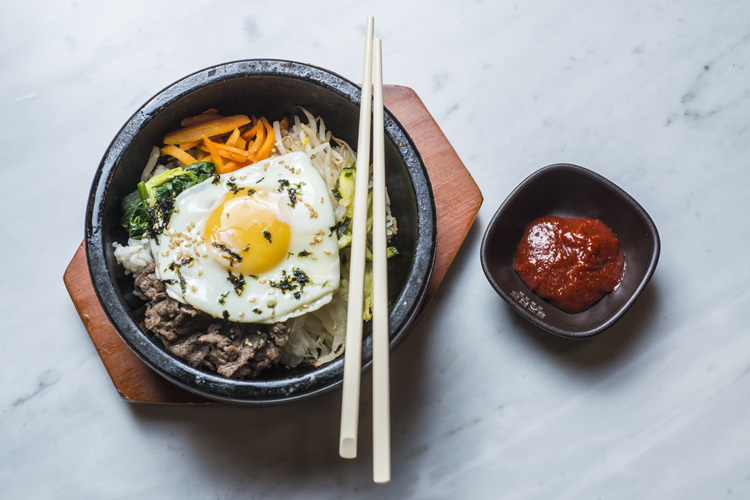 There's never been a better reason to schlep way out north than to visit Bang Bang Oriental in Colindale. It's London's biggest East Asian food hall, with more than 20 kiosks serving up grub from some of the city's best vendors, including Janchi Korean Kitchen and Chatime. It's probably the only place in the city where you can chase a bibimbap with Hong Kong egg waffles and wash it all down with matcha bubble tea. Hayley Spencer
399 Edgware Rd, NW9 0FH. Tube: Colindale.
7. Check out the view from Giant Robot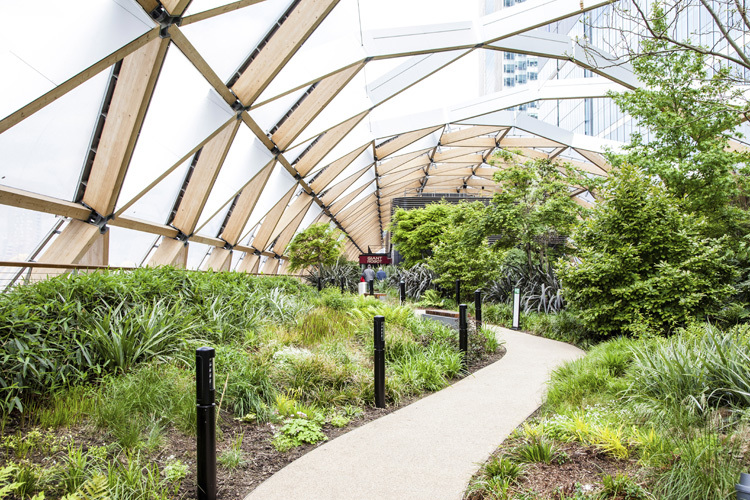 The people at Street Feast know their fast food, and their latest venue, Giant Robot, which opened in April, has the bonus of sweet views. Housed on a Canary Wharf roof, it looks kind of like a boat from the outside, but its biggest draw is the 'rooftopia' – a landscaped rainforest garden. Don't worry, there's a translucent roof, so you've got shelter from the rain. It's open seven days a week and delivers the usual mouthwatering goodness on the go courtesy of Little José, Thunderbird, Bob's Lobster and Yum Bun. HS
Crossrail Place, E14 5AR. Tube: Canary Wharf.
After almost three decades in Bermondsey, London's Design Museum packed up and moved to west London late last year. The new building on the edge of Holland Park is a design wonder in its own right, with an incredible curved roof. Visitors can peruse the permanent collection – starting with 'Designer Maker User', an introduction to the history of contemporary design – and wander around the mix of free temporary exhibitions, pop-ups and bookable displays, or just get distracted taking endless snaps of the museum's amazing interiors. EWA
224-238 Kensington High St, W8 6AG. Tube: High St Kensington.
Over the past 12 months Londoners have started to embrace cheese as more than a just food type: it's a sexual preference, a lifestyle choice, a fetish. So it made total sense that London gained its own naughty shrine to dairy beneath a burlesque club in Camden in March. The Cheese Bar feels sexier than any place that smells so pungently of brie has a right to. The menu reads like hardcore food porn, from the gooey 'young buck' raclette to the cheddar and onion sarnie (a better hangover cure than any bloody mary on earth). Also unmissable is the blue cheese ice cream sundae. Sounds so wrong but tastes so right. Kitty Drake
Unit 93-94 Camden Stables, NW1 8AP. Tube: Chalk Farm.
10. Get the scoop on 'Ink'
We're living in the era of fake news, so it makes sense that one of the biggest plays of 2017 maps tabloid history. James Graham's 'Ink' made it to the West End this year, after a sell-out season at the Almeida. Since then, it has achieved the impossible: making audiences root for a young Rupert Murdoch. Telling the story of his acquisition of the ailing Sun newspaper in the late '60s, the play follows Murdoch as he triumphs over traditional papers. Front-page-worthy stuff. HS
Duke of York's Theatre, 104 St Martin's Lane, WC2N 4BG. Tube: Leicester Square. Until Jan 6 2018.
Warning: do not see this film if you are in a fragile state. But definitely do see it. Weaving together archival footage of contemporary America – superstars, civil rights marches and police brutality – to the soundtrack of Kanye West's gospel-inspired 'Ultralight Beam', Arthur Jafa's 'Love Is the Message, the Message Is Death' is an emotional rollercoaster that details the relationship between the mainstream media and African-American identity. HS
180 The Strand, WC2R 1EA. Tube: Temple.
12. Get a hip hop-themed history lesson from 'Hamilton'
Beyoncé has raved about 'Hamilton', and you don't argue with Beyoncé. Lin-Manuel Miranda's rap musical about the life of Alexander Hamilton, the flamboyant first US Secretary of the Treasury, might not sound like an obvious hit, but it's the biggest thing to come out of Broadway since 'The Book of Mormon'. It's finally coming to London in December and is already the most talked about addition to our city's theatre scene in years. Presales are sold out, but there'll be more chances to get your hands on tickets this winter. HS
Victoria Palace Theatre, Victoria St, SW1E 5EA. Victoria. From Dec 7.
13. Take a ride on Mail Rail
Pretty much everyone knows about the London Underground: it's one of the unofficial wonders of the world. But this year we discovered our city has another subterranean railway – one that was shrouded in secrecy until recently. Running beneath the city through six-and-a-half miles of tunnels, Mail Rail (formerly the Post Office Railway) shuttled letters and parcels for nearly 80 years. In 2003 it was taken out of service. Now the tracks are humming again, and a chunk of the line has been opened up to tourists and Londoners as part of the new Postal Museum. James Manning
15-20 Phoenix Place, WC1X 0DA. Russell Square.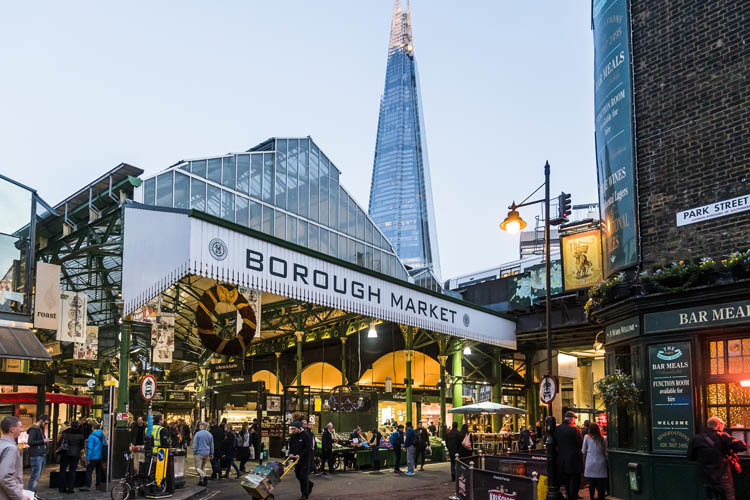 While the memory of those lost at Borough Market during the terrorist attack this summer still weighs heavily on the area, the fact it remains one of London's most popular spots is proof of the resilience of this city's residents. Londoners returned to foodie faves such as Padella, Monmouth Coffee and Crosstown Doughnuts with added determination after the attack on June 3. And who can blame us? Borough's vibrant, multicultural food scene and sense of community spirit are a reflection of the city as a whole. HS
8 Southwark St, SE1 1TL. London Bridge.

15. Have a boozy snooze at a gin hotel
It's no secret that London is in the middle of a love affair with gin. The city is dotted with distilleries and dedicated drinking dens. Now there's a gin hotel where lovers of mother's ruin can rest their hazy heads. The Distillery opened its doors at the end of last year. Visitors can blend their own batch of the good stuff at The Ginstitute downstairs before drinking giant G&Ts at GinTonica and falling into bed with a minibar cocktail. If that's not living, we don't know what is. EWA
186 Portobello Rd, W11 1LA. Ladbroke Grove.
Remember when everyone was snapping the Carsten Höller slides at Tate Modern? Well now another equally kidult-pleasing exhibition has taken over the iconic Turbine Hall and is set to dominate your social feeds. It's by Danish art trio Superflex and, like all of the collective's projects, it's designed to school us in economics. There are three sections but the main event is 33 sets of three-person swings for visitors to go hang on. HS
Tate Modern, SE1 9TG. Southwark.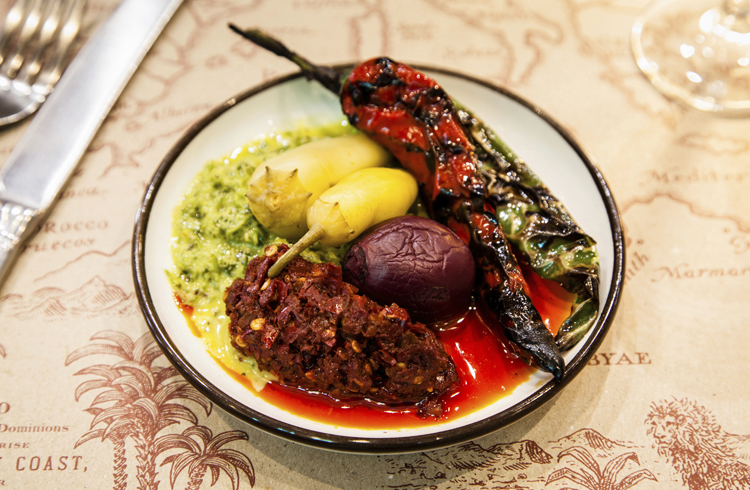 Man, The Barbary's good. Actually, it's not just good. The atmospheric Covent Garden joint has only been open a year and a half but, in our opinion, it's the very best in London. Its menu gallivants along the eponymous North African Barbary coast (running from Morocco to Libya) with all the smoky, meaty, gutsy fare that entails. It's also minuscule: all 24 seats are at a horseshoe counter that wraps around the teeny kitchen, so you can eyeball the chefs while waxing rapturous over the food. You can even book (for tables at noon and, excluding weekends, 5pm). Groundbreaking stuff all round. Tom Howells
16 Neal's Yard, WC2H 9DP. Covent Garden.
Find more things to add to your bucket list with our list of 101 things to do in London.