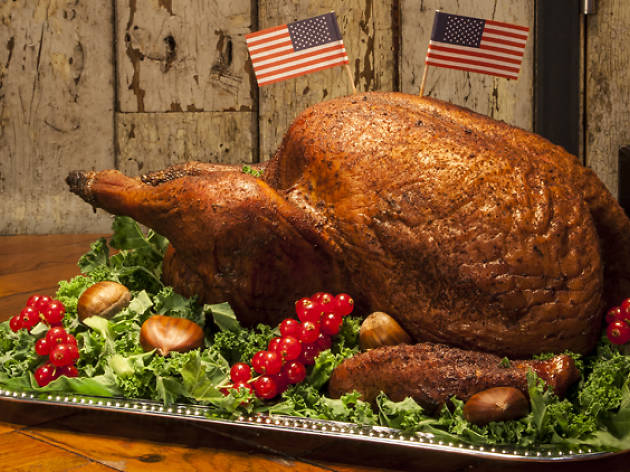 Six places to celebrate Thanksgiving in London
Updated: Wednesday November 23 2016, 10:00am
Some Americans might not feel like there is much to give thanks for right now but Matilda Egere-Cooper thinks that's all the more reason for classic comfort food.
Thanksgiving dinner at Sager + Wilde
The Republicans might have bagged the election, but Sager + Wilde are determined to lift the mood and console London's resident Democrats by offering only Blue State wines with a classy Thanksgiving spread at their Bethnal Green branch. Raise a glass of rare booze from California, Vermont or Oregon before tucking into a reasonably priced £35 menu including crab and pumpkin soup, turkey with all the trimmings, and pumpkin pie with spiced ice cream. Sager + Wilde Paradise Row. Bethnal Green. Thu Nov 24. £35 for three courses
Thanksgiving feast at Boondocks
Bring on the food coma: new soul food joint Boondocks is going all out this Thanksgiving with a hardcore three-day, all-you-can-eat-feast for American food lovers or expats pining for a taste of home. For £45, you can get your fill of turkey and Stateside classics like Stove Top stuffing, buttermilk biscuits and the weird but oddly wonderful marshmallow-topped sweet potato casserole, before washing it all down with seasonal cocktails. Boondocks. Old St. Thu Nov 24-Sat Nov 26. £45 per person.
Launceston Place's Thanksgiving Tasting Menu
If you've got cash to splash, don your finest threads and grab a table at the award-winning Launceston Place. This swanky west London spot is doing a classy Thanksgiving tasting menu where chef patron Raphael Francois will be dishing up the likes of oysters, caviar and fois gras among the usual pumpkin, sweet potatoes, cornbread and turkey-based fare. Launceston Place. High St Kensington. Tue Nov 22-Sun Nov 27. £65 for five courses, £115 with wine pairings.
THREE MORE WAYS TO CELEBRATE
SCOFF
Eat all the spiced pumpkin pie and other tasty seasonal treats at the Dominique Ansel Bakery until November 27. Dominique Ansel Bakery.Victoria. £35 for a whole pie.
DRINK
Join the Brooklyn Brewery on their three-night London stop off for a flight of their favourite beers and Thanksgiving meal. Borough Wines & Beers: Essex Road, Columbia Road, Kensal Rise. Thu Nov 24-Sat Nov 26. £35 for three courses and matching beers.
PARTY
Party in Shoreditch like the Yanks at the Crown and Shuttle's annual boozy, foodie and tune-filled Thanksgiving hoe-down on November 24. Crown and Shuttle. Shoreditch High St Overground. Thu Nov 24. Free entry.
See more Thanksgiving Meals in London
Share the story