London's best breakfasts
When it comes to the weekend, cornflakes don't cut it. Here's where to find London's very best fry-ups, pastries and other breakfast treats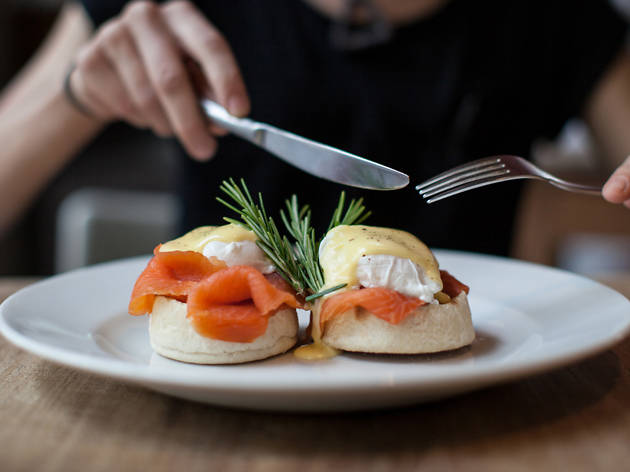 Our team of experts have sought out the best breakfasts and brunches across London. Whether you're looking for coffee and pastries in a café, a posh Sunday brunch, or a mouthwateringly meaty fry-up, we've got plenty of options to make sure the most important meal of the day is also the tastiest.
Also check out London's best breakfasts and brunches in central, south, north, west and east London, cheap breakfasts in London and our slideshow of the top ten breakfast dishes and the top ten brunches. Do you agree with the choices? Use the comments box below or tweet your suggestions.
Explore London's best breakfasts by area
Sponsored listing
Painted Heron
Popular with well-heeled local residents, this classy destination is smartly furnished in a restrained grey-brown palette. The menu is much more flamboyant, although dishes are seasoned with classic spice blends. Deep-fried soft-shell crab, coated in a ground rice and sesame-seed batter, was outstanding for its crisp crust that yielded to reveal the sweet flesh below. We were also taken by a heap of juicy shrimps tossed in raunchy red chilli and tamarind masala – with a garlicky flatbread obligingly soaking up the juices. Mains were not in the same league. Tangy goan fish curry, although studded with sizeable scallops and juicy prawns, was let down by a heavy onion-ginger sauce that overwhelmed the seafood. Sri Lankan chicken curry – spiked with ginger, dried chillies and fried onion masala – made a much better impression with its toasted coriander spicing and tender strips of softened gourd. The Painted Heron's left-field signature dish of strawberry curry has become an annual summer spectacle: strawberry juice, reduced, seasoned with toasted cumin and lime juice and studded with squishy berries; it was as delectable as it was wacky. Service seriously needs to spruce itself up if it's to match the fabulous cooking.