London's best cupcakes
The cupcake is back and more tempting than ever. Start the countdown on London's ten best cupcakes whipped up in masterful bakeries, cafés and shops around town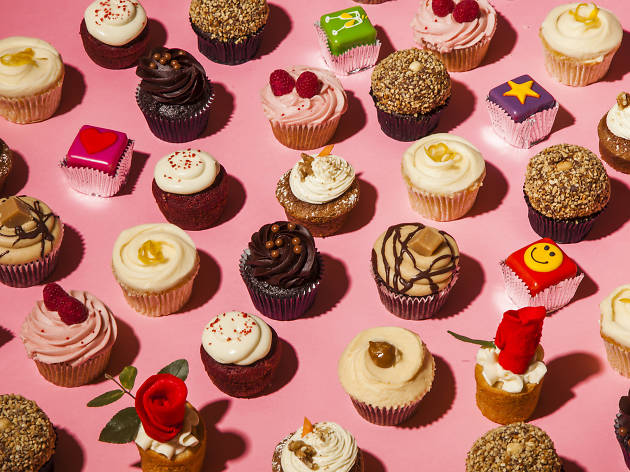 The combination of sweet icing and fluffy sponge in an irresistibly cute package means cupcakes are our tea-time treat of choice. Delve into our delectable countdown of London's ten best cupcakes found in shops, bakeries and cafés going one step beyond the rest.
Find more beautiful cakes in London
We Londoners like a little sweetness in our lives. And it's not all iced buns and victoria sponges – we have baked goods from across the globe right here on our doorstep. As proof, we've picked ten of the most beautiful and delicious cakes we could find to show that a spoonful of sugar really does help everything go down.
Read more
Sponsored listing
Bōkan
Towering over Canary Wharf, Bōkan may sit on the 37th floor of a Novotel – but this is the kind of hotel restaurant you'll actually want to eat in. With amazing views of London's skyline it's undeniable that a key reason for coming here is the setting itself. Especially given that it's been so thoughtfully decorated, with rustic Scandi and subtle industrial vibes. And if it's true that you can judge the merits of a restaurant based on its loo, then this sky-high spot – which, per square foot, rivals Versailles in its mirroring – is soaring. Service, too, was as slickly competent and polite as the surroundings. So far, so great. The food was slightly more irksome though. Beautifully presented, the scallops tasted mainly of lemon, with only the smallest amount of lip service being paid to the promised seaweed. Similarly, the crab salad had a nice kick, but with far too much daikon (Japanese radish). Having said that, desserts were awesome, with a meringue that was everything you could hope for – coconutty, fluffy and crunchy all at once. And the ginger pudding – billed as a sharer – was so great that one person could very easily wolf the whole thing down. Don't expect culinary fireworks, but for a dining room with a view, Bōkan will do nicely.
Venue says: "Test your taste buds and spoil yourself in our amazing sky-high restaurant. Try our five-course chef's tasting menu for £60 per person."